Bank marks app's fifth anniversary with slew of initiatives to expand its functionalities in 2020
DBS PayLah!, one of Singapore's most popular mobile wallets, aims to more than double its existing user base of 1.6 million to 3.5 million by 2023. To achieve this, the bank will over the course of 2020 integrate its DBS Lifestyle rewards app into DBS PayLah!, link debit and credit cards payments to the DBS PayLah! platform so customers can choose their preferred way to pay, expand payment touchpoints across the region, and ramp up on its DBS PayLah! ecosystem partnerships. It has signed more than 10 strategic platform partnerships with merchants across key lifestyle verticals, and users can look forward to more merchants coming onboard the platform over the next few months, including KFC, SISTIC and AXS.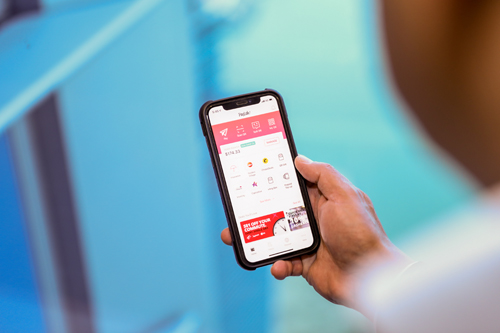 "DBS PayLah! is one of the bank's signature offerings, and its introduction in Singapore has fundamentally transformed the way consumers shop and pay," said Anthony Seow, Head of Payments & Platforms, Consumer Banking Group (Singapore), DBS Bank. "In 2020, we'll be building on the three Ps – Payments, Partners and Platform – as part of a longer-term strategic roadmap. By linking DBS/POSB debit and credit cards – Singapore's most popular form of payment – and integrating the DBS Lifestyle rewards app into DBS PayLah!, our customers will be able to earn and redeem rewards instantly on a single platform simply and seamlessly, regardless of their mode of payment."
First launched in 2014, DBS PayLah! has radically transformed Singapore's payments landscape. Today, some 70% of Singaporeans use a digital wallet[1]. Of these, four in 10, or 1.6 million people, are DBS PayLah! users. These users made SGD 1.5 billion in transactions in the last 12 months[2].
DBS PayLah!'s peer-to-peer (P2P) and peer-to-business (P2B) fund transfer services are also integrated with PayNow and PayNow Corporate. PayNow recently hit 2.8 million registrants[3], of which DBS/POSB holds the lion's share of around 65%. DBS PayLah!'s first-mover advantage in the QR code payments space – the app was the first in Singapore to give users the ability to send and receive funds via QR codes – also means that most NETS QR code payments today are made by DBS PayLah! users.
DBS PayLah! users today can buy travel insurance, book movie tickets, pay bills and transport expenses, browse entertainment and dining offers, make fund transfers and scan to pay for their purchases at more than 80,000 NETS QR, SGQR and PayNow QR-enabled merchants island-wide.
"DBS PayLah! has been very simple and convenient for my friends and I to use – I really like that I only need my friend's mobile number to go ahead with the split bill payment function, and I don't have to top up separately given the auto-debit function. Most of my friends have DBS PayLah! as well," said DBS PayLah! user Tay Zi Jiang, 30 years old, analyst. "Besides the cashback promos and discounted offers available from the merchants, it's also useful to have everyday functionalities built in so I don't have to use separate apps for them."
In commemoration of its fifth anniversary, DBS will roll out a slew of exciting merchant promos and dollar deals over the next few months. For more information, please visit go.dbs.com/sg-paylah5thbirthday.
[1] – A new era for payments is dawning in Singapore, The Business Times, 3 May 2019
[2]– September 2018 to August 2019
[3] – Parliament: More than six in 10 Singaporeans signed up for PayNow, service has 2.8 million registrations, The Straits Times, 3 September 2019
Source: DBS Bank