Jumbo Supermarket's Slow Lane Initiative Creates a Welcoming Space for Lonely Seniors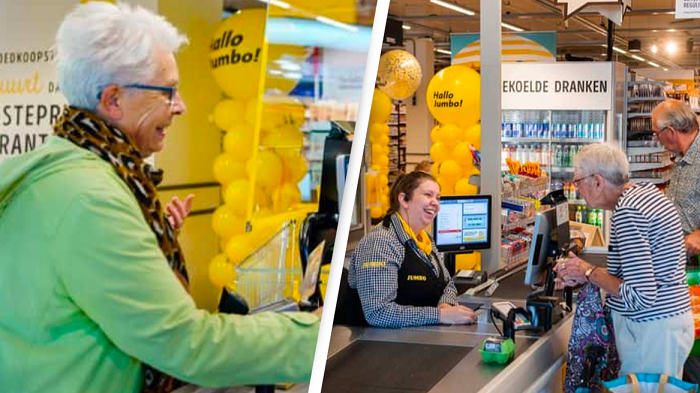 Jumbo Supermarkets, a prominent Dutch supermarket chain, is leading the way in addressing senior loneliness with their innovative Slow Lane initiative. Recognizing the unique challenges faced by elderly individuals, Jumbo has introduced a dedicated space within their stores to provide a warm and inclusive environment for lonely seniors. This groundbreaking initiative is transforming the shopping experience, fostering connection, and promoting well-being among this vulnerable population.
Loneliness among seniors is a prevalent issue that can have significant impacts on their mental and emotional well-being. Jumbo Supermarkets is stepping up to tackle this problem by creating a safe and welcoming space for seniors within their stores. The Slow Lane initiative is designed to offer lonely seniors an opportunity to engage with others, take their time, and enjoy their grocery shopping experience.
One of the key elements of the Slow Lane is the emphasis on creating a friendly and compassionate atmosphere. Jumbo's staff members are trained to be attentive and understanding towards the unique needs of seniors, providing them with the support and assistance they require. These dedicated employees engage in conversations, offer assistance, and foster a sense of community within the Slow Lane.
Comfortable seating areas are thoughtfully placed throughout the Slow Lane sections, providing seniors with spaces to rest, relax, and socialize. These areas serve as gathering points, encouraging conversations and facilitating meaningful connections among lonely seniors. The Slow Lane becomes a small community within the supermarket, offering a sense of belonging and combatting social isolation.
To further promote social interaction, Jumbo organizes periodic social activities within the Slow Lane. These activities range from coffee mornings to cooking demonstrations and themed events. They create opportunities for seniors to engage with one another, share experiences, and establish lasting connections within the supermarket setting. These initiatives not only transform grocery shopping into a social outing but also contribute to overall well-being.
The Slow Lane initiative goes beyond providing a space for seniors to connect. Jumbo Supermarkets also offers supportive resources tailored to the needs of this demographic. These resources include nutritional advice, cooking tips, and information about community resources. By empowering seniors with knowledge and support, Jumbo aims to enhance their overall well-being and encourage a proactive approach to self-care.
The positive impact of the Slow Lane initiative has been widely recognized by seniors who have experienced its benefits firsthand. Anneke, a 72-year-old customer, expressed her gratitude, stating, "The Slow Lane at Jumbo has become my favourite place to be. I enjoy sitting in the comfortable seating area, sipping a cup of coffee, and chatting with other seniors. It has become a small community within the supermarket."
Jumbo Supermarket's commitment to the well-being of lonely seniors extends beyond a single location. The success of the Slow Lane initiative has inspired Jumbo to expand it to more store locations, ensuring that seniors across the Netherlands have access to a welcoming space for connection and comfort during their shopping trips.
As Jumbo Supermarkets continues to prioritize the needs of the elderly population, they set an inspiring example for other retailers. The Slow Lane initiative not only transforms grocery shopping into a more enjoyable and meaningful experience for lonely seniors but also addresses the pressing issue of social isolation among this vulnerable group. By fostering connection and promoting well-being, Jumbo is making a significant difference in the lives of lonely seniors, one supermarket visit at a time.