Upgrading Your Home Office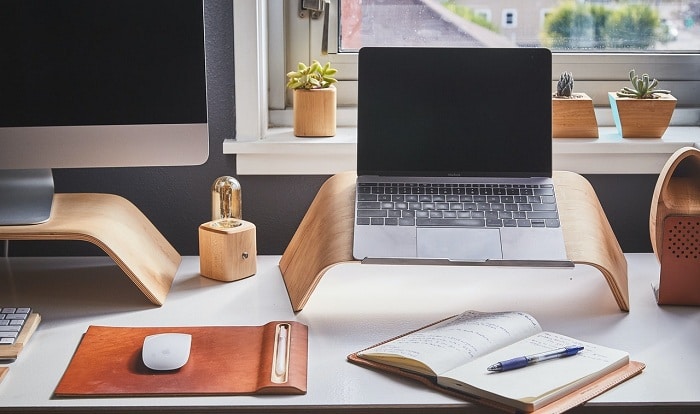 The votes are in and it's official: working from home works. Some offices have been aboard the bandwagon for some time, others had their hand forced by a certain pandemic. Either way, the world of commerce and industry is finding out collectively for the first time that we can be trusted to get the job done from the comfort of our own four walls. In fact, it looks like it suits most of us even better.
If you're one of the many who's been officially WFH from around April time, you've hopefully moved past working from a rigid chair at the kitchen table or a lumbar endangering spot on the sofa and into a home office sort of setup. However, with increasing indications that this current WFH relationship might be more than just a fling, it's time to think about creating a truly optimised home working environment.
Creating and upgrading your home office gives you the opportunity to really create your ideal feng shui – one that maximises productivity whilst adding a little bit of "you".
Here's how to do it.
Tools for the job
As a starting point, your home office should fundamentally be just that – an office. Many of us have probably got the rudimentary features already down, but if you're taking it seriously, you'll need a few key pieces:
A proper desk: the cornerstone of your office. Trade in that ever-so-slightly wobbly table for a proper desk. You want sturdy, you want steady, you want storage. And you want it to look good. Not something you want to skimp on.
A proper chair: much the same as the desk, you typically get what you pay for here. Just think of your spine when investing. Look for something ergonomically proven that passes the eye test. A good chair is nothing short of a game-changer.
The IT crowd: The standalone Macbook might have felt pretty up-to-task initially, but it's time to bring in some support. A quality keyboard and mouse to save any more touchpad stress, perhaps a secondary monitor too. Oh, and think about getting a few robust cable ties to tuck all that cabling away neatly.
Stationary: you still need a pen and paper occasionally, even if it's just for the odd doodle. For a little bit of artificial mind expansion, why not grab a white or cork board to spill your thoughts onto when required.
A virtual helper: AI technologies are changing the business game. Your home office shouldn't be exempt. Get a virtual assistant for help with anything from key reminders to something to talk to.
Creating the space
You've got the equipment for the job; the next bit is more about you. Your office needs to be one that you enjoy coming into on a morning, offers a sense of relaxation but also encourages productivity. There's also the practical element of creating the physical space you need to consider, as well as the "space" itself.
Obviously, this part requires your personal tastes and inspirations to take precedent, but a few ideas:
Lighting: probably the most important feature of your space. You want to embrace natural light as much as possible, getting your desk close to the window for a less corporate cubicle feel. For the winter months and late nights, invest in some tasteful lamps – overhead lighting tends not to do the trick in a small working environment.
Cosy but clever furniture: You want to make your office your "cosy" spot to an extent, but a three-seater plush sofa might not be the most practical. Look to a fitted furniture provider like Hammonds to get those home touches you're after with the practical element covered as well.
Greenery: plants are good for your mental health. From a few smaller succulents on your desk to a larger planter in the corner of the room, add a little green to help boost your mood on the long days.
A motivational makeover: colours matter and the psychology of different colours is definitely a thing. If you're having a repaint of the space, think about the energy you need to do your thing and choose your colour accordingly.
Personal touches: you don't want to go OTT here, but a piece of art or a movie poster on the wall, a few family photos scattered around -whatever says "you" – will add a nice final touch to your workspace. Keep things fresh by moving bits around, too.
Practical notes
Some boring bits to remember:
Make sure you have access to enough plugs to support your relevant tech.
Think ergonomically, not just with your chair but with little things like your screen and desk height. You want your screen at or just below eye level, with a keyboard that allows your forearms to stay parallel to the floor.
Make sure you have everything you need and then some supplies wise. This will stop you disrupting others in the house around you, as well as your own work flow.
Have a personal health and safety run through. Are you wires tucked away and trip-hazard free? Where are you putting your drinks in relation to your electronics? Is there any overheating risk with those electronics?
Creating your new "proper" home office should present an interesting challenge, an extension of your home décor even. With the working landscape in many industries set to change forever following the conclusion of the pandemic, now is the time to fully invest in your space to create a truly efficient and welcoming working environment.