Must-have Accessories for Men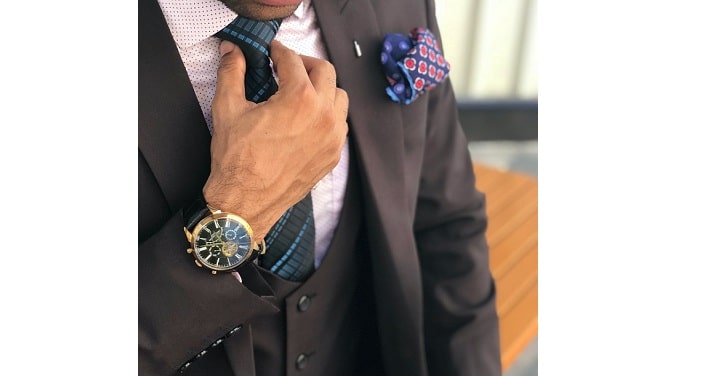 Every man should be able to accessorize his outfit, whether he's going to a wedding, heading to work, or just hanging out with his friends. Accessories complete your outfit, elevating it and making you look even better. There are some essential accessories that every man should own so that you have the most important ones when you need them most. The great thing about a lot of men's accessories is that they can be matched with anything, especially when you stick to neutral colors such as black, white, and brown. Make sure that you have all of the following accessories, so you're ready for anything.
A Selection of Smart Ties
There are lots of situations that call for a tie during your life. From weddings and funerals to job interviews and office jobs, you need to own at least one tie and preferably be able to tie it too. Of course, clip-on options are available, but there's something a lot smarter about a real tie. Even better than having just one tie is owning a few of them so that you have options to pair with different outfits. At a minimum, it's a good idea to have a black tie and a navy blue tie, which you can pair with most outfits. As well as the color, consider the material and the width of the tie.
A Pocket Square, Tie Clip, and Cufflinks
To go with your tie, it's a good idea to have a few extras for special occasions. You might use these for weddings and other events or anything that calls for some dressing up. A tie clip holds your tie down, preventing it from flapping about, creating a clean line, and adding something extra to your outfit too. A pocket square is great for weddings, and a white one can be worn with most jackets. Cufflinks are also handy to have for any more formal events. Keep it fairly simple if you only have one pair and avoid the novelty cufflinks.
Dress Socks
Normal socks are fine for the everyday. However, when you're getting a little more dressed up, you should consider something a little more formal. Dress socks will look good with a suit or dress pants, even if you happen to flash them at people. They come in a range of colors and patterns, but consider buying neutral shades that can be matched with anything. You don't want to be wearing bright purple socks that clash with your tie or anything else that you're wearing.
Shoes for Different Occasions
When it comes to shoes, there are endless options that you can own and wear. You can have shoes for many different activities and settings, from weddings to the gym. Making sure you have the right shoes isn't just a matter of looks but can also be about comfort. At the very least, one pair of casual shoes and one pair of formal shoes, such as Oxfords or brogues, should be in your collection of accessories. Ideally, you would have one black pair and one brown pair of formal shoes so that you can match them to different outfits.
Stylish Glasses
If you need prescription glasses, it's worth remembering that there are many stylish options out there. Even if you usually wear contact lenses, there are days when you won't want to put them in. The available styles for men's glasses have really evolved over the years, so you have a great range of choices to help you find the right style. There are different shapes, materials, and more to choose from. If you don't wear prescription glasses, a good pair of shades is still a must to add to your accessories. Glasses-wearers can choose between prescription sunglasses or wearing contact lenses with normal shades.
Belts – Black and Brown
Belts stop your pants from falling down, but they're also a good accessory to spice up an outfit. It's useful to have both formal and casual belts, but many belts will look good with pretty much any outfit. As with shoes, having the choice between black and brown is also a good idea. As a general guide, match your belt to your shoes if you want them both to look good.
A Watch
Some people might think of watches as unnecessary when you can check the time of your phone. But watches are timeless accessories, and they still look great with both casual and formal outfits. You also have the option of wearing a smartwatch or something modern, so you don't have to feel like you're stuck in the past. You may not want to own multiple watches, so buy one that can work with anything. Whether you're wearing a T-shirt or a suit, your watch can add to your outfit and allow you to check the time without having to get your phone out.
A Baseball Cap
Casual accessories are important too, and one that you don't want to miss out on is a baseball cap. It's essential to have when the sun is out, keeping the sun out of your eyes and off your face. It's also great to have a hat to cover your hair when you haven't done anything with it or even when you haven't washed it. Just remember that if you're going to wear a baseball cap, it should be worn the right way around.
A Practical Bag
Men might not carry purses, but they do need to have bags. When you need to carry more than your wallet, keys, and phone, your pockets just won't do. A practical bag could be one that you take to work, or it might be a weekend bag that you pack for traveling. Some options include backpacks, modern briefcases, and duffle bags. These can all come in more casual or formal options to match their purpose and where you want to take them and to go with your outfit too.
Make sure you have all of these must-have accessories in your collection so that you're ready for anything.