Global Brands Magazine Interview with Markus Henne, CEO of Genesis Motor China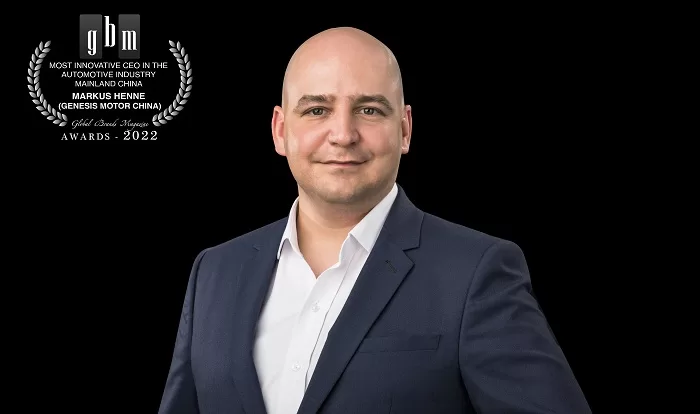 Global Brands Magazine was pleased to have the opportunity to interview Mr. Markus Henne, CEO of Genesis Motor China.
1. Tell us about your deep connection with the automotive industry and how you ended up becoming the CEO of GMC?
 I have been fortunate to work worldwide for several prestigious brands during my professional career, including in Europe, America and Asia. For the past 10 years, I have spent my time in Greater China working for several luxury automotive marques and have learned so much about the unique consumers here, including the things they have come to expect from a luxury auto brand, but also their pain points including the things which aren't being addressed by the current offerings available to them. So, when I met with Genesis and learned more about their new vision for the luxury automotive segment in China, it was clear that we shared the same values and understood what it was that we could offer the unmet needs of consumers. As you can see, since then, we have been able to bring this vision to life…
2. The Chinese luxury automotive market is highly competitive. How did Genesis set itself apart in a crowded segment, including among long-established incumbents?
In the time I have spent here, things have changed so much to the point that China is now the largest automotive market in the world. This presents a great opportunity, but at the same time, it means competition will be fierce – this is undoubtedly the case here as we have both deeply entrenched luxury foreign marques that have enjoyed years of high market share and fast-growing domestic new energy brands. This meant it was essential to distinguish Genesis from other brands from the very first moment.
This was clear on our brand launch night in April of last year when we officially introduced our new vision of luxury to Chinese consumers with an amazing spectacle that included a Guinness World Record-breaking drone show over downtown Shanghai that wowed local audiences and gave them a glimpse of what we were about – Genesis is a brand unlike any other that will go beyond to create unforgettable experiences for its customers.
Since then, we have continued using our China-tailored direct-to-consumer business model, which uses an omnichannel approach based on direct sales supported by trusted agents, to get closer to customers here and share our unique Genesis Experience. This includes our six differentiators, which have all been specially designed to reduce the stress typically found in the vehicle buying and ownership experience to deliver thoughtful moments designed around customers. Take our Genesis One Price Promise, for example; it ensures complete transparency for customers, so the exact vehicle is available on all channels at the same, fixed price, providing a stress-free and convenient experience without the struggle of having to negotiate with different dealers and re-sellers. Things like this help us to build trust and create authentic relationships with our customers – here, we are succeeding where other brands have failed.
3. As a 'newcomer' brand, what is Genesis doing to get itself noticed?
Even though we are only in the second year of our time here in China, we have been able to achieve so much by moving quickly to meet the needs of local consumers. Within six months, we introduced three vehicles to market: a mid-large-size SUV and sedan, the Genesis G80 and GV80 and a sports sedan, the Genesis G70. Our network has grown to more parts of the country to bring our Genesis Experience to more customers. Most importantly, we have been able to build the brand and share our experiences with customers here to show them how Genesis is different from other more traditional brands on the market – we are more than an automotive brand. We can offer a unique way of living beyond a simple monetary transaction.
At Genesis, we offer a lifestyle, and as part of this lifestyle, we offer diverse experiences to our customers to help them create unforgettable moments. This can be seen in our vital lifestyle elements, such as our Genesis Studios and the Genesis Restaurant, where customers can come to enjoy modern Korean Cuisine. We also have numerous lifestyle collaborations, including in the design and creative areas, like with Shanghai Fashion Week, which has allowed us to pioneer innovative activities, co-create on different platforms with global fashion brands and connect with those who resonate with the brand – we have even hosted shows in our Genesis Studio. In this way, we have met more customers, including our target audience, "Generation Genesis", and creating authentic relationships with them.
In our unique experiences like this, we have distinguished ourselves from other brands and positioned Genesis as a leader, not a follower, in the luxury automotive segment.
4. What have been some of the key milestones you have reached in the last year and a half? 
Wow, there are so many to choose from! At Genesis, we aim to make a positive difference in people's lives; seeing this firsthand is extremely rewarding. This was perhaps most obvious when we celebrated the deliveries of our first vehicles to customers in China last October, just six months after launching the brand. This allowed us to take our first customers through our unique handover ceremony when they added their personalized star to the "Galaxy of Genesis", our Genesis community of owners in China, and then, they were able to drive away with their new vehicles. While this was just the beginning of our relationship, seeing this made all our hard work up to that point worthwhile.
We have kept in close contact with these first buyers, who have shared with us their experiences of being a Genesis owner, and more importantly, the lifestyle that comes with it; while customers are still very much enamored with the look and feel of their vehicles, many reference specific aspects of the Genesis Experience that remained strong in their memory, including our Genesis Valet Service, with delivery and pickup for vehicle maintenance, and the Genesis Partner Concept, their own dedicated Genesis Partner who has accompanied them along their whole journey with the brand. As we continue to grow our footprint in the country, we are looking forward to taking experiences like this to more customers, so they too can understand why Genesis is the best choice for them.
5. What challenges have you faced since launching the brand? How did you overcome those challenges?
Earlier this year, Shanghai, where we have our headquarters as well as a number of brand outlets, was hit by pandemic-related restrictions, disrupting many aspects of business for all. Our outlets and Genesis Restaurant were forced to close, as well as events and activations were canceled or postponed indefinitely. For our team, as it was for many people in the city, this was an extremely testing time, but we were able to come together as a family to show our support for one another. Care packages were arranged for our employees, including food, necessary supplies and even exercise equipment to make sure they looked after their minds and bodies during this period. Faced with this situation, my team reacted nimbly to adapt, including taking our involvement in events like Shanghai Fashion Week "online" to show that we would continue our involvement in lifestyle areas and share our unique experiences with consumers despite the problems we face.
When we were finally able to open up our outlets again, we encouraged customers back to our outlets with activities including a complimentary meal at our restaurant and car maintenance services for Genesis owners. As a young startup that is moving at such speed, this ability to solve problems and even turn them into opportunities has typified our spirit and attitude towards our growth here. During this period, we were also proactive in expanding our footprint elsewhere in the country, opening four outlets in just two months to bring experiences to more customers in other cities.
6. What have been some of your proudest moments as CEO of GMC? 
There are certainly a lot of things to choose from, but for me, one of my proudest moments was seeing the opening of our first outlet in China – the Genesis Studio in Shanghai, which would become our home in China. As our first touchpoint in Mainland China, it marked our official "landing" in China with the first brick-and-mortar store. Our Genesis Studios are the living embodiment of the Genesis Experience, and this opening brought our direct-to-customer business model to life so that customers could come to visit us and enjoy our experiences for themselves. It would become the place for many of our lifestyle experiences, including curated fashion events and catwalk shows, and thanks to the opening of the Genesis Restaurant later in the year, a place to come and enjoy modern Korean cuisine.
It also marked the beginning of our network expansion with our first brick-and-mortar brand touchpoint in our HQ city, soon to be followed by our first Shanghai Showcase that, along with our Studio, would be able to provide a comprehensive and holistic experience to the people of Shanghai and the surrounding areas.
7. Tell us more about GMC's plans for the future. 
As part of our long-term commitment to the market here, it has been important to spend our first years building the brand and growing our network to take our Genesis Experience to more customers to let them feel it for themselves. Just recently we were thrilled to open both a Genesis Studio and Showcase in China's capital Beijing, completing the first stage of our network and bringing our amazing experiences to customers in Northern China. As our footprint grows, we are on track to open outlets in more than 10 cities by the end of the year.
Our customer-centric product launch strategy will further enrich our lineup with more of our globally recognized products to cater to the changing needs of customers and provide more choices for different lifestyle scenarios. Of course, our products are only part of the holistic experiences that we offer, and we will also continue our explorations into lifestyle, art and design areas to share our unique and meaningful experiences in more ways. This can provide the platform for us to meet customers, including our target audience, and make authentic connections with them.
8. As more and more brands move towards electrification, what are Genesis' plans regarding this? 
When we launched our first products in China, the Genesis G80 and Genesis GV80, they were applauded for their unique designs, outstanding performance, safety features and technology.
In terms of future mobility, China is certainly leading the charge including high adoption rates for EVs and consumers here are very sensitive to new electric offerings, which is why we chose it as the place to host the global premieres of Genesis' first EVs, the Electrified G80 and the Electrified GV70. It is hard to deny that electrification is occurring, but for us, it is about giving customers the choice for them to make the decisions that best suit them. This includes the model – SUV, sedan, etc – as well as the powertrain – whether that is a new energy or an ICE (Internal Combustion Engine) vehicle.
Moving forward, Genesis will introduce more of its globally recognized products to customers here in China, covering different powertrains, so we have more to offer customers, and customers have more convenience of choice for their unique lifestyle situations. In the near future, we are excited to take our official first steps into electrification, but you will just have to follow us for more news on this. We have a lot more on the way so watch this space!