Global Brands Magazine Interview with Hatem Dowidar – Group Chief Executive Officer of e&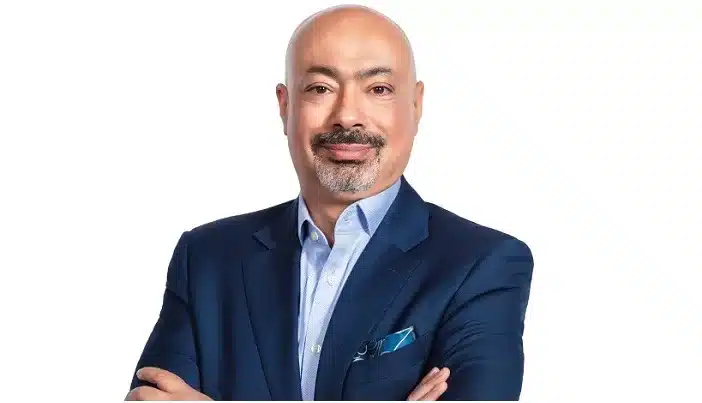 Global Brands Magazine was pleased to have the opportunity to interview Hatem Dowidar – Group Chief Executive Officer of e&.
1. Can you provide us an overview of e& and its key areas of operation and focus?
e& embodies a vision that is powered by a growth mindset, progressive outlook, and an innovative spirit, this commitment has been the cornerstone of our success. At the heart of our vision is the focus on hyper-scaling, achieved through a deep understanding of our customers across our markets. Whether it's feedback from our customers, shareholders, partners or employees, we listen and act. This has enabled us to revolutionise the way businesses operate in the markets we serve, and to continually innovate to bring communities together in new ways.
The digital age is calling, our evolution as a technology group is reflected in our significant investment in innovative digital solutions. This is accelerating the digital transformation of the communities across the 16 markets we serve.
Our business structure reflects a carefully considered diversification into five key verticals: etisalat by e&, e& international, e& life, e& enterprise and e& capital. Each of these verticals has distinct strategies that enable us to respond to the needs of our different stakeholders, both locally and globally. They symbolise our proactive approach to harnessing the immense potential of the rapidly changing digital environment. The guiding principle is clear: innovation that delivers superior value.
It is this forward-thinking approach that has driven the exponential growth of our businesses.
The market's confidence in our strategic efforts is reflected in our third quarter financial results. e& reported consolidated revenues of AED 13.4 billion with a YoY increase of 3.3 per cent while consolidated net profit was AED 3.0 billion, a year-over-year increase of 20 per cent. Our subscriber base has also grown remarkably and our financial indicators reflect the strong demand for our digital and data services.
As we move towards technological leadership, we are taking advantage of transformative technologies such as 5G, AI, blockchain and IoT. You only need to look at e& life's efforts in the non-telecom space to see this. Our acquisition of a 57 per cent stake in STARZPLAY Arabia demonstrates our ambition to strengthen our international presence and deepen our activities in digital verticals. With the investment into Careem, there are also several growth opportunities with our strengths in fintech and multimedia, coupled with their services and regional footprint, will accelerate our joint vision towards a regional super app. This partnership will set new standards of product innovation and customer experience throughout the region.
By broadening our horizons, our verticals such as e& capital and e& enterprise have strengthened our capabilities. Recent collaborations with companies such as Smartworld and Bespin Global MEA have extended our reach, while strategic investments such as VUZ and Lablabee demonstrate our determination to remain at the forefront of technological progress.
 e& is evolving and always pushing boundaries. our journey is just beginning.
2. e& has a strong presence in the telecommunications industry and now making its mark in the technology sector as well, with the changing landscape in the telecom and technology landscape including 5G and new age technologies,, how is the company ensuring the company remains competitive?
e& is not just a telecom company; we are a heritage built over 47 years, constantly evolving and innovating to stay at the forefront of the digital age. Our aim has always been to be more than a service provider; we want to be the trusted partner in the interconnected digital world. We do this by adopting a customer-centric approach while leveraging the latest technologies, analytics and innovation.
The strong growth of our subscriber base, which has reached 167 million by the third quarter of 2023, is a testament to our progressive approach. This significant leap has been achieved through network expansion, smart investment and commitment to delivering a seamless digital experience.
The strength of our brand is unrivalled, with 'etisalat by e&' reigning as the leading brand across all sectors in the Middle East and Africa. This is reflected in our 'AAA' rating and prominent position as one of the world's top telecoms brands in the 2023 Brand Finance Global 500 report.
But we're not just about connectivity, we're about enhancing lifestyles. As we embarked on this journey of making a mark in the global technology industry, and moving from a telco to a techco, it was essential to strike the right partnerships and also incorporate technologies in our services and solutions to achieve our vision.
In the industry and internally, AI is a technology that has left a profound impact and is also transforming industries, which will only grow in the coming years. At e&, we partnered with Microsoft to explore the integration of the technology into our services, becoming a powerful tool for improving customer experience helping businesses provide more personalised customer support.  Our UAE operations led by etisalat by e& are already setting industry benchmarks with certifications on Open API that has reflected internally in efficient integration, streamlining the development and operation of complex services.
Thanks to the UAE's leadership's vision this has also supported us in charting out our ambitious plans for AI. In the last year, the country has rolled out multiple digital strategies to establish itself as a global AI powerhouse by 2031. that aligns seamlessly with the UAE Centennial 2071 vision of fostering a robust knowledge-driven economy.3 The impact of AI on the region's economic augmentation is monumental. Projections show that by 2030, AI will infuse a staggering $320 billion into the Middle East and North Africa region, predominantly through industrial automation savings. On a global scale, AI's economic contribution is anticipated to hit a massive $15.7 trillion.
Similarly, 5G has revolutionised every industry since its launch with its faster speeds and lower latency, supporting the growth of IoT, autonomous vehicles and smart cities in the Middle East and globally. At e& with continuous investments over decades into the networks, today the UAE ranks globally among 143 countries in 5G  mobile speeds and in the NPS (Net Promoter Score) as well, that determines the customer experience on the network.
Edge computing is another technology that will help with real time data processing and is being used in a variety of industries in the Middle East, especially oil and gas, manufacturing and transportation. With etisalat by e&'s successful launch of the 'Microsoft Azure for Multi-Access Edge Computing for Enterprises (MEC)' service, it was another first in the region that was made available across various sectors.
The distributed ledger technology blockchain is making a major difference in creating secure and transparent transactions. UTC, the fintech blockchain platform of e& enterprise is the first commercialised solution now that has 12 banks onboard, which is a cloud-native solution that detects suspicious transactions, prevents fraud and duplication, and supports a wide range of trade-related documents that are validated and inspected in real time.
5G has also supported the growth of IoT which is expected to have a major impact on the global economy in the coming years. According to a report by McKinsey, IoT could generate up to $11.1 trillion in economic value each year by 2025. The Middle East is also expected to see significant growth in the IoT market in the coming years. According to recent reports and studies4, the IoT market in the Middle East is expected to grow to 42.8 billion by 2028.
e& enterprise's focus on IoT support governments and enterprises to ramp up their  efforts  to elevate to data-driven and highly automated organisations. By investing in IoT technologies, businesses can improve their efficiency, productivity, and profitability. Governments can use IoT to improve the quality of life for their citizens by developing smart cities and smart infrastructure. A great example is the recent collaboration with Emirates Health Services (EHS) and Abu Dhabi Department of Economic Development (ADDED) to develop and advance technologies and initiatives to improve the overall customer experience in healthcare and manufacturing. EHS will work with e& enterprise to explore cloud-based enterprise system and platforms for community health programmes, specifically focused on healthcare seekers in the Northern Emirates. Together with e& enterprise, they developed the 'Digital Clinic', the aim was to improve access and quality of care through the integration of digital technologies into clinical workflows, evidence-based care and shared decision making in a sustainable and scalable way.
With ADDED, they will look at Industry 4.0 and sustainable manufacturing, as part of efforts to achieve the Abu Dhabi Industrial Strategy's (ADIS) objectives by adopting technologies like cloud computing, cybersecurity, Internet of Things (IoT), and Artificial Intelligence (AI) to empower manufacturing enterprises in Abu Dhabi.
All these technologies are transforming our lives and making a major impact regionally and globally in the coming years. At e&, we are in a unique position to contribute to the future of the region by investing in these technologies and developing new products and services that leverage them, while creating more sustainable and greener future.
In short, the telecoms and technology landscape is changing and so are we, enabling e& to remain not only relevant, but indispensable.
3. Companies are increasingly focusing on sustainability and corporate responsibility. What is e& doing to reduce its environmental impact and promote social responsibility?
In today's rapidly changing business landscape, organisations need to lead with purpose, especially when it comes to sustainability and corporate responsibility. At e&, we are deeply committed to playing our part in global climate action and understand the importance of aligning our mission with global environmental, social and governance (ESG) standards.
Embedding sustainability into our DNA is at the heart of our ethos, not an afterthought. Through a focused effort, we have integrated these principles into our systems and processes, with a particular emphasis on energy efficiency and the use of renewable energy. We see it as our duty not only to manage our environmental footprint, but also to cultivate a vision of a sustainable future that resonates with governments and the business community.
The UAE's ambition to be at the forefront of climate change solutions has found a committed partner in e&. Every facet of our business embodies sustainability, as clearly demonstrated by the pivotal role we played in joining the UAE Independent Climate Change Accelerators (UICCA). Our participation in major events such as the COP28 conference is not just a representation; it is a demonstration of our commitment and underlines our goal of achieving zero net emissions from our Group's operations in the UAE by 2030.
e&'s pursuit of sustainability is demonstrated through tangible actions. For example, our switch to energy-efficient wireless equipment at mobile network sites has resulted in a staggering 52 per cent reduction in energy consumption. In real terms, this equates to an annual reduction of 7.6 tonnes of carbon emissions per site. Through these initiatives, we hope to lead the way for others to join us in our collective journey towards a sustainable future.
Our responsibility extends beyond the environment to the well-being of society. Our membership of global initiatives such as the Edison Alliance reinforces our commitment to digital inclusion and supports the United Nations' Sustainable Development Goals. e& has also been at the forefront of electric mobility in the UAE with its 'Charge&Go' initiative. More than just a charging network, this initiative embodies our commitment to a sustainable future and aligns perfectly with milestones such as Emirates Net Zero 2050 and the Dubai Integrated Energy Strategy 2030.
Technology inclusion remains at the forefront of our vision. We have launched digital accessibility initiatives, as a result of significant collaboration with key players in the energy sector. At the same time, the relentless influence of AI on our industry is driving us to partner with global technology and ESG stalwarts, enabling us to deliver ESG-centric services while preserving the environment for future generations.
Our commitment to education and the democratisation of technology is exemplified by our collaboration with Code.org, which aims to enrich computer science education in the Middle East, Asia and Africa. By joining forces with partners, we stimulate innovation and pave the way for transformative solutions that improve the education ecosystem.
e&'s commitment to inclusion extends beyond technology and is reflected in our efforts to ensure gender balance and the empowerment of women within our Group and in the markets in which we operate. As a technology conglomerate, we have leveraged our capabilities to provide free communication services to communities in need, such as those in Morocco and Libya, demonstrating our unwavering commitment to social responsibility.
In conclusion, as e& continues its growth trajectory, our core principles of sustainability, inclusion and corporate responsibility remain firm and guide us every step of the way. Our journey is not just about business expansion; it's about ensuring that every step we take leaves a positive and lasting impact on our world.
4. How do you see the partnership with Vodafone benefiting e&'s customers and the region as a whole?
The recent partnership with Vodafone marks a pivotal moment in the development of e&. As we move forward, it is imperative that we articulate the strategic nuances and potential benefits that this collaboration brings to our clients and the region as a whole.
Our partnership is a testament to e&'s unwavering commitment to leadership and innovation. As we consolidate our position as Vodafone's cornerstone shareholder, we are advancing a strategic relationship that began in May 2022 when e& first invested in Vodafone. The depth of this partnership allows us to leverage our respective operational strengths, as well as our extensive and complementary geographies.
Among the opportunities for business collaboration, the enterprise segment stands out. Together with Vodafone, we want to redefine the way cross-border digital services are delivered to multinational companies and government organisations. We envisage a full range of services, from fixed and mobile connectivity, IoT, cybersecurity to cloud services, promising holistic digital transformation.
Procurement is another key area. By pooling our knowledge, we are not only sharing best practice, but also looking at joint procurement to drive efficiencies and value. What's more, our combined ambitions in carrier, wholesale and roaming make us potential leaders in delivering an unrivalled digital infrastructure.
Technological progress remains at the heart of our concerns. Together, e& and Vodafone are charting a technological course that includes the evolution of OpenRAN, ensuring that our technology solutions are ready for the future.
Our strategic collaboration is already bearing fruit. Our joint venture with Vodafone Business, which resulted in the acquisition of a major customer, the Al Futtaim Group, to develop a software-driven network of the Al Futtaim Group, is an important milestone. This partnership underlines our ability to deliver superior value to multinational customers by leveraging our combined scale and regional expertise.
The MoU signed between Vodafone Business and e& further strengthens our commitment. Our shared intention is clear: to be at the forefront of digital transformation, ensuring that businesses and the public sector benefit from our combined offerings.
In short, this partnership -is about shaping the future of the technology and telecoms landscape in globally by ensuring unrivalled quality of service and innovation.
5. As a leader, what are your thoughts on the future of remote work and how it may affect e&'s operations and workforce management?
The world of work has undergone a profound transformation, largely driven by the increasing use of remote working. I believe it is essential to articulate our strategic perspective on this transformation and its implications for our operations and people management.
The appeal of remote working is not hard to see. Its potential benefits, such as cost savings, increased productivity, employee retention and improved work-life balance, make it a powerful strategy for modern businesses. But with these benefits come challenges. Managing geographically dispersed teams, ensuring seamless communication and combating feelings of isolation all require deliberate strategies.
At e&, we are not just spectators of this evolution, but active participants in shaping the future of our professional culture. Our initiatives such as 'work from home Fridays' and the two-day hybrid working policy are evidence of our adaptive approach. In addition, our targeted efforts, such as the Remote Working for New Mothers programme, underscore our commitment to employee wellbeing.
Harnessing the benefits of remote working also means tapping into global talent pools, fostering agility and promoting a culture of innovation. This requires infrastructure investment in collaboration tools and a shift in management mindset towards trust. What's more, as we embark on this journey, we must ensure that our remote workers are integrated into the Group culture and events.
Governments and regulators have a key role to play in developing a broader ecosystem. At a time when there are concerns about the potential decline of urban areas due to remote working, I see this as an opportunity. The key is not to choose between remote and face-to-face working, but to integrate the strengths of both, a hybrid model. This approach can rejuvenate urban centres while offering individuals the flexibility they seek.
Mental well-being remains a cornerstone of our approach. In 2022, we introduced a 24/7 helpline, reaffirming our commitment to the mental health of our team. Employers must be proactive in addressing any mental health issues that may be exacerbated by remote working.
Furthermore, equipping our remote workforce with the necessary technology and tools is not just an obligation, but a strategic investment. It ensures efficiency, aligns with our commitment to supporting our employees and strengthens our drive to achieve the collective goals of the organisation.
Finally, when it comes to the dynamics of working hours for remote workers, flexibility is key. While some roles may require strict adherence to specific schedules, others may thrive on a more flexible schedule. As long as the outcome meets the organisation's objectives, the approach can remain adaptable.
In conclusion, as we navigate this evolving terrain, our compass at e& is clear: prioritise employee wellbeing, ensure operational efficiency and remain committed to fostering a culture of trust, inclusion and innovation. The future of work is a collaborative journey, and at e& we're excited by the prospects.
6. Digital transformation is a key priority for many organisations. How is e& leveraging technology and digital solutions to enhance its services and operations?
In today's dynamic business landscape, the need for digital transformation is clear and at e& we have strategically positioned ourselves at the forefront of this change. e&utilises the power of technology and digital solutions to refine our services and drive operational excellence.
Our strategy is based on a holistic approach to innovation and technology. It's not just about adapting, it's about reimagining our future. Our vision is not just growth, but sustainable growth. We aim to broaden our scope through the seamless integration of non-telecom verticals and a diversified geographic footprint. Key acquisitions in the telecoms and technology sectors such as elGrocer, Smartworld, STARZPLAY Arabiya, Bespin Global and the merger with Khazna underline our intention.
While these acquisitions play a key role in our digital journey, it is the partnerships that crystallise our technology strategy. Collaborations with giants such as Microsoft, META, NICE and Oracle equip us with cutting-edge digital solutions, ensuring e& stays ahead of the rapidly evolving digital curve. What's more, our investment in Smartworld and alliance with DataRobot strengthens our capabilities in IoT and AI. It's not just about acquiring technology, it's about orchestrating transformative solutions for our customers and strengthening our positioning in cybersecurity, cloud, IoT and AI.
Collaboration remains at the heart of our approach. Our engagement with technology leaders such as Microsoft, Google and Amazon accelerates our pace of innovation. This synergy allows us to design and refine products, gain deep customer insights and venture into previously uncharted territory.
At the same time, we recognise the importance of digital financial solutions. Strategic alliances with financial giants such as MoneyGram, VISA and Mastercard reinforce our commitment to disrupting the traditional financial paradigm. With e& life our ambition goes beyond simple transactional offerings; we aim to revolutionise financial inclusion for the people of the UAE by combining security, flexibility and intuitiveness.
Our fintech arm, e& money, embodies this ambition. As the UAE's pioneering digital payment service, authorised by the Central Bank, its vision is bold: to become the UAE's financial super-app of choice. This includes an unwavering commitment to innovation, demonstrated by a wide range of fintech products covering everything from remittances and bill payments to investments and insurance.
The road ahead for e& money is exciting. We are on the verge of launching new capabilities such as companion cards, loans and investments. Leveraging our core strengths, our horizon includes a wide range of fintech offerings tailored to a diverse customer base, in line with our ambition to be the pinnacle of digital wallets and financial apps in the UAE.
In summary, e&'s digital transformation journey is not a reactive strategy, but a proactive plan, finely tuned to the evolving needs of our customers and the market at large. We're not just navigating the digital age, we're shaping it.
7. e& is well recognised for its dedication to innovation. Could you tell us about some of the recent ground-breaking innovations or initiatives especially in AI that have notably influenced the company's achievements?
In today's hyper-competitive marketplace, adapting to change is no longer enough. It's about anticipating it, managing it and using it as a catalyst for sustainable growth. At e&, we don't just keep up with innovation, we define it. Let's look at some of our recent transformative initiatives that not only enhance our offering, but also set a new course for the industry.
This year we have taken a major step by launching our own AI autonomous store experience with 'EASE', the self-service store in Dubai at Al Kifaf, a  first in the country. EASE stores leverages on our expertise and technological capabilities to align with future customer needs to offer a unique shopping experience. With access to all consumer products and services including mobile devices and accessories at their fingertips the  fully automated store incorporates cutting-edge technologies such as AI, machine learning, sensors, smart gates, digital touchpoints, and autonomous device and trade-in machines. These technologies work together to provide our customers with a seamless shopping journey.
This is a significant milestone in our journey of becoming a digital telco, and a testimony to our constant endeavour to implement innovative digital solutions. With the launch of the 'EASE' store, we proudly become the world's first telecom company to offer such a distinctive customer experience.
Today we also stand at the intersection of innovation and sustainability, and it is only fitting that we take this moment to reflect on the profound impact of technological advancement on our world. We are committed to embracing this responsibility wholeheartedly, and taken a major step to support electric mobility in UAE with the soft launch of 'Charge&Go',
With Charge& Go, e& isn't just part of the conversation; we're leading it. It signifies our commitment to shaping a sustainable future and cements e&'s position at the helm of the electric mobility metamorphosis.
The momentum behind Electric Vehicles (EVs) is expected to grow exponentially, with global sales soaring, and the UAE is making significant strides. Industry statistics reveal that more than 10 million electric cars were sold worldwide in 2022 and this is expected to grow by another 35 per cent to reach 14 million1.
We expect annual EV demand growth of 30 per cent from 2022 to 2028. Charge& Go is more than just a charging station network. It's a commitment to a greener future and part of our commitments to reach net zero in our UAE operations by 2030. We're strategically placing our stations nationwide to offer users a dependable, affordable, and easily accessible charging solution. The initiative aligns us with transformative goals such as the Emirates Net Zero 20502 and the Dubai Integrated Energy Strategy (DIES) 2030.
This  ecosystem results from collaborative ventures with key energy stakeholders aiming to provide a reliable, user-focused charging journey. e& is aiming to establish one of the largest electric vehicle charging ecosystem, collaborating with both government and private sectors to achieve this vision.
At e&, we don't just envision a greener tomorrow; we're actively enabling it. we're working collaboratively to realise the UAE's vision of its most expansive EV charging network. Through Charge& Go, we're promoting electric mobility and building a holistic, end-to-end EV charging solution that's both reliable and accessible. The soft launch of our 'Charge & Go' epitomises our sustained efforts in the sustainability sector while simultaneously advancing technology, particularly within the mobility services sector.
Further reinforcing our commitment to disruptive innovation, our venture capital arm, e& capital, has been at the forefront of investing in companies that are redefining industry standards. Take our investment in almentor, a video learning production company. Its focus on creating compelling Arabic content not only fills a regional content gap, but also brings knowledge to millions of people. And our investment in Ikigai Labs underlines our commitment to the democratisation of technology. In a world increasingly dominated by data, making AI accessible isn't just good business, it's responsible business.
Beyond strategic moves and investments, e& remains deeply rooted in its commitment to integrating smart living solutions across all of its services. It is embedded in our ethos, ensuring that our B2B clients benefit from increased operational efficiency, improved customer engagement and data-driven insights.
As we move forward, our goal remains clear: to stay at the forefront of technological advancement and ensure that our clients, partners and stakeholders benefit from the myriad opportunities this dynamic era offers. We are not just part of the digital revolution, we are its architects.
1. https://www.iea.org/news/demand-for-electric-cars-is-booming-with-sales-expected-to-leap-35-this-year-after-a-record-breaking-2022
2. https://u.ae/en/information-and-services/environment-and-energy/climate-change/theuaesresponsetoclimatechange/uae-net-zero-2050
3. UAE Digital Economy Strategy
4.  https:// fortunebusinessinsights.com/industry-reports/internet-of-things-iot-market-100307