Electra Rolls Out Townie Go! The Simple, Fun & Friendly Pedal-Assist Bike
Smile-Inducing, Stealthy Rechargeable Bicycle Technology from the Leader in Lifestyle Cycling
VISTA, Calif., Aug. 26, 2013 /PRNewswire/ — Today, Electra Bicycles introduced the Townie Go!, the most technologically advanced, yet simplest to operate pedal-assist bicycle in the world. Designed around Electra's patented "Flat Foot Technology" – an easy to ride frame design that gives riders comfort and control, the Townie Go! lets you sit up, see where you're going and allows you to put your feet flat on the ground when you're stopped.
The clean, integrated design of Townie Go! opens up the world of cycling to a much broader range of people by focusing on the fun of cycling rather than a confusing array of wires, gizmos, power settings and bolted on aftermarket components. 
Whether you're a family or a couple that wants to bike together, a commuter who'd rather not break a sweat or a racy retiree looking to expand your horizons, the Townie Go! makes perfect sense and is just plain fun to ride. 
Four years in development, the "go" in the Townie Go! is provided by SRAM's fully integrated E-matic zero maintenance pedal-assist propulsion system. Built into the rear hub, E-matic is so sophisticated it doesn't need a throttle, power output display or any other visually distracting gizmos. Just start pedaling and with each pedal stroke the E-matic senses your effort and very smoothly adds some "oomph" until you reach nearly 16 miles per hour. Once you reach that speed the motor backs off to maintain a safe, sane pace. E-matic is clean and unobtrusive – there's only one wire connection and a thin lithium-ion battery neatly tucked up underneath the rear rack. The fully charged 8-amp battery will last for about 30 miles – more than enough to handle normal commutes, fun rides and errands.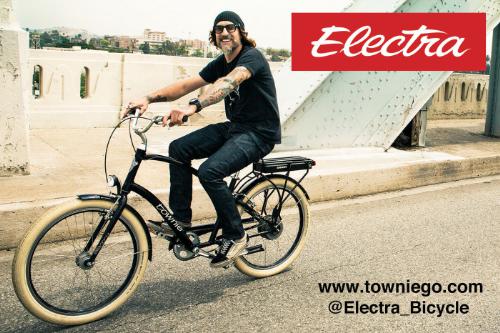 "I could spend loads of time talking about the technology seamlessly woven into the Townie Go!, but that's not really the point," said Electra CEO Skip Hess. "There's no shifting, no technical know-how necessary. All you have to do is climb aboard and pedal. It's like riding along with someone giving you a gentle push to get you over the hill or through those extra few miles and it's gonna put a huge grin on your face every time you ride it. It's just that fun. And fun is what Electra is all about," Hess added.
From SRAM's point of view the Townie Go! has been a winner for the technology leader from the very beginning. "Electra has been a perfect partner for SRAM," said Rob Cappucci, SRAM's E-matic Product Manager. "We were completely aligned from the outset on the vision of a clean, simple, elegant bike that's easy to use, a pleasure to ride and Electra has delivered all of that and more," Cappucci added.
The Townie Go! also includes front and rear lights that turn on automatically when you begin to roll and shut off a few seconds after you stop. It's also equipped with a built-in locking system that's utilizes the same key to secure the bike's battery.
Townie Go! is available in two models and four colors.  The Step-Through version comes in Sky Blue and Ebony. The Step-Over model is available in Matte Gold and Ebony. The MSRP is $2299 USD.
Electra Bicycle Company is the global leader in lifestyle, leisure and recreational cycling. Founded in 1993, Electra is about enjoying life, having fun, being slightly irreverent and making great products that capture the joy of riding and put a smile on your face. The company features six distinctly different collections: Townie, Townie Go!, Amsterdam®, Cruiser, Ticino®, Verse® and children's bikes. Headquartered in Vista, California, Electra bicycles and accessories are distributed in 25 countries worldwide.
For more info on the Townie Go! please explore www.towniego.com and for information on the complete line of Electra bicycles and accessories, visit www.electrabike.com
Get social with Electra:
Facebook:  http://www.facebook.com/ElectraBicycleCompany
Twitter:  www.twitter.com/Electra_Bicycle
Instagram: www.instagram.com/electra_bicycle
For additional information and hi-res images, contact Jackson Lynch, jackson@electrabike.com, +1 917 362 4046
SOURCE Electra Bicycle Company
RELATED LINKS
http://www.electrabike.com