Dunkin' Donuts Brews up Three New Locations at Wichita Dwight D. Eisenhower National Airport With Franchise Group, MSE Branded Foods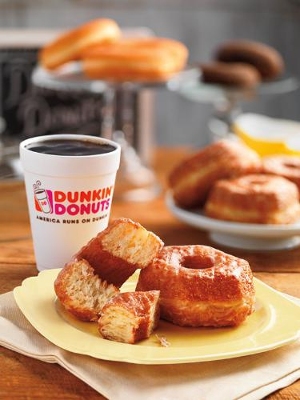 Dunkin' Donuts Continues Non-Traditional Expansion In Kansas
CANTON, MA (June 8, 2015) – Dunkin' Donuts, America's all-day, everyday stop for coffee and baked goods, announced today the opening of one new Dunkin' Donuts restaurant and two new Dunkin' Donuts Express locations at Wichita Dwight D. Eisenhower National Airport. A joint venture led by franchise group MSE Branded Foods will operate the new locations.
MSE Branded Foods, led by founder and president Jack Hough, has a cross-functional team of retail food experts with over 100 years of combined experience in assisting institutions with the creation, implementation and daily operation of successful food service programs.
 "We're proud to bring one of the world's leading brands to Wichita Dwight D. Eisenhower National Airport," Jack Hough, president of MSE Branded Foods. "We look forward to serving travelers and hope to become a popular and convenient destination for guests to fuel up while they are on the go."
All three locations opened for business on June 3rd. The full-service Dunkin' Donuts restaurant is located in the main terminal just past security in the food court. One of the two additional Dunkin' Donuts Express operations is located in the pre-security area inside of Aviator's Café and the other is post-security in the Grab N' Fly location. Hours of operation will vary day-to-day based on flight schedules, but will open 90 minutes prior to the first flight time and remain open until the last flight departs.
The restaurants feature a selected menu of Dunkin' Donuts' internationally recognized coffee, lattes, donuts and bakery goods. Special highlights of the menu at the full-service location also include bakery sandwiches, breakfast sandwiches, wraps, Coolatta® frozen drinks and a DDSMART® menu featuring better-for-you items to offer guests even more choices.
"Airports continue to be a strong growth area for Dunkin' Donuts, and MSE Branded Foods collective restaurant industry experience makes them an ideal franchisee," said Grant Benson, CFE, vice president of global franchising and business development, Dunkin' Brands. "Together with MSE Branded Foods, we're prepared to fuel travelers heading to and from their destinations around the country."
Dunkin' Donuts currently has more than 600 non-traditional locations, such as airports, mass transit stations, travel centers, supermarkets, college campuses in the U.S. For information on franchise opportunities or to attend an upcoming webinar.
*Details available in the Dunkin' Donuts Franchise Disclosure Document
About Dunkin' Donuts
Founded in 1950, Dunkin' Donuts is America's favorite all-day, everyday stop for coffee and baked goods. Dunkin' Donuts is a market leader in the hot regular/decaf/flavored coffee, iced coffee, donut, bagel and muffin categories. Dunkin' Donuts has earned the No. 1 ranking for customer loyalty in the coffee category by Brand Keys for nine years running. The company has more than 11,300 restaurants in 37 countries worldwide. Based in Canton, Mass., Dunkin' Donuts is part of the Dunkin' Brands Group, Inc. (Nasdaq: DNKN) family of companies