Costa Launches New Summer Range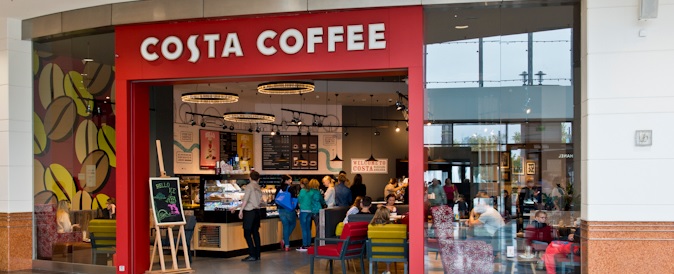 As the great British summer dawns, Costa, the nation's favourite coffee shop, has launched its brand new food and drink range, available in all stores nationwide.
The menu features several delicious and nutritious new products which offer customers balance and credible choice across our food and beverage menu.
Costa SuperDay Smoothies (£3.50 each)
SuperDay Smoothies are made from 100% real fresh fruit, lovingly blended and prepared by our baristas, and are available in three refreshing flavours; Yellow SuperDay with pineapple, melon, mango and passion fruit, Red SuperDay with grapes, watermelon and strawberry and Green SuperDay with Melon, apple and kiwi.
The new SuperDay smoothies contain one of your five a day and no added sugar in addition to Costa's Happy Taste Guarantee – which enables customers to return any beverage they are not happy with – ensuring maximum satisfaction.
Costa Salad Wraps (£3.25 each)
The new Costa Salad Wraps are high in protein, under 350 Kcal, low carb, one of your five a day and offer a fresh and healthy alternative to your usual lunchtime sandwich.
The British Roast Chicken Rainbow Salad Wrap is packed with roast chicken, carrot, red cabbage, spinach, spring onion, coriander and herb yoghurt, whilst the Sweet Potato Falafel Rainbow Wrap contains sweet potato falafel with chickpeas, carrot, spinach, red cabbage and cumin yoghurt.
In addition to the wraps and smoothies, selected stores will be trialling the Costa It's All Good Range.
The new range features chicken, hot smoked salmon and tuna protein pots; fruit pots, berry pots, mini crudité veg pots and egg pots, all perfect for an on the go nutritious snack.
Jane Treasure, Costa's Head of Food and Beverage Development commented: "At Costa we believe in offering our customers a balanced and varied menu that's full of credible choice, be it a fresh salad, healthy snack, or something more indulgent. Whilst the new menu includes some old classics, we're excited to see how our customers react to our new products, particularly the SuperDay Smoothies".
The full summer range will be available in all stores nationwide.