Philadelphia Cream Cheese Continues to Delight Fans with Two New Flavored Spreads: Olive and Peach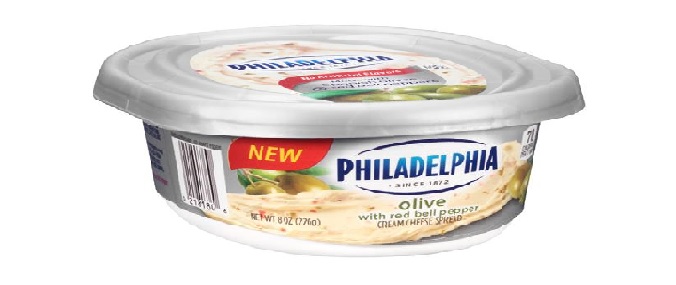 America's favorite cream cheese brand enlists Haylie Duff, Brandi Milloy and Philly fans to find next great snack with #PhillyFlavors contest
Philadelphia Cream Cheese is taking its line of sweet and savory spreads to the next level with two new flavors: Olive and Peach. Made with real ingredients, including farm fresh milk, cream and real fruits and vegetables, Philadelphia Cream Cheese spreads provide a creamy canvas, not just for breakfast, but also as a spreadable snack option.
"Philadelphia Cream Cheese is most recognizably known as a breakfast spread atop your favorite bagel or as an appetizer in a crowd-pleasing dip," said Ken Padgett, associate director, Philadelphia Cream Cheese. "Now we want to inspire cream cheese lovers to think beyond the bagel with our 12 flavorful spreads. From Jalapeno to Peach, Blueberry to Olive, there is a flavor for everyone that pairs perfectly with snack time favorites."
To inspire consumers to think about the endless snacking combinations with Philadelphia Cream Cheese spreads, the brand is launching the #PhillyFlavors contest. Running now through July 6, Philadelphia encourages fans to share a photo of their most creative snack ideas featuringPhiladelphia Cream Cheese spreads, using #PhillyFlavors and #contest on Twitter and Instagram for a chance to win big.
And the fun doesn't stop there. From July 13 through July 21, fans can vote for their favorite combinations to help determine the top three finalists. The lucky three will receive an all-expenses paid trip to New York City to compete in the ultimate snacking showdown. Official Philadelphia spokespersons and celebrity judges, Haylie Duff and Brandi Milloy, will select the grand prize winner, the recipient of a $5,000 check and ultimate bragging rights.
"I'm thrilled to be partnering with Philadelphia Cream Cheese, as finding new and exciting snack options for me and my family can be a challenge," said Duff. "Philadelphia has so many different flavors to choose from – I can't wait to see what everyone comes up with!"
Philadelphia Cream Cheese spreads feature fresh fruits and vegetables and contain no artificial flavors. The spreads are available in 12 flavor varieties, including Strawberry, Smoked Salmon, Pineapple, Spicy Jalapeno, Honey Pecan, Garden Vegetable, Chive & Onion, Brown Sugar & Cinnamon, Blueberry and the newest additions to the portfolio Olive and Peach, as well as Black Cherry, which debuted last fall:
Philadelphia Olive Cream Cheese Spread: Features real Spanish olives and red bell pepper. For a savory snack, spread it on a pita and sprinkle with feta.
Philadelphia Peach Cream Cheese Spread: Features real peaches and pairs well with a banana and cinnamon for a sweet snack.
Philadelphia Black Cherry Cream Cheese Spread: Features real black cherries and goes perfectly with chocolate wafer cookies.
"Snacks are such a fun way to roll up your sleeves and get creative in the kitchen," said Milloy. "The new Philadelphia Cream Cheese spreads bring delicious flavor, whether you're looking for something savory or sweet, and make it easy to create a snack that is perfect for you."
Philadelphia Cream Cheese's newest spreads are now available at major grocery retailers nationwide (MSRP: $2.79).
ABOUT THE KRAFT HEINZ COMPANY
The Kraft Heinz Company (NASDAQ:KHC) is the third-largest food and beverage company in North America and the fifth-largest food and beverage company in the world, with eight $1 billion+ brands. A globally trusted producer of delicious foods, The Kraft Heinz Company provides high quality, great taste and nutrition for all eating occasions whether at home, in restaurants or on the go. The Company's iconic brands include Kraft, Heinz, ABC,Capri Sun, Classico, Jell-O, Kool-Aid, Lunchables, Maxwell House, Ore-Ida, Oscar Mayer, Philadelphia, Planters, Plasmon, Quero, Weight Watchers, Smart Ones and Velveeta. The Kraft Heinz Company is dedicated to the sustainable health of our people, our planet and our Company.