Chipotle's Genius Marketing Move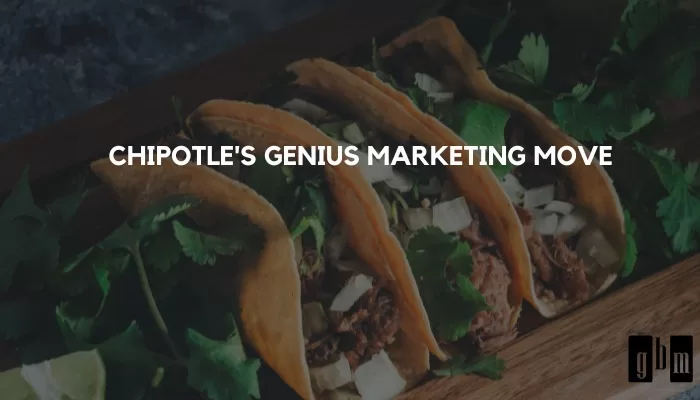 GBM Insights
On National Burrito Day, Chipotle launched a campaign on social media to help increase its sales.
This helped the brand earn its second highest digital sales of all time.
This strategy also helped the brand reach a new one-day volume in sales through social media.
Using Social Media The Right Way
Chipotle usually capitalizes on buzzy trends like the metaverse or cryptocurrency to give away free food to its consumers during National Burrito Day. However, this year, the brand switched its strategy back to basics and focused its efforts on Twitter for a candid giveaway inspired by its fans that resulted in record-breaking success.
On April 6, Chipotle gave away 10,000 free burritos via text-to-win codes on Twitter, with an additional surprise of 500 codes to users, along with free delivery on $10 orders. Although not the most flashy campaign, the effort has become Chipotle's second-largest digital sales day of all time and its highest one-day volume on social media of any activation ever, all while staying true to its longtime goal surrounding the holiday. Tressie Lieberman, Vice President of Digital Marketing and Off-Premise for Chipotle, said that their overarching strategy is to supercharge the super fans, and the brand believes its fans are different, passionate about the brand, and try to give them things that they want to talk about and share with their communities.
Demand surrounding the campaign skyrocketed, with each round of text codes dropped by Chipotle claimed in less than a minute, over 1 million SMS messages sent, and over 150,000 social media messages from consumers asking for a free burrito. The latter is one of the top questions the brand receives on social media for the holiday each year, which is what inspired the effort in hopes of making a lasting impression.
To promote the offer, Chipotle partnered with social media mogul Alix Earle, currently the top-ranked influencer among teens, who shared the deal on TikTok. Demand for the giveaway was similarly felt, with all free burritos on the delivery app claimed in 12 hours.
While Chipotle has previously launched campaigns that called on flashy marketing trends, its latest burrito celebration is more straightforward. For example, the brand last year launched a Chipotle Burrito Builder experience on Roblox that gave out free entree codes. In 2021, it capitalized on Bitcoin hype with a themed contest that awarded consumers with cryptocurrency and a total of $100,000 worth of free burritos.
Still, social media has become a tried-and-true avenue for connecting with consumers for Chipotle, and is also an asset for boosting its rewards program, which currently has 33 million members. CEO Brian Niccol, when discussing the company's Q1 earnings, pointed to a boost in loyalty members stemming from its new Freepotle rewards perk, an effort that launched in January to award members with free food drops throughout the year and was promoted with a TikTok and Instagram giveaway. The brand also recently unveiled a new menu concoction following its virality on TikTok.
The brand's promotion for National Burrito Day helped to boost awareness and generated a massive amount of digital traffic, Lieberman said, which has a domino effect when it comes to loyalty enrollment. The effort also served as a reminder that marketing campaigns don't need to be complex to be successful, and that listening remains a valuable tool. According to Lieberman, the best campaigns are simple, easy to understand, and talk about. The brand always looks at the lens of simplicity when thinking about how a fan is going to talk about the promotion they are running.
Generating buzz
According to Chipotle's Chief Marketing Officer, Ashley Lieberman, the company's top priority in developing its burrito day strategy is to meet consumers where they are through a community-focused and shareable effort. This is seen as a key aspect of driving virality, which is important for the success of the campaign. Despite Twitter's ongoing issues and the broader advertiser pullback, Chipotle has continued to track high engagement rates within the app.
However, the festivities for the holiday were not designed with one specific platform in mind. Lieberman stated that each platform has its own reason for being, and the idea is thought of first before the platform is chosen where it will work best.
For an activation revolving around live text code drops, Twitter makes more sense logistically compared to other platforms such as TikTok. This is because Twitter is more adept at real-time engagement. Chipotle's social listening team has also maintained a strong presence on Twitter to reply to consumer questions and feedback. This allows the team to build a quick-to-reply muscle that was critical for such an effort
According to Lieberman, winning over consumers means thinking of marketing plays less as a hardcore sales tactic and more as a meaningful approach through the perspective of the consumer. It's an incredibly important part of connecting with consumers today, she says. People don't want to be talked at; they want to be seen and heard.