5 Grandest Annual Horse Racing Shows At Del Mar Racecourse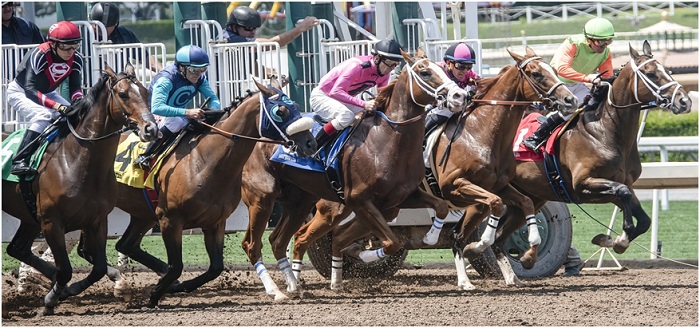 Horse racing is considered one of the most popular sporting events to bet on. Every year, many horse racing events take place which highlight different breeds of racehorses. The Triple Crown Series comes as the most favorite, while the U.K. has the Cheltenham Festival.
A horse racing show needs thoroughbred horses, audiences, bettors to begin with. Not only that, but it also requires a racing field that can make this event happen. One of the most popular horse racing venues in America is the Del Mar Racetrack. Situated in San Diego, California, this racecourse highlights some of the world's most prominent horse racing shows.
While all of us are constantly battling with the world health crisis that started two years ago, horse racing events, especially at Del Mar, continue to provide massive alternative income properties to bettors and entertainment.
Here are some of the horse racing shows you can witness at this racecourse which is also featured in some of the largest sports betting sites like the tvg del mar.
Bing Crosby Stakes
Named after Bing Crosby, an entertainer racehorse breeder and a founding partner of Del Mar Racetrack, this racing tournament features three-year-old and up thoroughbreds who will compete in a six-furlong dirt track. Aside from that, it is a Grade 1 stakes racing event that takes place every July and offers a $251,500 purse prize to the winning colts.
Historically, Bob Baffert held four Bing Crosby Stakes titles and was also hailed as the trainer with the most number of wins. For most victories held via Jockey, Ed Delahoussaye and Corey Nakatani share the same honor with five accomplishments. Last year, Mark Glatt's Conclusion Illusion won the said title.
Clement L. Hirsch Stakes
Colts are not the only racehorses being featured in some prominent racing events. Mares and fillies also got the time to shine through Clement L. Hirsch Stakes. Inaugurated in 1937, this is also one of the races that happen at the Del Mar racetrack every July. The participants will saddle in a 1 1/6 mile dirt track with a pot prize of $250,000.
Clement L. Hirsch Stakes was not one of the most popular races since it began. It was only a Grade 3 racing show, but since conditions were changed within its progress, it was upgraded to Grade 1 in 2009. Zenyatta holds three wins which are recorded as the racehorse with the most number of wins. Apart from that, Chris McCarron holds the most victories via jockey and John W. Saddler via trainer.
Del Mar Debutante Stakes
Every September, another horse racing show takes place at Del Mar, which is participated by fillies. The Del Mar Debutante Stakes started in 1951 and was classified as a Grade 1 event in 1999. Only two-year-old fillies are allowed to enter the competition, where the participants compete at a seven-furlong dirt track highlighting a $300,000 purse prize.
Looking into the records of the entries who participated at Del Mar Debutante Stakes since then, Bob Baffert has won the most nine titles. D Wayne Lucas also held the nine victories via jockey. Princess Noir is the defending champion for this horse racing competition which was trained by Baffert.
Del Mar Futurity
Opened its doors in 1948, the Del Mar Futurity is one of the oldest horse racing competitions that takes place annually in the same racing field. It allows geldings, colts, and fillies with specific allowances that will compete at a seven-furlong dirt track. Del Mar Futurity offers a pot prize amounting to $300,000.
The latest winner of Del Mar Futurity was Dr. Schivel, trained by Luis Mendez and ridden by Flavien Prat. However, no other horse racing jockey can topnotch Bob Baffert's records, who won fourteen victories, and half of these were consecutive wins. American Pharoah holds the fastest racer who won the Del Mar Futurity, which happened to be a Triple Crown champion.
Del Mar Oaks
Existed for 64 years, Del Mar Oaks is also another horse racing competition that features three-year-old fillies. All participating racehorses compete in a 1 1/8 mile turf track highlighting a $300,000 prize. From 1957 to 1964, this racing shoe only competed in one mile but was changed afterward, upgrading it to a Grade 1 event in 1994.
Patrick Gallagher's Red Lark was the Del Mar Oaks defending champion who won last year. Charlie Wittingham holds the most number of wins by jockey, which totaled seven. Three jockeys get tied for the most number of victories: Bill Shoemaker, Chris McCarron, and Corey Natakani, who all accomplish four wins.
Final Thoughts
Like other horse racing venues, the Del Mar racetrack highlights some of the most prominent horse racing events in the United States. These horse racing shows offer the top horses, trainers, and jockeys in the world and give out the best price guaranteed betting games.  The next time you find yourself enticed in horse racing, consider visiting the Del Mar racecourse to witness some of the world's grandest horse racing competitions.