World Ocean Day 2022 – Revitalisation: Collective Action For The Ocean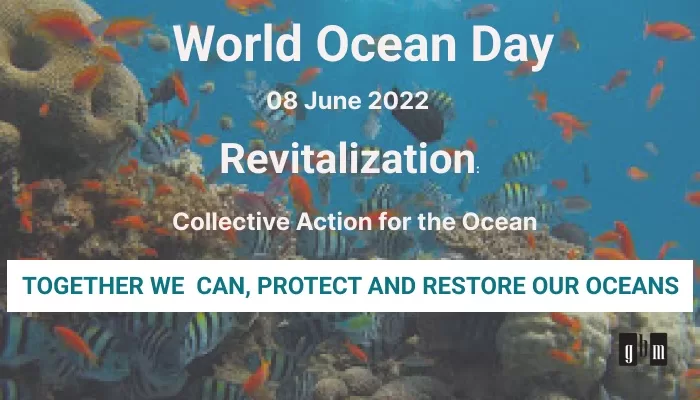 The concept of World Ocean Day was first proposed by the UN in 1992 at the Earth Summit in Rio. Like other important environmental days, this was conceptualised with the aim of spreading awareness about the oceans. The World Ocean Network, since 2002 has built support for ocean awareness and with the help of the UN, creates global awareness throughout the year.
The World Ocean Day becomes more and more important with each passing year as the effects of global warming become more noticeable. As non-profit organizations try and double down on their efforts to preserve the oceans, here are some ways brands in today's day and age can do their part and make World Ocean Day a success.
The theme for World Ocean Day 2022 is- Revitalisation: collective action for the ocean. As the name suggests, it is an effort to rally up as many hands as possible to make a positive change for the ocean. A lot of our garbage flows into the oceans, and now, there is a mass of garbage so massive that it can be seen from space. Not only is this extremely harmful to the natural habitat, but it also poses another problem, waste management.
By virtually attending the UN conference, brands can sensitise themselves and make take small steps to save the oceans. Brands can take to social media to help promote awareness on World Ocean Day. If your company lacks a marketing team, you can simply reshare existing material by other brands and tagging them as well. This will not only spread awareness, but it will also promote another brand which can lead to collaborations in the future.
Last year, Eco Train encouraged brands to share their existing material to help spread awareness. The campaign was largely a success as it helped garner attention to World Ocean Day.
Brands should also look at their in-house activities and reduce wastage, and also plastic waste. Encouraging recycling and keeping separate bins for food and dry waste and reducing the need for plastic as much as possible can go a long way to promote an eco-friendly environment, which on a small scale will impact the cause for the world's oceans positively. Furthermore, brands should also take the time out to not only learn about World Ocean Day, but they should also take the opportunity to inform others as well. As the theme suggests, collective action, by building a community and inspiring change, brands can make a huge difference.
Naturally, not every company is possible of rallying up a community, but in other cases, brands can take the time out to research different NGOs and the like that are saving the ocean. They can make monthly donations, even if it's a small amount, it is money that is being invested in the future of our planet and the conservation of our oceans. Directly supporting these organisations and government bodies will go a long way in ensuring that our oceans stay clean.
Last year, two YouTubers by the name of Mr. Beast and Mark Rober joined hands to clean up 30 million tons of plastic from the ocean. This campaign relied mainly on the donations of subscribers and other people alike. During an event like this, brands took the time out to not only share and spread awareness of the dire situation of our oceans but also donated to help clean the oceans. Not only was this campaign a huge success, but the level of awareness and reach a campaign like this had was monumental. It inspired several young people to join the fight against climate change and pollution.
Preservation of our oceans is of the utmost importance. Brands have a high reach, and their actions often influence their target base. For example, National Geographic's campaign on World Ocean Day in 2019 had a massive reach. With the hashtag PlanetorPlastic, they had 1,000,000 in a week. They had over 8 billion views in online readership. This obviously had a huge impact on people as it made them reconsider their choices and over 400 companies changed their policies regarding single-use plastics.
Our oceans make up for over 50% of the world's oxygen, and with the rapid decline in its habitat and the destruction of coral reefs, the time for action is now. Everyone needs to take the steps needed to fight this necessary evil, not only for us, but for the future generations as well.