UNDERGROUND HOTEL FOR ALL WATER LOVING TOURISTS AT DUBAI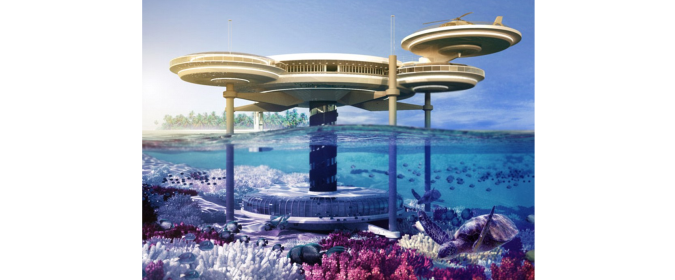 Dubai is arguably the world's luxury capital with some of the record breaking constructions. After the world's tallest building, largest shopping mall and the biggest man made island, it is now home to the largest underwater hotel.
Making the skylines a thing of the past and in an effort to give the travellers a never before view of the ocean, Drydocks World – the Dubai based Construction Company and Swiss engineering firm is in the process of building the world's biggest luxury underwater hotel in Dubai.
The Water Discus Hotel that has been designed by the Deep Ocean Technology comprises of two rotating discs – one above the water and one underwater, a combination of which will allow the guests to make the most of the warm climate on the top and have a spectacular view of the ocean from below. These two discs have been connected by five solid pillars and a shaft that contains a lift and a stairway. The hotel is surrounded by coral reef and has 21 double rooms and an underwater diving center. The rooms will be situated at least 10 meters below the surface and have huge windows that will offer a view of the world underwater. The disc above the water will host a garden, spa and a swimming pool for the guests who don't want to actually be in the ocean.
While the Water Discus not only gives its guests a unique opportunity to be underwater through the day and night, but it also offers a comprehensive and safe diver training. The hotel has a cave and training facility along with air filled huts and emergency breathing stations that have been equipped with surveillance cameras. There are also underwater tourist vehicles that are a permanent component of the infrastructure.
Architect Paweł Podwojewski stated that he started designing the hotel two years ago and the approach in design was as if it were a ship rather than a building. The construction costs also have been kept low by having a simple structure and not fixing it to the ocean floor. The most interesting part is that the hotel can surface to the top for any repairs or evacuation and can be tugged to new location too.
The Chairman of Drydocks World stated that the project is estimated to cost $50 million to $120 million, depending on the design. Deep Ocean Technology owns the concept for the hotel that will be funded by BIG InvestConsult.