"HELLO KITTY" MAKES ITS FIRST U.S. FLIGHT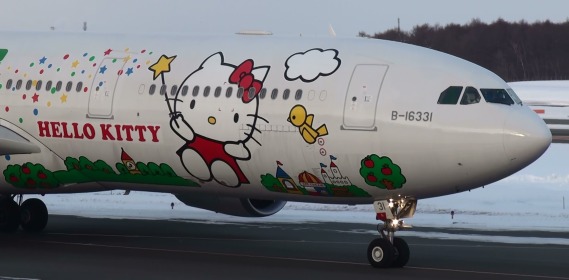 Whether you call it cute, adorable or just odd, the EVA Air's long range "Hello Kitty" jet completes its maiden flight to the U.S drawing a huge crowd of Kitty fans. This marks a big leap in the brand expansion for Sanrio's famed cat.
Hello Kitty and her mates are very popular all over the globe and more so with the Taiwanese AirlineEVE Air that has five Kitty themed planes. This just adds to the Kitty's list of being seen everywhere from sandwiches served in restaurants to beer pong tables. Sticking her on a plane and taking her to the U.S. and back, the thrice weekly flights from Taipei to Los Angeles began on September 20. According to reports, Europe is also going to see the Kitty fly over their land very soon.
Currently each of the Hello Kitty planes have 19 characters which includes Kitty's BFF My Melody, Little twins Kiki and Lala, rival Kuromi and the trouble making Bunny.
According to a statement by the company, the theme of Sanrio family hand in hand conveys the message of overcoming cultural barriers and embracing the world.
Currently the Hello Kitty planes – A330s are flying from Taiwan to Japan, South Korea, Hong Kong, Guam and China. However the feline cat will board the world's largest twin engined Boeing 777 aircraft and just like the A330s the B777 is going to be completely drenched with the Kitty. Over 100 in-flight items bear the Hello Kitty motif, including the tissues, head-rest covers, snacks, utensils and soap dispensers. You will also find the flight attendants sporting Hello Kitty aprons selling the limited edition duty free goods with the cutesy animal's picture.
The Hello Kitty fans have more in store for them and the world of Kitty begins even before they got on the plane. The Boarding passes and baggage stickers are all Kitty – stamped and the passengers board the aircraft through a special gate that has been Kitty embellished.
Hello Kitty was launched by the Japanese cartoon company Sanrio in 1974, depicted as a white female cat with a bright red bow in her hair. Close to four decades since her birth, the Kitty has been earning worldwide revenue of $5 billion each year.