A DATE TO REMEMBER: JUMEIRAH BEACH HOTEL LAUNCHES THE 11.12.13 ROMANTIC EXPERIENCE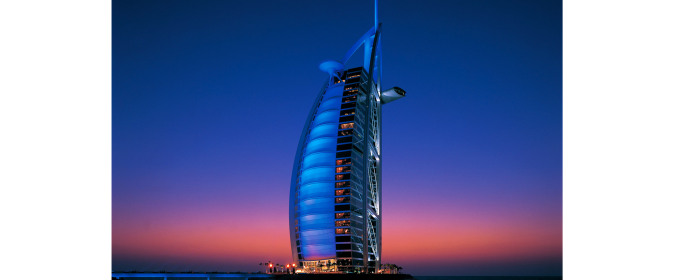 Jumeirah Beach Hotel, part of Jumeirah Group, the luxury global hotel company and member of Dubai Holding, launches an exclusive one-off Romantic Experience in recognition of this significant date.
11th December 2013 is regarded by many couples as 'the most romantic day to get married' due to its numerical significance (11.12.13). For this date only, Jumeirah Beach Hotel is offering one couple an exclusive Ultimate Romantic Experience for AED 111,213.
The 11.12.13 package will include a selection of romantic experiences starting in sensational style with an arrival by private limousine for a three night stay in an exclusive Beit Al Bahar villa. On arrival the couple will be greeted with a Bulgari gift box and escorted to their private Villa for an in-room check-in and VIP gifts.
The experience continues with a couples' signature spa treatment in a private cabana on the beach followed by an evening of true romance with an intimate dinner for two set up on the terrace of their private villa with spectacular views of the Burj Al Arab and Arabian Gulf complemented with an exquisite bottle of Louis Roederer Cristal Brut 1999 and personal butler.
This auspicious day is the last consecutive date for almost 90 years and Jumeirah Beach Hotel is offering one lucky couple a chance to create a memorable experience they can treasure forever.
The 11.12.13 Ultimate Romantic Experience package includes:
Three nights in Beit Al Bahar one bed-room Villa (check-in 11th December, check out 14th December 2013)
Daily Breakfast
Limousine Airport Pick-up and Drop-off
A bottle of Louis Roederer Cristal Brut 1999
Special VIP Amenities in the Villa
Romantic Private dinner set up on the beach or Villa terrace
Couples' massage on the beach by Talise Spa
Private Beach Cabana
Private butler for the stay
To book online, please click www.jumeirah.com/111213
-Ends-
Note to Editors:
About Jumeirah Beach Hotel:
Jumeirah Beach Hotel, Dubai's premier lifestyle destination, is located on Jumeirah Beach Road just 15 kilometres from the city centre and 25 kilometres from Dubai International Airport. The hotel is a dynamically-formed 26-storey curved design built in the shape of a breaking wave and offers pristine private beaches with undisturbed views of the Arabian Gulf. Jumeirah Beach Hotel also offers 598 sea-facing rooms and suites, over 15 restaurants and bars, extensive conference and banqueting facilities, the Pavilion Marina and Sports Club, Sinbad's Kids Clubs and direct, complimentary access to Wild Wadi for all guests. Jumeirah Beach Hotel is a seaside destination for the entire family.
Jumeirah Beach Hotel
Director of Marketing Communications
Jumeirah Beach Road
P.O. Box 11416 Dubai, United Arab Emirates
Tel: +971 4 406 8532
Email: jbhpr@jumeirah.com