Turkey Day Fixin's: The Must-Try Flavor of the Month from Baskin-Robbins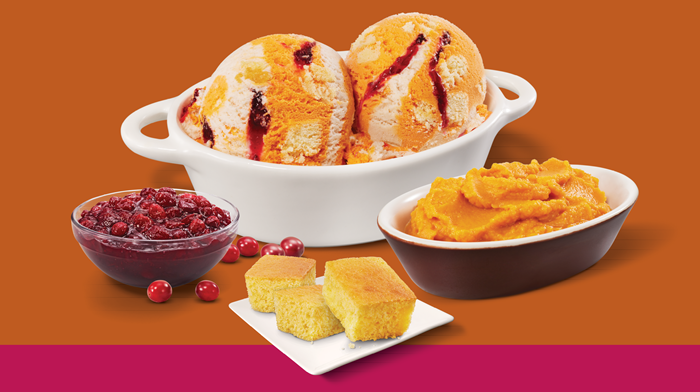 Baskin-Robbins introduces a unique Thanksgiving flavor, "Turkey Day Fixin's," featuring a blend of sweet potato and autumn spice ice creams with honey cornbread and cranberry sauce swirls.
The iconic Turkey Cake returns, adding an unexpected twist to Thanksgiving dessert tables with customizable ice cream flavors and a creative turkey appearance.
Bring the expected home in an unexpected way this Thanksgiving. Baskin-Robbins® is bringing together everything you love about your favorite sides in its new Flavor of the Month, Turkey Day Fixin's. Perfectly paired with the return of the showstopping Turkey Cake, these limited-time offerings are sure to make you the talk of the table.
All month long, sink your spoon into side dish bliss with Turkey Day Fixin's surprising combination of sweet potato and autumn spice ice creams mixed with honey cornbread pieces and swirls of Ocean Spray® cranberry sauce. Whether you want to save your family from your suspicious casseroles or bring main dish energy to Friendsgiving, this scoop will add something interesting and delicious to your traditions. Turkey Day Fixin's melds together all your favorite sweet and savory sides – sweet potatoes, cornbread and cranberry sauce. Move over been-there-done-that desserts, and make way for the new unofficial dessert of Thanksgiving!
"We continue to push the boundaries of flavor innovation at Baskin-Robbins and wanted to bring a unique scoop to the table that deliciously encapsulates all the sweet and savory flavors from your favorite Thanksgiving sides," said Hannah Suits, Director of Brand Marketing for Baskin-Robbins. "Along with the return of our iconic Turkey Cake, these offerings are a delicious and innovative take on holiday favorites."
In celebration of Turkey Day Fixin's, Baskin-Robbins partnered with reality TV stars and brand fans Hannah Godwin and Dylan Barbour to host their first Friendsgiving as newlyweds. With Turkey Day Fixin's and the Turkey Cake as the ultimate Friendsgiving staples, the duo will be serving up an unforgettable feast.
"Dylan and I are on the same page when it comes to Thanksgiving food – the sides are the best part. Turkey Day Fixin's has all the flavors we look forward to each year in one sweet scoop," said Godwin. "We're excited to host our first Friendsgiving as newlyweds with new traditions and enjoy quality time with our friends over some extra special desserts."
Nothing gathers people around the table quite like the iconic Turkey Cake. A dessert that will make anyone do a double take, it's a showstopping non-traditional tradition. Baskin-Robbins' take on a roasted turkey is made to look like it's fresh out of the oven, as it is filled with any flavor of delicious ice cream you like, decorated with sugar cone legs and covered in caramel praline glaze. Pre-order it ahead of time online, and relax, knowing this Thanksgiving, you'll have a Turkey Day full of yay.
Source: Baskin-Robbins