Indulge in the Magic of Christmas with Costa Coffee's New Menu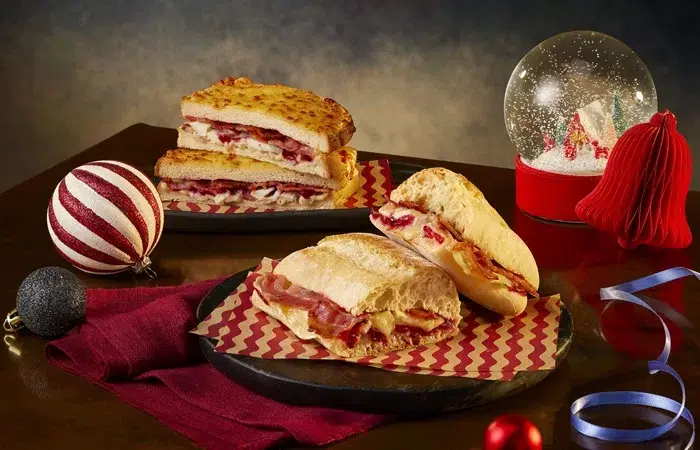 Costa Coffee's Christmas menu includes new drinks like Sticky Toffee Latte and Roasted Hazel Latte, as well as a range of festive food items.
The menu also offers a variety of sweet treats, at-home products, and festive cups designed to celebrate the holiday season, available in stores and through delivery services.
Christmas is where the heart is – or where Costa Coffee is, as the Nation's Favourite Coffee Shop* announces its highly anticipated, enchanting festive-fuelled menu. This year, Costa Coffee is pulling out all the stops to create a magical experience for coffee-lovers and foodie- fanatics with an appetising range of new and returning favourites across the food and drink range. Santa Clause isn't the only one coming to town – as the Christmas menu will be available in Costa Coffee stores nationwide from the 2nd of November. Ho Ho Ho.
The Nation's favourite dessert – but as a Latte
Sticky Toffee Pudding is loved across the nation, being ranked the UK's favourite dessert last year**. So as the Nation's Favourite Coffee Shop, it was only right that Costa Coffee transforms the classic pudding into a beverage. The tasty new Sticky Toffee Latte and new Sticky Toffee Iced Latte has joined the festive menu, providing coffee lovers – both hot and cold, with a new Christmas favourite. Both drinks feature a yummy sticky toffee flavoured sauce, topped with Light Whip, and drizzled with even more sauce, finished with a sprinkling of bronze shimmery, angel-like dusting.
Deck the halls with new and returning favourite festive drinks
The latest addition to Costa Coffee's festive drinks range is the new Roasted Hazel Latte and new Roasted Hazel Hot Chocolate. Whether you want a luxurious milky coffee or to dive into a world of chocolatey indulgence, these are the perfect drinks for a frosty winter day. Both new hot beverages include a flavourful roasted hazelnut syrup, topped with Light Whip, and completed with a beautiful, bronzed shimmer and mini gold stars.
But that's not all. There are also a number of seasonal favourites making a return this year for customers to enjoy, including:
Hot Chocolate fans will be pleased that the beloved Terry's Chocolate Orange® Hot Chocolate*** and Inspired by After Eight® Hot Chocolate**** have once again joined the Christmas menu. Both are served with either a luscious Terry's Chocolate Orange Segment or After Eight Chocolate Thin on the side.
Costa Coffee is spreading festive cheer with the return of the Gingerbread and Cream Latte, available in-stores nationwide now. What's more, customers receive an extra festive treat as the luscious latte is served with a free adorable mini gingerbread biscuit on the side
Costa Club App members currently have first access to the Black Forest and Cream Hot Chocolate. But Christmas is for sharing, so the festive fan-favourite is returning to the menu for all to enjoy!
Taste the holidays with flavourful lunch options
Costa Coffee's savoury food range offers a celebration of flavours that promises to delight taste buds and warm the Nation's hearts this Christmas, including both new and returning festive savoury items:
Pigs in Blankets is often a favourite element of a Christmas dinner, so it is a no brainer that it would also make the perfect toastie for the holidays, especially when paired with the new Sticky Toffee Latte. Costa Coffee's new Pigs and Blankets Toastie features succulent pork sausage and maple cured bacon, with sweet, caramelised onion chutney, all in tempting garlic, onion and sage crumbed cheese-topped bread.
Catering for vegan customers this Christmas, why not try the new Vegan Turkey and Trimmings Toastie, which consists of vegan turkey with stuffing, yummy cranberry sauce, vegan mayonnaise, vegan gravy, all in toasted white bread.
Another addition to the menu is the new Honey Roast Ham and Wensleydale Ciabatta, featuring juicy British Honey roast ham and Wensleydale cheese, mature Cheddar and honey and béchamel sauce, packed into a cranberry ciabatta.
Fancy a festive snack at lunch? How about the new Melton Mowbray Pork Pies, consisting of seasoned uncured British pork baked in a rich hot water crust pastry. Or the new Sausage Roll, which has seasoned pork sausage meat, pulled pork and divine Bramley apples, in an all-butter puff pastry topped with a wonderful festive pastry star.
Back by popular demand are a number of festive favourites, including the Brie Bacon and Cranberry Panini, Brie and Cranberry Toastie, Turkey and Trimmings Toastie and the Turkey Feast Sandwich – plenty of options to upgrade your lunch over the holidays!
Tis the season for sweet treats
Treat yourself this Christmas by indulging in a range of sweet goodies. Costa Coffee has something for everyone to enjoy over the festivities:
'Ganaching through the snow' to join the Christmas menu is the new Belgian Chocolate Ganache Cake, which is a rich chocolate cake, filled with chocolate frosting and topped with an indulgent chocolate ganache and star sprinkles.
Or to go with the Sticky Toffee Latte, why not have a slice of the new Sticky Toffee Loaf Cake, a toffee flavoured sponge cake which is topped with caramel frosting, caramel drizzle, and indulgent fudge pieces.
Customers can't go wrong with a traditional mince pie over the festivities – so Christmas has come early as available in Costa Coffee stores now, try the All Butter Mince Pie, which tastes even better warm and is accredited by Good House Keeping. Or, catering for all this Christmas, the Vegan and Gluten-Free award-winning***** Mince Tart is just as delicious and is topped with a pastry star and sugar dusting, also in-stores nationwide now.
The new Christmas Cake Slice, which is also suitable for vegans, captures the essence of the holiday season with a rich fruit cake base and is topped with a layer of marzipan and white icing. Why not try it with an Oat Latte for the perfect festive pairing?
Two new adorable biscuits have joined the Christmas menu. The new Polar Bear Gingerbread Biscuit features a heartwarming decoration of a polar bear wearing a jumper, and the new tasty Christmas Tree Shortcake Biscuit is the perfect cheerful sweet treat.
Whether you want to share with loved ones, or enjoy to yourself, the new Salted Caramel Honeycomb Bag (Salted honeycomb coated in caramel flavour milk chocolate, in collaboration with Mighty Fine) and new Clotted Cream Fudge bag (rich, crumbly fudge made with West Country clotted cream and handmade by Mr Stanley's) are great for those colder days wrapped up at home whilst watching a festive movie.
Finally, returning for those with sweet-tooths to enjoy over the holidays is the Terry's Chocolate Orange® Muffin*** (available in Costa Coffee stores nationwide now), Gingerbread Muffin, White Chocolate Trillionaire's Slice, and the Crispy Festive Wreath.
It's the most wonderful time of the year – wherever you are
Whether you are out and about doing some Christmas shopping or need a cup of coffee to fuel the task of putting up the Christmas tree and untangling the lights, head to one of 13,000+ Costa Express machines over the holidays to pick up your favourite crafted coffee – using the same ingredients as available in Costa Coffee stores, including freshly ground beans and fresh milk.
Costa Express customers can enjoy a taste of the festivities with the new Sticky Toffee Latte, new Sticky Toffee Hot Chocolate, and new Sticky Toffee Iced Latte (only at Costa Express's Hot and Iced self-serve machines). And exclusively for Shell customers, get access to the new Roasted Hazel Latte, new Roasted Hazel Iced Latte (only at Costa Express's Hot and Iced self-serve machines) and new Roasted Hazel Hot Chocolate at petrol stations across the country – the perfect festive pick me-up whilst travelling to see friends and family over the holidays.
For those enjoying cosying up at home with a Christmas movie, or tackling wrapping up Christmas presents, coffee lovers can enjoy a range of festive at-home products with wonderfully rich gingerbread flavours. Available from Tesco stores, warm up from the comfort of your home with the limited-edition Gingerbread Latte Premium Instant Sachets. And in Asda stores, customers can get their hands on the limited-edition Gingerbread Latte Dolce Gusto Pods.
Or to create an extra special Christmas moment to share with friends and family over the holidays, with Costa Coffee's Premium Instant range, you can enjoy the familiar and beloved coffee shop taste in the convenience of your kitchen. And, as the holiday season approaches, sip the cheer with Costa Coffee's delightful ready-to-drink range, including the classic Latte and the velvet Smooth Caramel Latte.
Christmas moments in every sip with new festive cups
Unwrap the magic of the holiday season with Costa Coffee's Christmas takeaway cup range for 2023, which is designed to capture the essence of cherished festive traditions leading up to Christmas.
The new cups range from 4oz to 20oz are made from plant-based materials and will be available in UK retailers and Costa Express machines around the country when buying a hot drink. Featuring heartwarming scenes; such as embracing the joy of decorating the Christmas tree, exchanging gifts, and enjoying a Christmas dinner to spending time with loved ones – it's more than just coffee, it's a celebration of the most wonderful time of the year.
Naomi Matthews, Food Innovation Director UK & Ireland at Costa Coffee said: "We're thrilled to introduce our enchanting and cosy new festive menu that will undoubtedly unleash customers' Christmas spirit. As we embrace the magic of the festivities, our delightful new products and returning favourites hope to add some joy to the season. Tree-t yourself this Christmas with Costa Coffee's new festive menu!"
All drinks and food can also be ordered via Click & Collect or through delivery via Just Eat, Deliveroo and Uber Eats. For more information on the full Christmas menu visit http://www.costacoffee.com
Source: Costa Coffee