TNI KING COFFEE – THE ONLY VIETNAMESE F&B BRAND AWARDED "MOST POPULAR COFFEE BRAND, VIETNAM 2019"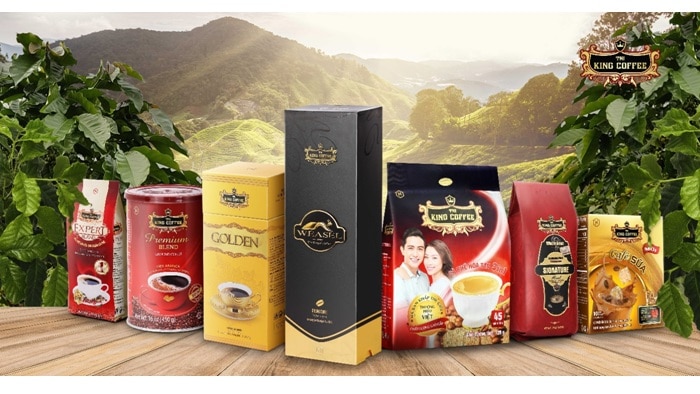 Raising star of Vietnam F&B industry in 2019
Global Brands Magazine has awarded TNI KING COFFEE "The Most Popular Coffee Brand, Vietnam 2019" in the F&B field. The Global Brands Magazine (GBM) award honors the brand that achieves the top excellent service of a specific industry, based on direct interviews with consumers. This is the first time GBM votes the award for F&B industry and TNI KING COFFEE is the only representative from Vietnam to be voted.There are many strict factors including finance, service development, customer experience, brand positioning activities that a brand must have to be evaluated by an independent board.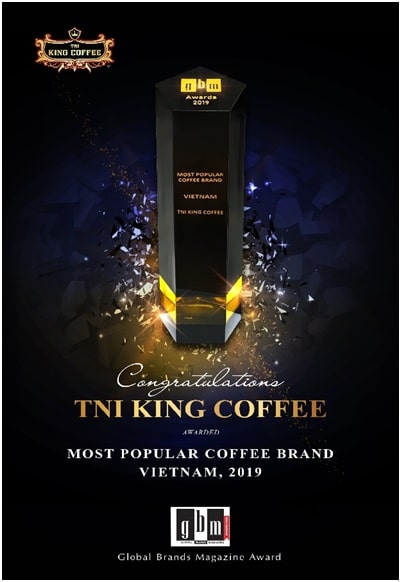 TNI KING COFFEE commits themselves to a series of business expansion in the domestic market as well as maintain a strong development on the international front. These actions impressed the elective board through many rounds in the award of the Food & Beverages industry in Vietnam.
Not only award of "The Most Popular Coffee Brand, 2019", King Coffee has received "Famous Asia-Pacific Brand, Products and Services 2017" and "Top 50 Vietnamese Famous Brands 2018". With variety awards during 2 year, CEO Le Hoang Diep Thao has proved her ambition of bringing a premium Vietnamese coffee brand to the international market.
CEO Le Hoang Diep Thao – the female general of the Vietnamese coffee industry, quoted: "I was born in the Central Highlands, where coffee is in the heart of everybody. My life's aspiration is to create a Vietnamese coffee brand that conquers the heart of every coffee lover in the world. Therefore, I commit myself to the success of TNI King Coffee until it becomes a global brand that proudly made in Vietnam".
Spreading inspiration to millions of women
In September 2020, TNI KING COFFEE together with the Central Vietnam Women's Union officially launched a project called "Women Can Do". The project will accompany the principality Women's Union to create an entrepreneurial network for women (WE). Through providing an ecosystem of WE Application include of Finance management seminars, business support plans, training and inspiring entrepreneur spirit for women, the program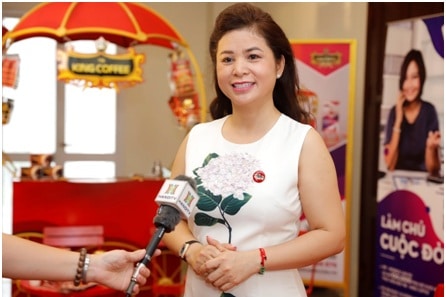 has attracted a lot of attentions and participation's from women in Hanoi.
By the end of 2020, the program aims to organize 30 workshops locally to encourage entrepreneurship among Vietnamese women and inspire them to become more and more independent.
Accordingly, TNI KING COFFEE will support Vietnamese women living in difficult circumstances to join their network that will show them how to start a business, how to plan and become an agent or distributor of King Coffee and transfer the knowledge of kiosk management, household& personal financial management to have a more stable, balanced life. Besides, "Women can do" aims to build a community of micro-businesses operated by women, which is one of the pillars of the country's economy.
About TNI KING COFFEE
Trung Nguyen International Corporation (TNI Corporation) was established at Singapore in 2008, and currently owns coffee brand TNI KING COFFEE and KING COFFEE FRANCHISE. Currently. The head office of TNI Corporation is located in Ho Chi Minh City (Vietnam). The Group was founded by Madam. Le Hoang Diep Thao– also a co-founder of Trung Nguyen Group, who made a remarkable footprint in the development of Vietnamese coffee globally.
The KING COFFEE brand quickly conquered the US market and many other foreign markets such as Korea, China, Singapore, Australia, India … Especially, in China, King Coffee is in the Top 4 best-selling brands on the T-Mall Super Market channel (Top 3 e-commerce websites of Alibaba). Till date, King Coffee is distributed in over 60 countries world-wide.
In August 2017, King Coffee was officially presented in the Vietnamese retails market. Madam Thao desires to lead the Vietnamese coffee market based on being one of the largest coffee exporters in the country. TNI King Coffee quickly took advantage of an international brand that conquers Vietnamese user's coffee taste. King Coffee is a delicate product from Robusta coffee beans with a strong bitter taste of Buon Me Thuot (Dak Lak), CauDat (Lam Dong) and from the famous coffee beans Arabica, Catimor, Excelsa. Special sour taste and elegant aroma of other lands in the "holy land" coffee. Diversified product lines from instant coffee, roasted coffee, ready to drink coffee, and single-serve coffee follows the new world trends.
In just 2 years, TNI King Coffee has extended distribution network covering 63 provinces and the chain of King Coffee cafes has never stopped expansion.The motivation of the award "Most Popular Coffee Brand, Vietnam 2019" in the F&B field in 2020 is to continue launching 1,000 new King Coffee stores in Vietnam.
King Coffee chain will also expand their franchise to international markets in the US, China, Singapore, Korea, Russia, etc, penetrating deeply and effectively through mainstream sales channels for indigenous people.