The Delicious Ginger Beer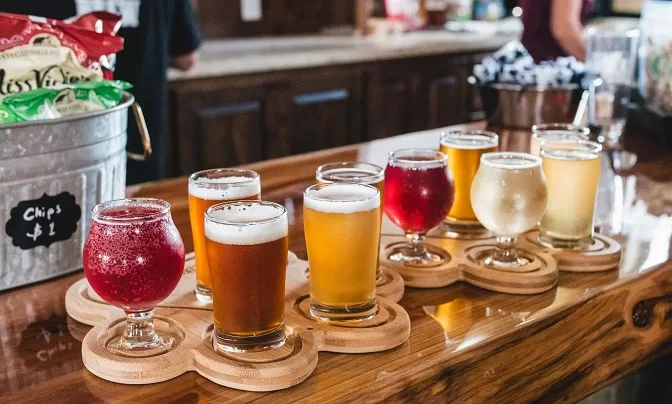 Contrary to its name, ginger beer is a non-alcoholic beverage. It is a sweetened and carbonated drink that is usually used for mixed drinks. It was created in the 15th century and exported to the US from Europe. Now, it is used to spice up many drinks. It brings in a snappy flavor that settles with the alcohol nicely. Also, ginger beer is good for your stomach. It helps settle your stomach which is why it is a good mix for alcoholic drinks. Ginger beer is delicious on its own though, and although it isn't common, you can drink it on your own. Ginger beer is used in many cocktails such as, the moscow mule, a dark and stormy, irish ale, a foghorn, and many many more. Ginger beer has many uses, but it is delicious and beneficial in every single way.
Ginger Beer And Mixed Drinks
With ginger beer, anything is possible. You can create a wide variety of mixed beverages. If you put any sort of liquor in a cup with some ginger beer, you are bound to have a delicious mixed drink. Since ginger beer has such a strong, sweet taste, it is able to mask the very unpleasant taste of alcohol. Also, ginger beer is amazing when mixed with lime juice or lemon juice. The sour, tangy taste of lemon or lime juice is the perfect contrast of the sweet taste of ginger beer. The most common ginger beer cocktails are on the rise.
The use of ginger beer is becoming more and more common. It is used in mules and in some margaritas. Although you can find alcoholic ginger beer, it is more common for it to be non-alcoholic. Ginger beer is made of ginger, sugar, and water, and then it is fermented with yeast and carbonated. This allows ginger beer to provide many benefits as well. It is good for nausea, it lowers your risk of cancer, and it has anti-bacterial, anti-inflammatory risks. Mixing ginger beer with a spirit or liquor will help you with a stomach ache and a hangover. Not only are ginger beer cocktails delicious, they are also better for your health than many other mixed drinks. Ginger beer is a staple in the alcoholic industry, and it will continue to be that way for a long time.
The Moscow Mule
The moscow mule is arguably the most common and popular of the ginger beer cocktails. It is a mixture of vodka, ginger beer, and lime. This mixture provides the perfect taste of sweet, bitter, and tarte. Although the original mule uses vodka, there are many varieties of mules now. You can put all different types of spirits and liquors in a mule, but ginger beer will always be the common ingredient that provides the amazing taste. Moscow mules have been around for about 15 years, and they are becoming more and more popular as time goes on. I highly recommend trying a moscow mule if you haven't already, it provides a delicious taste while still making you feel good.