The Bud Light Controversy and What You Need to Know.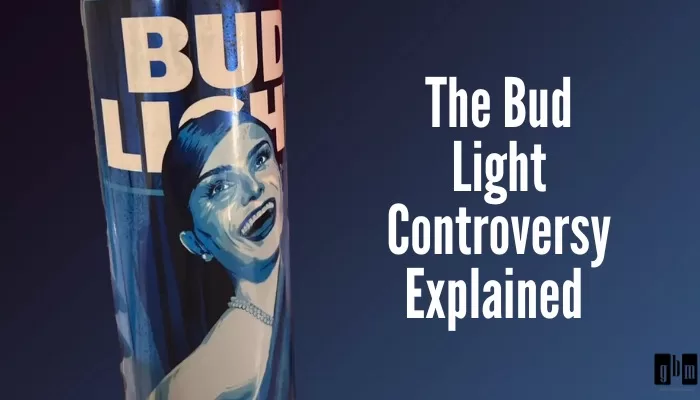 On April 1st, Bud Light and social media influencer, Dylan Mulvaney announced a new partnership. The partnership seeks to establish a positive bond with the LGBTQ community.
Dylan's face was printed on Bud Light cans and distributed across the country and as such, an outrage was sparked.
Several people in the right-wing community took to social media to express their displeasure with this new partnership while others have been supporting the partnership.
LGBTQ community or not, it is still beer, so why does it matter?
In early April, Dylan Mulvaney, an influencer, received a few beers from Bud Light as part of a paid sponsorship deal. Mulvaney shared a video of herself dressed as Holly Golightly from Breakfast at Tiffany's, using the beers to celebrate both March Madness and her first year as a woman. One of the cans featured Mulvaney's image, and it was part of a sweepstakes challenge where people could win $15,000 from Bud Light by submitting videos of themselves carrying a lot of beers.
However, this promotion sparked outrage among some people, not because of the choice of Holly Golightly's drink preference (which was the White Angel, a vodka and gin mix), but because Mulvaney is transgender. Anti-trans sentiment has become a significant issue in America's culture war, with conservatives targeting trans people in areas such as children's rights, drag shows, driver's licenses, and healthcare. This sentiment has infiltrated conservative media and legislation and is even seeping into the mainstream.
Bud Light has become a target in the ongoing controversy surrounding trans rights. Celebrities like Kid Rock are openly denouncing the beer, while Travis Tritt has announced that he will no longer include the brand on his tour. This has led to a wave of calls for a nationwide boycott of the country's most popular beer, which some may find hard to take seriously. Nevertheless, it speaks to the current state of affairs in the United States.
This is likely not a significant issue for Bud Light.
An Arkansas liquor store owner who wished to remain anonymous to avoid being targeted by anti-"woke" groups reported a 20-25% decline in Bud Light sales since the recent controversy. However, he doesn't expect the backlash to be long-lasting, noting that many consumers will likely return to drinking Bud Light once the news cycle ends. In general, boycotts tend to have minimal impact on sales, as most people don't follow through with them.
Bud Light's parent company, Anheuser-Busch InBev, has a vast portfolio of brands and is valued at over $100 billion. While the company's stock price has remained relatively stable, there have been concerning incidents. Vox received several emails threatening bombs placed at various Anheuser-Busch locations, prompting the company to work with local law enforcement to ensure the safety of its employees and facilities.
According to Dave Infante, a beer columnist for VinePair and the publisher of the drinks newsletter Fingers, Anheuser-Busch InBev, the parent company of Bud Light, is a global conglomerate with a diverse portfolio of brands. Coordinating a sustained boycott against them that would pressure the company to withdraw its support for transgender people would be a challenging task, requiring a significant amount of coordination and discipline that the right-wing in America does not typically display. Although there may be some temporary fluctuations in sales, the company's overall orientation and goals are unlikely to be affected. If they were to back down, it would be because they lost their nerve, not because they lost sales.
What the Bud Light controversy is about
On April 1, Dylan Mulvaney, a 26-year-old influencer with a sizable online following, posted a video featuring Bud Light beer cans and their sponsorship. While such partnerships between companies and influencers are not uncommon, Bud Light's ad budget is massive and this particular campaign was relatively small. Despite this, the post quickly gained traction in conservative circles, with right-wing commentator Ben Shapiro criticizing the collaboration on his show. Though Shapiro is not a fan of Bud Light, he nevertheless took issue with the perceived promotion of transgenderism, saying, "Our culture has now decided men are women and women are men and you must be forced to consume products that say so."
The '90s rocker Kid Rock posted a video of himself shooting a few cases of Bud Light, which I assume he paid for himself. Rep. Marjorie Taylor Greene (R-GA) posted a picture of a Coors Light case in the back of her vehicle and captioned it, "Fuck Bud Light and Fuck Anheuser-Busch," saying, "Have a terrific day." Marjorie Taylor Greene said. The caption read, "I would have bought the king of beers, but the king of beers changed its gender to the queen of beers."
Country singer Travis Tritt said he would drop Anheuser-Busch from his tour and seemed to blame Bud Light's Mulvaney deal on Europe.
The Bud Lash is a whole thing, as is the backlash to the Bud Lash. Radio host Howard Stern said he was "dumbfounded" by the whole hullabaloo and asked on his show, referring to Kid Rock and Tritt, "Why do you care so much?" Country singer Zach Bryan – who seems to be pretty politically cool – was relatively light-hearted in his criticism of Tritt on Twitter: "I just think it's completely wrong to insult transgender people because we live in a country where we can all be who we want to be," he wrote. Bryan also assured Tritt he would "drink enough [Jack Daniels] for both of us", as Tritt seems to have discovered some time ago that the liquor company has partnered with RuPaul's Drag Race.
Anheuser-Busch, which is getting a lot of media coverage out of this, seems to be largely riding the wave, even if the backlash, albeit probably from a small group of people, has been fierce. There was a rumour that the company had sacked its entire marketing team, but that rumour is made up. There was also a rumour that the Mulvaney cans were for sale to the public. This is not the case. However, Bud Light has made a limited run of the She/H cans that are now popping up on right-wing social media available for Pride 2022 in Canada, which is no big deal. The company cancelled an event in Missouri last week because of safety concerns for its employees.
"Anheuser-Busch works with hundreds of influencers to connect with audiences across diverse populations in authentic ways," a spokesperson told Vox in an email. "From time to time we produce unique commemorative cans for fans and for influencers, like Dylan Mulvaney. This commemorative tin was a gift to celebrate a personal milestone and is not for sale to the general public."
Whether you like it or not, Bud Light is here to stay
There is no way to determine whether or not this current boycott will make a significant impact on Bud Light's sales, but I suspect that it will not have much of an effect. A boycott has a tendency to damage a company's reputation more than it damages its bottom line, and here, it is not entirely clear to what extent it is actually damaging a company's reputation, if at all.
A lot of the big beer companies, such as AB InBev, Molson Coors, and Constellation Brands, are constantly searching for new markets and niches in which to expand their portfolios of existing beer, Infante explained. There is a great deal of difficulty in finding growth for these brands – Bud Light has been losing barrels of volume for years now. It is past its prime; it will no longer be the largest beer in the country for a very long time to come." he said. "This is standard-issue pinkwashing stuff. They're looking for ways to quote-unquote align their values with customer segments that they think maybe they can still find some loyalty in."
Appealing to the queer community is not a new tactic for companies, as even Pride Month has become a commercialized event. Bud Light is well aware of this fact. Following the recent controversy, a podcast interview with Alissa Heinerscheid, the Vice President of Marketing at Bud Light, has been circulating. In the interview, she admits that the brand is struggling and that her goal is to attract young drinkers to save the brand from further decline. She also mentioned wanting to update Bud Light's image, which has been perceived as "fratty." Some right-wing media outlets have used Heinerscheid's comments to suggest that Bud Light wants to abandon its typical white male customer base, but this is not entirely accurate. Bud Light has been losing market share to craft beers, Michelob Ultra, Modelo, and spirits for quite some time now. As a result, the company is looking for new customers in any demographic it can find. As Dave Infante points out, "The reality is much more simple — it's that the white male customer who used to drink a lot of Bud Light doesn't anymore, and Bud Light has no choice but to find people who do. There's just no growth for Bud Light in its traditional core audience the way it used to have and used to be able to rely on."
Appealing to the queer community is a common practice for companies looking to expand their customer base. The commercialization of Pride Month is evidence of this trend. Bud Light is no exception to this rule, but its latest partnership has caused controversy. While the brand's reach is significant, the partnership with influencer Mulvaney is relatively small compared to other ad campaigns, like the Super Bowl.
The right-wing media has spun Bud Light's marketing efforts to attract younger drinkers away from its "fratty" image to suggest that the brand wants to alienate its traditional white male demographic. However, the truth is that Bud Light has been losing ground to other beers and spirits and needs to find new customers.
Some of the brand's traditional core audience feel betrayed by Bud Light's alliance with the trans community. They feel like the brand has gone "woke," and that the country's culture is changing in a way that makes them uncomfortable. However, it's worth noting that AB InBev, the company behind Bud Light, is hardly a pro-trans advocate. The Mulvaney partnership is ultimately about generating profits, and the company has made donations to anti-LGBTQ and anti-trans politicians.
Corporate decisions often serve as flashpoints in America's culture wars, but it's important to remember that corporations are primarily motivated by profit.