The Best Brands of Knife Set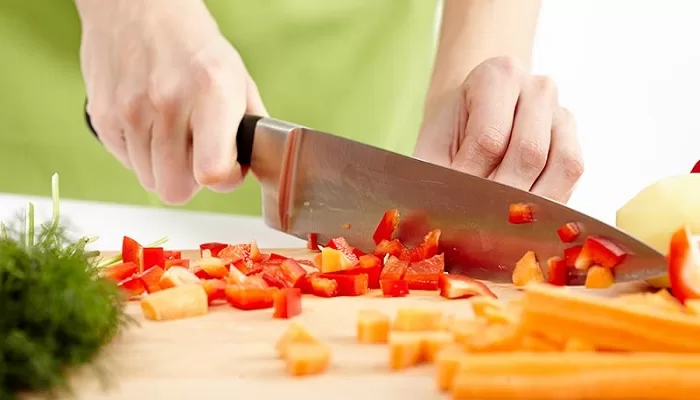 A good knife set is a necessity for anyone who likes to cook. A good set of knives will make your cooking experience so much more enjoyable and worthwhile.
With knives, just like with other kitchen tools, you really get what you pay for. Cheap knives are not only dangerous to use (really cheap ones tend to be dull and have blades that can break), but they will also never last long enough to make the price worth it.
A good knife should be able to cut through any type of food easily. It should feel balanced in your hand and fit nicely into the grip you prefer, be it traditional or a Western chef's knife style.
After all, if you're going to spend money on knives that will last forever, why not make sure they are comfortable and easy to use?
To be sure you're getting the best set for your needs, here are the best brands of knife set to date:
7. Mercer Culinary Millennia 8-Piece Knife Roll Set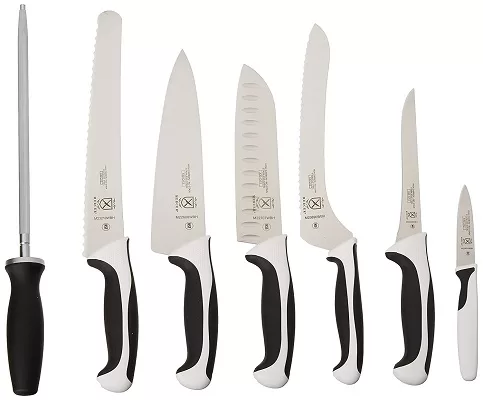 The Mercer Culinary Millennia 8-Piece Knife Roll Set is made from high-quality stainless steel, making them strong and durable. The knives also have a comfortable grip that makes it easy to use them for extended periods of time without hurting your hands or fingers. They come with an eight-piece blade guard roll so you don't have to worry about where you're going to store your knives when they aren't in use. They are dishwasher safe and include a lifetime warranty.
Because they are made of high-quality stainless steel, the Mercer Culinary Millennia 8-Piece Knife Roll Set is more expensive than other sets with a similar design. They also don't come with a knife block to keep your knives organized and safe when you're not using them, so you will have to make another purchase if that's what you need from your set. The handles are slightly smaller than average, making it harder for people who have larger hands to use the Mercer Culinary Millennia 8-Piece Knife Roll Set.
6. Cuisinart 12-Piece Color Knife Set with Blade Guards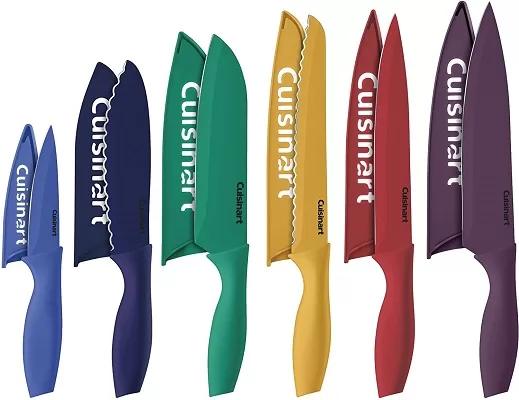 This knife set is one of the best you can get and has some great features. It's made with a hard ceramic coating to provide a comfortable grip, even when your hands are wet or greasy. The blades are sharp and strong enough to cut through most everything effortlessly, without tearing through bread or meat.
The knives come in a beautiful range of colors that will look great on any kitchen island, countertop or wall rack. They have non-slip grips so you won't have to worry about accidents while you're working.
5. Farberware Colourworks 12-Piece Resin Stick Resistant Knife Set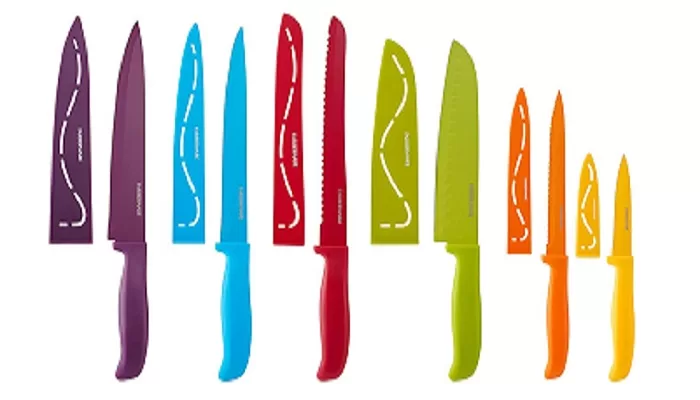 The Farberware Colourworks 12-Piece Resin Stick Resistant Knife Set is a great gift for anyone who loves to cook. It comes with all the basic knives you need, from paring knife and chef's knife, to bread knife and serrated steak knives. You can even pick up an additional block if you want one that fits six or eight pieces of cutlery instead of four. Each blade has ten layers of the nonstick coating on it, making them both easy to clean and resistant to food sticking to them. They've also been infused with resin for an extra-strong grip and sure cutting every time you use it. It's a great set that would make a perfect gift for anyone in your life who loves to cook.
4. AmazonBasics 12-Piece Colored Kitchen Knife Set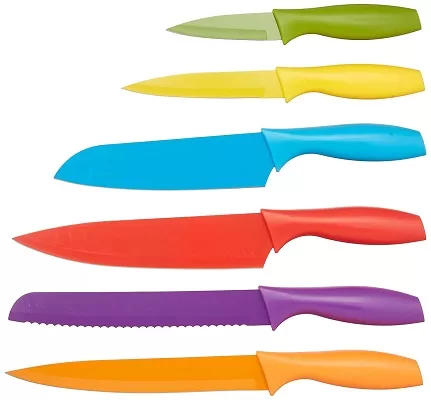 This is a perfect choice for someone who wants to have the best value on a set of professional kitchen knives that will provide reliable performance. The AmazonBasics knife set includes high-quality steel, which means they are easy to sharpen and keep sharp for as long as you need them.
These kitchen knives come in multiple colors, so if you're into color coordinating your cooking gear, this may be the right knife set for you. They also feature rounded handles that are comfortable regardless of whether you prefer a Western or traditional chef's grip.
3. ZYLISS 6-Piece Kitchen Knife Set with Sheath Covers, Stainless Steel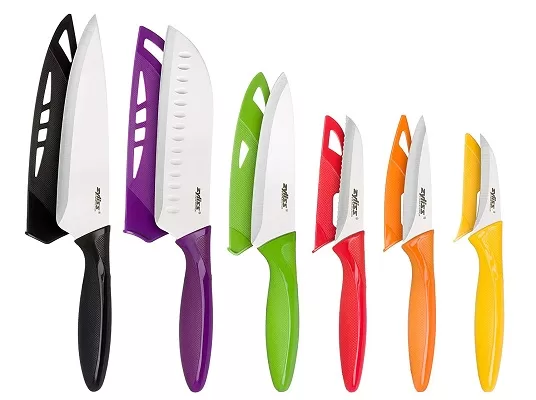 This is a great starter set of knives for those just getting into cooking and kitchen tools. It comes with 6 different knives, each with its own sheath cover that protects the blade when not in use. The blades are made from stainless steel and offer an ergonomic grip on the handle. This set also offers excellent value for your money, being incredibly affordable while still providing useful quality products.
2. Global 3-Piece Starter Set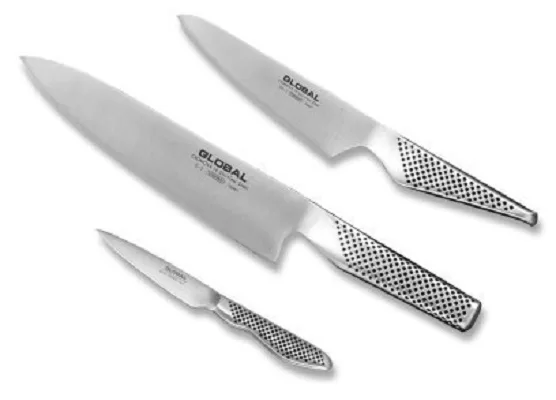 A great starter set, the Global 3-Piece Starter Set has everything you need for your first knife. The set features a chef's knife and santoku knife with durable stainless steel blades that keep their sharp edge over time. It also comes with a paring knife to help prepare vegetables and chop smaller foods. All three of these knives feature an ergonomic handle designed for comfort even during long hours of chopping, slicing, cutting, and dicing; they are all non-slip, ensuring your grip is not compromised at any moment. Each knife comes with a blade guard to protect the blades while they're in storage or during travel.
1. Home Hero Stainless Steel Knife Set with Block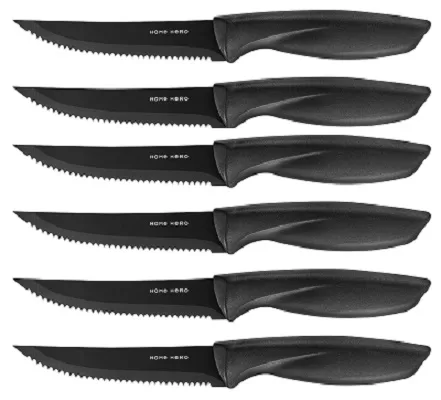 For anyone who is just starting to build their kitchen arsenal, the Home Hero set of 13 knives might be the best option.
The set includes a chef's knife, carving knife, bread knife, utility knife, paring knife, and santoku (a multipurpose Asian-style utility blade). The knives are made from high-quality stainless steel with a non-slip grip for easy handling. They come in their own block which is perfect if you're living in an apartment and want to keep your kitchen looking neat as well as organized.
There is no excuse not to add this vital kitchen tool to your collection.
To be able to cook well and prepare delicious meals for your loved ones, you need the right tools. Good knives are a must-have in any kitchen.
A good knife set will not only make food preparation easier and faster, but it will also give you more control over what you're doing as well as provide you with a safety net should something go wrong.
The best part is that knives don't have to be expensive. You can find a great set at any price point, from affordable sets for those on a budget to high-end cutlery that will last you forever if you treat them well.
What's your favorite knife brand? Let us know in the comments section below.