Tuxedo Cabinets, Hidden Appliances and Wood Paneling Among Top Kitchen Trends for 2016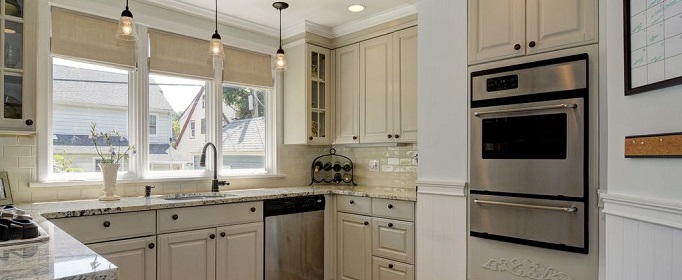 Speckled granite, short cabinets and dark wood headed out of style, according to Zillow Digs Home Trend Forecast
Tuxedo or two-toned painted cabinets, hidden appliances and wood paneling, like shiplap, are the biggest kitchen trends for 2016, according to the latest Zillow Digs® Home Trend Forecast, a one-of-a-kind report combining data from a survey of interior design experts and an analysis of popular photos on Zillow Digs.
"Homeowners today want an open and thoughtfully designed kitchen that blends seamlessly with the rest of the home's design aesthetic," says Kerrie Kelly, Zillow Digs home design expert. "From hidden appliances to beautifully painted cabinets in complementing colors, homeowners want their kitchen to be stylish enough for entertaining, yet welcoming and functional for everyday use."
Top Kitchen Trends for 2016:
Tuxedo Kitchen Cabinets
Long gone are the days of perfectly matching cabinetry. Homeowners are starting to take bigger design risks in the kitchen. Expect to see a rise in tuxedo, or two-toned painted cabinets where the top and bottom doors are painted in complimentary colors such as navy blue and soft gray or beige.
Hidden Appliances
While stainless steel appliances are still a popular choice, they can feel cold and industrial at times. Over the next year, experts predict a rise in hidden appliance solutions, such as microwave drawers or covered refrigerators, for a kitchen aesthetic that's more approachable and comfortable.
Wood Paneling
It's no secret that homeowners love farmhouse kitchens. Experts predict wood paneling or shiplap, often painted in white, to start popping up in anything from backsplashes to ceilings, bringing a comfortable yet chic design aesthetic to the kitchen.
Mixed Hardware Finishes
Homeowners are becoming comfortable using hardware finishes other than stainless steel, and are even mixing and matching metals for a more eclectic look. From gold to rose gold or black, beautiful hardware accents "look like jewelry for the kitchen," says design expert,

Jamie Beckwith

of Beckwith Interiors.
Fads to Forget:
Speckled Granite
Homeowners are no longer limited to granite, which can stain and can be hard to maintain. Brown and tan speckled granite, specifically, is phasing out as more countertop materials and styles become available. Quartz, marble and even butcher block are rising in popularity.
Short Cabinets
Tall cabinetry gives the illusion that a kitchen is bigger and brighter, so experts predict homeowners to replace shorter top row cabinets with ones that are flush with the ceiling.
Dark Brown Wood and Paint Colors
Light and bright kitchens will only continue to pick up steam over the next year, meaning dark or cherry wood cabinets will continue to fade out of style.
Zillow Digs
Zillow Digs® is a hub for home improvement and design inspiration. Users can browse millions of photos of interiors and exteriors of real homes, organized by space, style, cost and color. Product tags allow users to easily locate similar products and accessories as seen in their favorite photos, and patent-pending Digs® Estimates help people understand what it would cost to recreate the actual bathrooms and kitchens they are viewing. In addition, Zillow Digs users can collect images, share favorites and follow others for inspiration, from the Zillow Digs App for iPhone® and iPad®, or on the Web.
Zillow
Zillow® is the leading real estate and rental marketplace dedicated to empowering consumers with data, inspiration and knowledge around the place they call home, and connecting them with the best local professionals who can help. Zillow serves the full lifecycle of owning and living in a home: buying, selling, renting, financing, remodeling and more. In addition to Zillow.com®, Zillow operates the most popular suite of mobile real estate apps, with more than two dozen apps across all major platforms. Launched in 2006, Zillow is owned and operated by Zillow Group (NASDAQ:Z and ZG) and headquartered in Seattle.