The Best Brands of 2 Slice Toaster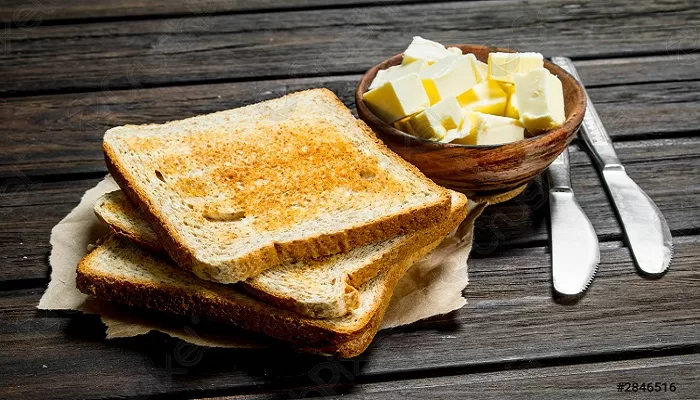 2 slice toasters are perfect for small kitchens or for people who only need to toast two pieces of bread at a time. They are much smaller and more compact than regular 4 slice toasters, but you can still toast 2 slices of the same size bread side-by-side with one slot opening.
If you have limited space in your kitchen and just want to be able to toast 2 slices of bread at a time, this is the best option for you. Or if you don't need a big bulky 4 slice toaster, then choose one that can only fit 2 slices instead. They are much smaller and easier to store away too.
Without further ado let's dive into the best brands of 2 slice toaster out there:
6. Dualit 2 Slice Toaster 3803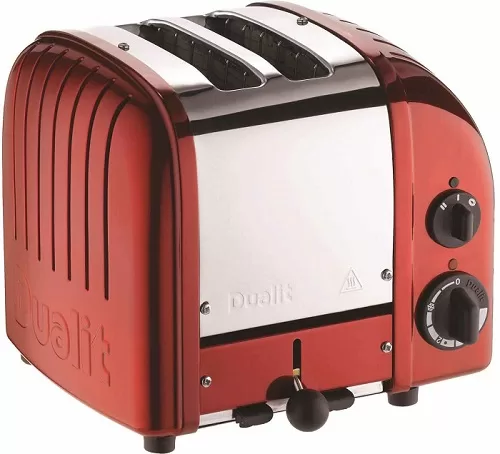 Dualit is a brand that was founded in the UK back in 1945 and has since grown into one of the most reputable toaster brands on the market. They are mainly known for their high quality classic, retro style 2 slice toasters which are called "The Original Toaster". This model is their best selling 2 slice toaster.
It has a polished stainless steel finish that is not only very stylish but also very durable and long-lasting too. It also comes with variable browning control so you can toast your bread the way you like it best every time. This Dualit toaster features an automatic shut-off feature which will turn off the toaster once your bread is done, meaning no more burnt slices of toast! And as if this wasn't enough, it even comes with high quality self-centring bread guides.
5. Amazon Basics 2 Slice Extra Wide Slot Toaster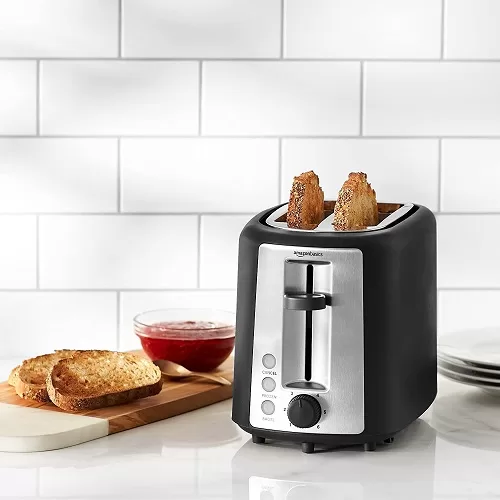 The Amazon Basics 2 Slice Extra Wide Slot Toaster is a great value toaster for those that have limited space on their kitchen countertop. It comes in at just around $18 and can toast two slices of bread at a time, or up to 4 pieces if you want them cut into smaller bite-sized pieces. The slots are extra wide so it will handle any type of bread imaginable from regular sliced breads to bagels and even english muffins. It has an adjustable thermostat so you can control how much your toast gets toasted. You also get a removable crumb tray that makes it easier for you to clean the device, which is always a plus in my books. One thing I like about this product is the fact that it has an auto shutoff feature once your bread has been done cooking, meaning you don't have to worry about burning anything anymore. It comes with a 1 year warranty and if something happens after that period of time, you can contact the manufacturer to see if they will repair it or not.
4. Breville the Toast Select Luxe BTA735SST 2 Slice Toaster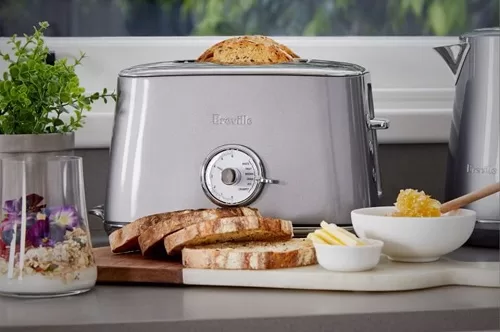 Breville the Toast Select Luxe BTA735SST 2 Slice Toaster This is a 2 slice toaster from Breville, one of the best manufacturers when it comes to kitchen appliances. It has an attractive brushed stainless steel finish which gives it a very modern look and would fit into any modern kitchen décor. The sides are curved so they are easy to grip onto when removing the toast or moving the lever up and down for your desired setting. This model has 4 different browning levels that you can choose from depending on how well done you like your bread. It has a crumb tray which collects all the excess bread crumbs and you can pull it out and empty it in the bin when necessary. There is also a bagel setting so that you can toast one side of your bagel without toasting the other side, ideal for those who prefer their bagels toasted on only one side. This model comes with an auto shut-off feature too, so if there are no further operations of any buttons within 30 minutes then the appliance will automatically turn off. This is very useful as it saves you wasting energy and money, especially if you forget to turn your appliances off when not in use.
3. Black and Decker 2-Slice Toaster T2569B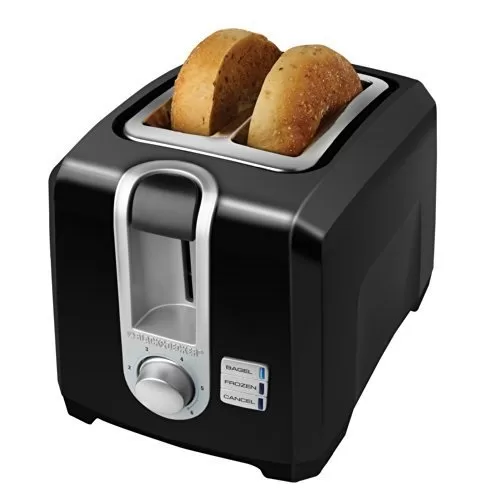 This 2 slice toaster from Black and Decker is just one of the many great products that they have. It has extra-wide slots so you can easily toast pretty much any size bread there is. Also, this toaster comes with a crumb tray for easy cleaning after every use. You don't want your kitchen countertop covered in unwanted crumbs! Furthermore, it's quite affordable as well which makes this a popular choice among consumers who are looking for something within their budget.
2. Made By Design 2 Slice Extra Wide Slot Stainless Steel Toaster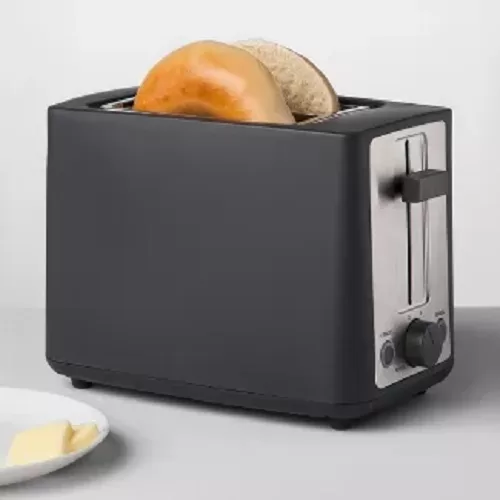 The Made By Design 2 Slice Extra Wide Slot Stainless Steel Toaster is a stylish looking toaster that would look great in any kitchen. It has extra wide slots to allow you to easily place your bread inside, and the controls are easy to use. Inside there are two separate heating elements which will toast both slices of bread at once, however they do not have independent control if you want one slice darker than the other.
1. Haden Dorset Toaster SB-22987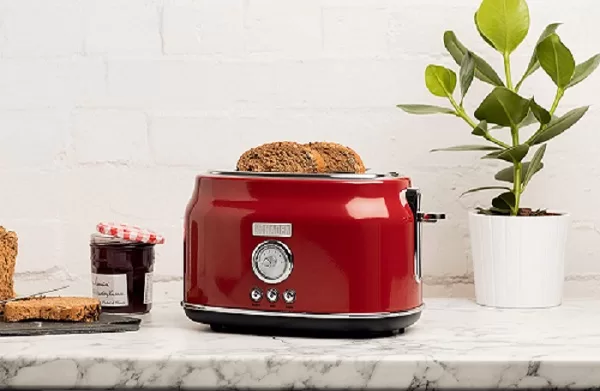 The Haden Dorset Toaster is a great little 2 slice toaster that has an extra wide slot, so you can fit even the thickest slices of bread in there and still have it come out nice and evenly toasted. It also comes with 4 different settings (Cancel, Defrost, Toasting & Stop), so you can adjust the level of darkness your toast comes out at depending on what you're using it for.
The cords are quite long and easy to use, and the toaster itself is quite compact so it doesn't take up too much space on your countertop or in your cupboard.
The only problem with this particular 2 slice toaster is that it can cause some minor burns if you're not careful. The heating elements don't automatically shut off after they've finished cooking; rather, there are two buttons you need to press: one for cancel and another for stop/hold. If you forget about them being on while cleaning up after breakfast, you could burn your hands if you accidentally touch them.
There are a few things to consider before you buy a 2 slice toaster. You have got your choice of whether you want one with only 2 slots, or if you would prefer one that has 4 slots and can handle more bread at once. If you need something simple that just works every time then go for the two slot version and save yourself some money on electricity too! There is also an option for those who like bagels as well – get a 2 slice toaster with warming racks and you can toast them up just as well.