Swimming with Sharks at Discovery Cove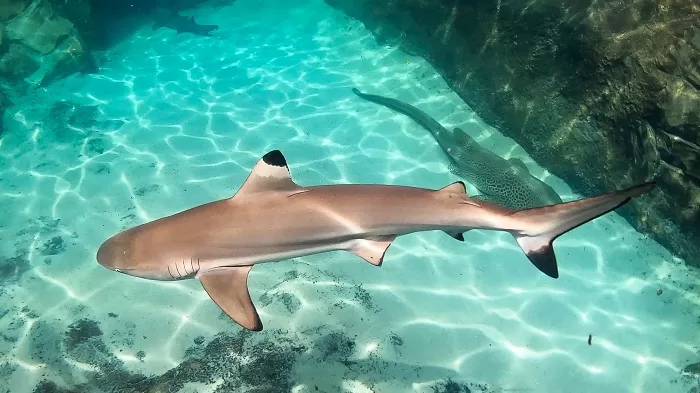 Discovery Cove in Orlando, Florida, offers an array of unforgettable, awe-inspiring encounters inviting visitors to get up close and personal with a variety of marine life and other animals, none more thrilling than the Shark Swim program. This exclusive experience allows guests to join one of the park's expert Aquarists inside the shark habitat for an education and training session, after which they don a snorkel and mask to enjoy a deep-water free swim alongside more than 20 sharks of various species. Considered a bucket list item for many guests, the popular program is equal parts adrenaline and information, providing an exhilarating, brag-worthy, interactive experience leading to better understanding of these fascinating creatures that have become the focus of misguided cultural anxiety.
As Discovery Cove Aquarist Adrienne Gutierrez explains, the Shark Swim program is a great opportunity to share the facts, not fiction, about these amazing underwater creatures. "Despite the toothy appearance of some species, sharks are not the scary, man-hunting beasts portrayed in the movies or sensationalized on TV. They are a very important part of the global underwater ecosystem, helping balance fish populations and maintain a healthy ocean."
During the shark swim, guests enter the carefully maintained and controlled habitat, where they can swim alongside blacktip reef, nurse, zebra, and bonnethead sharks, just a few of the more than 350 known shark species in the world. In this safe environment, they can learn about the uniqueness of each shark species, as an Aquarist engages one-on-one with the sharks. Like many of the professional Aquarists at Discovery Cove, Gutierrez has had a fascination with the ocean from a very young age. She enjoys being able to share her knowledge and experiences with guests from around the world, with the shark swim being a daily highlight of her 10-year career at Discovery Cove.
Within The Grand Reef, a location within Discovery Cove which is home to thousands of tropical fish and rays, the aquarists care for more than 8,000 individual animals, and create special bonds with many of them, which they then share with guests. That personal bond and connection between guests and animals is at the heart of what makes a visit to Discovery Cove unlike any other. The power of that special interaction often lasts for years, if not a lifetime, leaving guests feeling more connected and concerned about protecting and preserving the natural world around them.
Beyond this one-of-a-kind interaction and relationship-building with animals, Discovery Cove takes pride in its partnerships with notable conservation and research groups. Specific to sharks, Discovery Cove works with both OCEARCH and the Guy Harvey Ocean Foundation, sharing important information and data aimed at conserving the marine environment, and donating 5% of proceeds from the Shark Swim program to the Foundation.
In addition to the Shark Swim, guests at Discovery Cove may reserve other upgraded one-on-one experiences, such as the Signature Dolphin Experience, SeaVenture, and Ray Feeding, to name a few. An oasis itself, Discovery Cove is located in Orlando, Florida. An all-inclusive day includes visits to the Dolphin Lagoon, The Grand Reef, Freshwater Oasis, Serenity Bay, Wind-Away River and more. Every admission includes endless food and drink options (including beer and wine), wetsuits, snorkel gear, towels, and many more amenities. Discovery Cove also requires reservations and limits the number of daily guests, making the experience one of the most exclusive attractions in the country. Discovery Cove has enhanced its health and safety protocols, and is offering vacation planning flexibility through its "Book with Confidence" policy which allows guests FREE cancellations and a 100% refund if guests need to cancel more than 30 days prior to their reservation date.
For more information, or to book a reservation, visit DiscoveryCove.com.