The 4 Wellness Benefits Of A Neck Roll Pillow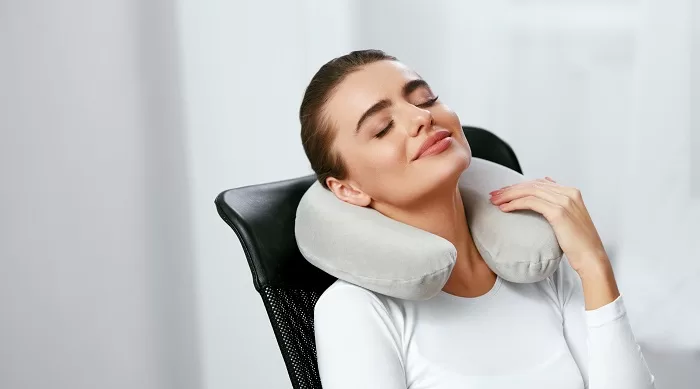 After a long, busy day at work, there's nothing better than coming home to a comfortable bed, putting your feet up, relaxing, and hugging your favorite pillow. But are you certain the pillow you're using is the best for you and your health? Or, is your pillow unknowingly contributing to bad sleep and body pains?
Yes, the type of pillow you sleep on is an important choice to make. You just can't buy any random pillow you first come across in the home section of your favorite department store. Pillows come with all sorts of features, and it's up to you to choose the one best suited for your needs. One of those pillows is a neck roll pillow or a cervical pillow.
If you haven't heard of this type of pillow yet, here's a video you can watch for a brief introduction:
If you're still on the fence about whether or not you should get a neck roll pillow, here are some of its wellness benefits to convince you it's a good buy – for your health, and for better sleep.
1. It Provides All The Comfort You Need
When you're shopping for a pillow, is it not that one of the very first characteristics you'll look for is comfort? You can hug the pillow all you want while in-store, but the only time you can test its comfort is when you're finally sleeping. With that, perhaps you may have noticed that with your current pillow, you still wake up feeling tired and with pain all over your body.
These are telling signs that your pillow isn't the most comfortable. This is where a neck roll pillow comes in as an advantage. It gives you a break from all the discomfort from your regular pillow.
The reason behind this goes back to how a neck roll pillow can help you maintain a correct posture when you're sleeping. This can help you fight away the pain and the numbness you may feel because of a bad-shaped pillow.
2. It May Protect Your Cervical Spine
The cervical spine is comprised of seven bones or cervical vertebrae in the neck. Those bones are all made up of muscles and tendons cushioned by spongy cervical disks. A healthy human back's cervical spine shape is a gentle curve known as the lordotic cervical curve.
If there's are changes in that gentle curve, you can expect stress and pain on your spine resulting in neck pain—the severity of which can vary depending on factors like your health, the kind of pillow you're sleeping in, and your sleeping position.
The good news is that a neck roll pillow is one of those pillows which may protect your cervical spine as you sleep. This means your cervical spine doesn't have to stay in a sedentary position for an extended period, resulting in pain.
3. It Supports All Kind Of Sleepers
There are different kinds of sleepers, determined by the type of sleeping position an individual has. Typically, you'll have to choose the pillow type which best supports your sleeping position. Different pillows each have respective features that make them best suited for various sleeping types.
A neck roll pillow is one of the pillow types that work for all types of sleepers. Whether you sleep on your back, stomach, or sides, the neck roll pillow can still provide ample support.
And, here's another plus. This fact doesn't just apply to when you're in a sleeping position. The neck roll pillow can also provide good support even when you're sitting for a long time during a long-haul flight, long-distance road travel, and even when you're watching TV.
4. It Can Be Brought Anywhere
For those of you who are avid travelers, a neck roll pillow can surely benefit you. Gone are the days when you worry about body pain and discomfort when traveling because of the stiff neck caused by bad neck positioning. A neck roll pillow is small enough to put even on a carry-on suitcase, allowing you to travel light and comfortably. You can bring it with you anywhere you go.
Conclusion
As its name implies, a neck roll pillow is used for proper support and positioning on the neck. But, as you can now glean from the wellness benefits listed above, a neckroll pillow has far-reaching benefits to your entire body. It allows you to better position your neck for better-quality rest and sleep. Despite being soft, a neck roll pillow can provide enough support to your neck and back. It comes in a variety of sizes and firmness levels, so as you head out to shop for one, you're sure to find a neck pillow that works for your needs and preferences.