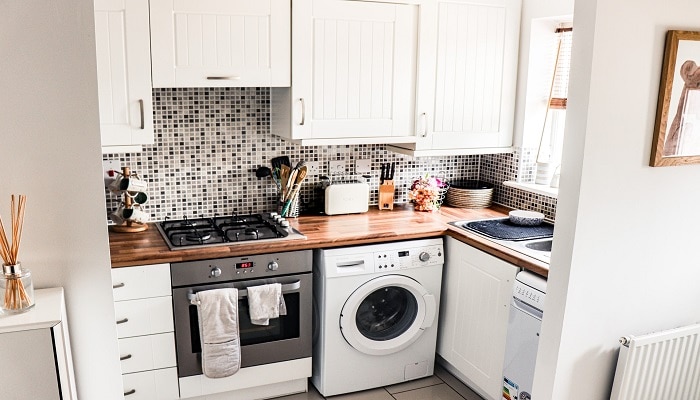 Whether you are considering renting out your home or fancy remodeling your property, you're going to have to spend a bit of extra money. As a result, you're going to have to save money and put together a budget. Budgeting is incredibly difficult, especially if you are hoping to get a start on the renovations in the early year, after spending tonnes of money during the holiday season. Whilst this may put you off the idea entirely, you have to remember that there are several things you can do to cut the costs of renovations. This includes trying out some DIY!
Here are some simple home renovations you can do yourself!
If it's broken…fix it.
From time to time, we're all guilty of putting off something we don't want to do. That often means that when something breaks in our home, we avoid fixing it straight away, especially if it still works. For example, if you know there is a fault in your washing machine, but it still gets your clothes clean, we immediately put fixing it at the bottom of our 'to-do list'. However, solving the issues sooner rather than later can save you a lot of money. For example, you can easily get your hands on a new Stainless Steel Tube for your washing machine online for a reasonable price and fix it yourself. This saves you the cost of hiring a repairman to visit or replacing the machine entirely.
Repaint your cabinets.
You'd be surprised about how different a room can look with a splash of paint on the cabinets or cupboards – in fact, it can transform the space. Think carefully about the color you chose and consider the kind of atmosphere you want to create. For example, cool tones can create an aura of relaxation and are perfect for your bathroom, whereas brighter tones can help lift your mood.
Add a chalkboard wall.
Chalkboard walls look great in the kitchen, where you can write notes to your loved ones or keep on top of your shopping list. They are also great for children's bedrooms or playrooms, as they can make all kinds of mess on them that can easily be wiped away. Thankfully, getting a chalkboard wall in your home has never been easier – as you can buy the paint online! This gives you far more freedom than an actual chalkboard, as you can get the sizing just right. If you don't want to paint the wall, you can even by chalkboard wallpaper that peels away when you are finished using it.
Stick on wallpaper
Changing a room entirely is a big commitment – you have to know that you are making the right decision otherwise you are stuck with wallpaper that you hate. This hatred will only continue to grow as you have to look at it every single day.
You can minimise this risk by purchasing 'stick on wallpaper', which can be easily applied and taken down without damaging the wall behind it. This is also a great 'DIY' hack if you are living in a rental property, where you aren't allowed to make lasting changes to the space. Furthermore, if you purchase the wallpaper in a plain color (such as white or cream) as opposed to a pattern, you can even decorate it yourself with stencils for a truly unique statement wall.
Reupholster your furniture.
No matter how pristine you try to keep your furniture, they are going to wear down over time. This is particularly true for things that are used quite often – such as chairs and sofas-  the fabric may get stained, or tear – no matter how careful you are. Thankfully, you don't have to get rid of your sofa to breathe new life into the room – you can reupholster them!
There are plenty of guides online that teach you how to upholster your furniture. You just need to get your hands on some new fabric to get started.
Get creative on a canvas
Hanging up some artwork can make a real difference to a room, especially if it adds a pop of color. However, buying quality art can be expensive – and you also don't want to have the same things as everyone else in your home. Therefore, why not do it yourself? Grab some paints, a canvas and be as creative as you like! If you have small children, why not make art featuring their handprints? This is a great way to make memories and a unique and personal touch to your home when doing so.