The Art of Modern Canvas Printing Made Easy Online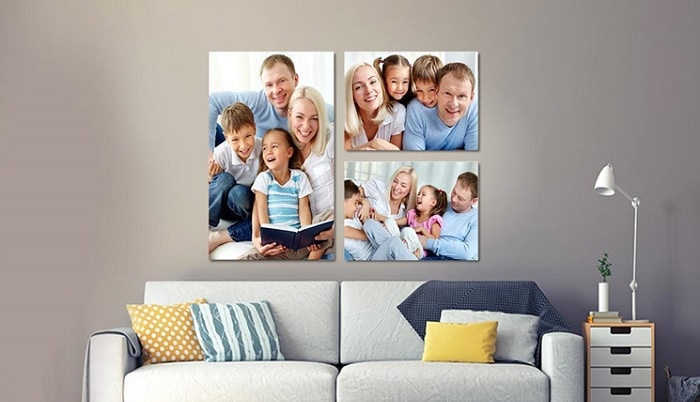 Canvas printing helps you reproduce your photos as eye-catching artwork for your home or office decor. It is a modern technique for interior decor, which is gaining fantastic popularity.
Canvas prints have many different concepts and subjects today, from contemporary works by Andy Warhol, Roy Lichtenstein, and Banksy to classics from the renaissance period.
Canvas prints also come in various styles like color, sepia, monochrome, and grayscale as photo printing companies today embed the latest printing technology to recreate your photos on canvas.
Canvas wall art is a superb way to spice up your living space and add some personality, character or even a vibe to your home's decor. Canvas prints also are fantastic gifts for friends and family to celebrate special occasions like birthdays, anniversaries, milestone achievements, Christmas, Valentine's Day, and more!
People like to reproduce their own artwork or photos to give their homes, offices, or even commercial spaces a personal element. The designing medium, resolution of images, color themes, borders, wraps, and even frames play an essential role in creating a good canvas print.
There are actually more than seven types of canvas printing available in today's market:
Gallery wrapped canvas
Canvas poster prints
Single canvas prints
Photo collage canvas
Mosaic canvas prints
Lyrics on canvas
Panoramic canvas prints
Split canvas prints and more
Professional Canvas Printing
With significant printing technology advancements, professional canvas printing websites are becoming more and more reliable in creating lasting and beautiful artworks.
Since everybody has smartphones, customizing and editing photos or images for posting on social media websites is rapidly becoming an art in itself. From this, many people love to get these photos printed into physical forms such as canvas prints to capture the moment and relive it over and over again.
So hanging photos from vacation trips, holidays, picnics, adventures can make your space come alive once it's mounted on the walls. And the best part is – cheap canvas prints won't cost a fortune!
Photos on Canvas
Photos on canvas are ideal for transforming any image into artwork as the non-glossy medium of canvas enhances your pictures. Pick any ordinary picture from your photo gallery or shoebox collection, and you can transform it into a masterpiece in just a few minutes.
Different printing services online give you options in sizes, but they are usually limited to a handful of choices. Luckily with CanvasChamp, you can choose any custom size between 8″x8″ to 54″x54″ to enhance your photo's aesthetic appeal the right way.
Customize your Favorite Photos
Before you decide to convert your pictures into canvas prints, you will have to go through all of your photos taken for life to choose which one to print. It doesn't matter for what purpose you decide which image to print as long as it has a sentimental value. Their aesthetic value will automatically come out once you get them printed on canvas, which would be no less impressive.
Plus, your pictures on canvas prints will instantly stylize your space, giving the room an elegant and personal feel. You could decorate your living room with canvas prints, your kids' rooms, or even your bathroom with it!
Bonus: Inspirational Ideas for Different Rooms
Living Room: Living rooms are the ultimate place to relax with your family and friends over couches, and probably even watch tv together if you cannot have a separate tv room. This place is usually the most frequented room from all the other rooms as it is the common area connecting other rooms.
Such a place needs a focal piece such as panoramic canvas prints or large canvas prints to unite the living room's overall look. Photos showcasing furniture colored landscapes might blend well with the room.
Kitchen: If you have ever watched cooking videos from Youtube or Facebook, then you would've noticed how beautifully these chefs decorate the kitchen behind them. Decorations based on either light colors or quotes make a kitchen look chic and sophisticated, even if it is the room that gets the dirtiest with the cooking.
Quotes on canvas or aesthetic images of cooking utensils can add more elegance to your kitchen, making it look more modern yet clean.
Dining Room: Yet another room where everyone often gathers apart from the living room is the dining room. It is usually not decorated because we assume that people would instead focus on their plate than on the walls surrounding it. But that's not true.
On the contrary, the right wall art on the walls can condition the members to prepare for the food getting served. Images of delicious dishes and colorful veggies on canvas prints can relish food served during every meal. Plus, it also makes the dining room look stylish.
Kids' Bedroom: Growing children is often a hassle when adorning the rooms with the right items. They like Spongebob Squarepants today and tomorrow, their hero of the day is going to be Aquaman. Kids have ever-changing tastes, which make it often difficult to decorate their room.
Many parents, instead, are popularizing today in conditioning their kids with the right objects on the walls in their kids' bedroom. Wall art of role models, inspirational or creative quotes on canvas prints can onset critical thinking skills in kids when seen from an early age.
Master Bedroom: Decorating this space solely depends on what you do the most in it. Do you only use it to sleep? Do you relax there often with your phone or laptop? Do your friends and family come to sit often in your very bedroom?
The purpose you do the most can help you determine what to print on canvas prints for the master bedroom. For instance, if you use the master bedroom only to unwind your day, then putting up relaxing pictures coordinating cold colors can help you loosen up faster. Perhaps images of an ocean or blue waves, the greenery of a forest, or the mountains' tranquility can make all the difference.
CanvasChamp practices a modern style of canvas printing to help you make masterpieces from your very own chosen photos. Visit our website and upload your image(s) on the design tool. Start customizing your artwork with us today at fantastic deals and prices.