Scania takes on Super Quads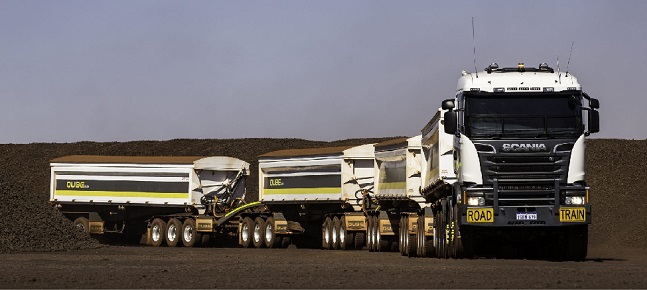 Scania in Australia has just built its biggest ever truck, an R 730 V8 8×8 converted to 10×8 specification by adding a tag axle.
Qube Bulk, Australia's leading mine to market logistics provider, will utilise the truck in its Quad Road Train fleet in Pilbara, Australia. These are the largest on-road vehicles in the country and the new Scania will be able to haul up to 220 tonnes.
At present, a standard Quad Road Train can pull 175-tonnes, or 200 tonnes under the Australian Performance based standards scheme. "We have designed this truck to give us the flexibility to take advantage of further payload improvements," says Todd Emmert, Director of Qube Bulk. "We anticipate that in the near future we should be able to raise this to 220 tonnes."
Improved productivity and efficiency
The new truck will be used to haul bulk iron ore around the clock from various mine sites to the terminal at Port Hedland in Western Australia. The truck will be in operation 6.5 days a week. A one way trip from the mine can be as far as 450 km, so the Scania truck can be expected to clock up close to one million km over the first three years of its working life on the job.
Qube Bulk states that the new truck will improve productivity and efficiency. "This will allow us to provide a better service to our customers. Boosting efficiency is critical for our clients, while for us safety is the priority," says Todd.
One of the benefits of the higher payload is ultimately a reduction in the number of truck movements on a given piece of road. "Reduced interaction between cars and trucks, and having trucks with higher levels of safety will all combine to make these roads safer for all road users," says Todd.
Scania 10×8 specification
The Scania CA8x8EHZ specification includes 4700 mm axle and 1450 mm bogie distances. The hub-reduction bogie-drive axles deliver impression traction, running a 4.27:1 ratio. The fifth axle is a tag unit fitted at the very rear. Braking is by drums all round backed by traction control, ABS/EBS, while suspension is all steel multi-leaf. The fifth wheel is a heavy-duty Jost DR38C-1 rated to 260 kN.