Samsung Expands Galaxy Note 3 Line with New Color Accents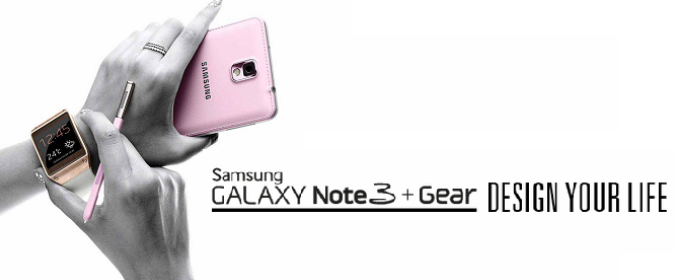 As part of its continued commitment to deliver innovative technologies along with premium design, Samsung Electronics Co., Ltd. today announced new color editions of the Galaxy Note 3. The Galaxy Note 3, which launched in September, now comes with Rose Gold White and Rose Gold Black accents and Merlot Red option, in addition to the Jet Black, Classic White and Blush Pink options already available to consumers.
The new editions of Galaxy Note 3 integrate touches of premium Rose Gold finishes to its Jet Black and Classic White devices for a distinct and refined design. Both editions complement the iconic Rose Gold Galaxy Gear to provide users with a truly integrated and stylish Galaxy experience.
"At Samsung Mobile, we understand that consumers view their mobile devices as an extension of their personal style, and Samsung is committed to delivering fresh ways for consumers to express themselves," said Younghee Lee, Executive Vice President of Global Marketing, IT & Mobile Division at Samsung Electronics. "By introducing these new editions of Galaxy Note 3, we want to provide our fashion-forward consumers with more ways to express their personality and tastes through our technology."

Make Everyday Life Extraordinary with Galaxy Note 3 and Galaxy Gear
Galaxy Note 3 adds delight to daily tasks and infuses innovative features that help consumers tell the story of their lives. The device expands on the modern Samsung Galaxy design approach by adding a soft and textured-touch back cover with delicate stitching to look beautiful from every angle. With an improved viewing experience, more powerful multitasking capabilities and significant S Pen improvements, Galaxy Note 3 empowers creativity, making everyday life easier, faster and more fun.
A perfect companion to the Galaxy Note 3, Galaxy Gear provides users the freedom to choose how, why, when and where they are connected. To present a carefully crafted balance of high fashion and high functionality, Samsung has worked to deliver the right combination of materials, colors and design to create a truly wearable piece of technology. Galaxy Gear is available in six colors – Jet Black, Oatmeal Beige, Rose Gold, Wild Orange, Mocha Gray and Lime Green – which were chosen to meet a range of personal tastes.
The Rose Gold White edition will be available starting from December in the Chinese market. Other color options will be launched according to each market's preference.
About Samsung Electronics Co., Ltd.
Samsung Electronics Co., Ltd. is a global leader in technology, opening new possibilities for people everywhere. Through relentless innovation and discovery, we are transforming the worlds of televisions, smartphones, personal computers, printers, cameras, home appliances, LTE systems, medical devices, semiconductors and LED solutions. We employ 270,000 people across 79 countries with annual sales of US$187.8 billion. To discover more, please visit www.samsung.com.