Acer Aspire Z3-600: Flexible, Portable All-in-One Fun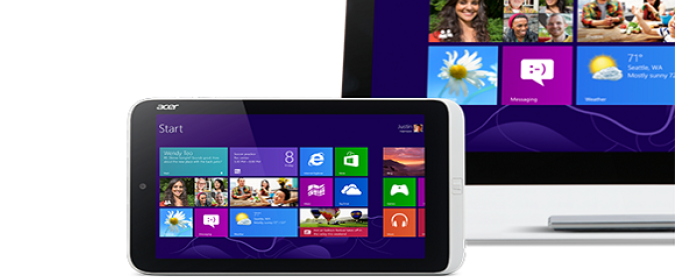 Acer Aspire 3-600 series all-in-one (AIO) combines a 21.5-inch Full HD display in a slim, attractive chassis
Portable design with a built-in battery enables it to be easily carried around the home for use in every room
Flexible hinge design allows the frame to be pushed back up to 90 degrees standing or until it lays flat with the desk for collaboration and game play with friends and family
Harman Kardon speakers with Dolby® audio deliver superb sound quality
10-point capacitive touch screen enables intuitive, easy operation, including handwriting directly on the screen.
Acer America today announced the Acer Aspire Z3-600 portable all-in-one (AIO) series combining a 21.5-inch Full HD display, a flexible hinge design and convenient touch. It will be available this month for consumers in the United States with prices beginning at $779.
Comfortable ergonomics enhance the computing experience. The Aspire Z3-600 series boasts a built-in battery offering up to 2.5+ hours(1) of life for enjoying apps and entertainment without being tethered to an outlet. It has a convenient stand that tilts up to 90 degrees back to comfortably accommodate many different uses from browsing recipes in the kitchen to playing games in the den. This portable AIO can also lay flat, so users can enjoy web browsing, email and games from their lap. The robust hinge design maintains the PC's stability during continuous tilting, even while users leverage the 10-point capacitive touchscreen.
"Our newest all-in-one series is our most flexible and dynamic one yet," said Frank Chang, director of desktop product management for Acer America. "Outfitted with a Full HD display and premium Harman Kardon speakers, it provides superb audio and visuals for movies, games and music. It's also ergonomic. The flexible hinge allows it to be used in several positions from upright to tilted back or flat on a desk or lap, while gesture control enables commonly used OS functions to be controlled with hand gestures from several feet away."
Premium Audio via Harman Kardon Speakers and Dolby
The new series includes two 2.5W front-facing Harman Kardon speakers that leverage precise scientific methods to accurately produce crystal-clear audio that sounds close to the original recording. Combined with Dolby, they provide balanced sound for movies without sudden volume increases and enable clear dialog even during live reports with significant background noise. They also allow users a choice of listening modes to accommodate different scenarios.
The Full HD1080p display offers wide angle viewing with consistent color saturation up to 170 degrees both horizontally and vertically, ideal for gaming and collaborating with others. Outfitted with an ambient light sensor, the display automatically adjusts lighting to provide the best possible view for the environment. An HD webcam with a wide 80 degree Field of View (FOV), enables users to capture larger range views for video chats.
Packed with plenty of power, the Aspire Z3-600 series offers the power necessary for smooth multitasking, productivity applications, casual gaming and social media. It comes outfitted with Windows 8, an Intel® Pentium® J2850 quad core processor, Intel® HD Graphics and 4GB DDR3 dual-channel memory. Offering up to a large 750GB(2) hard drive, these portable AIOs provide ample storage.
HDMI with MHL for Keeping Smartphones Charged
Excellent connectivity is afforded via an HDMI port for attaching a gaming console or another display. HDMI is combined with MHL for keeping smartphones charged. The systems also include a fast USB 3.0 port as well as two USB 2.0 ports for connecting with peripherals and other devices.
Pricing and Availability
The Acer Aspire Z3-600 Series portable all-in-one desktops will be available at leading retailers this month with a limited one-year warranty(3) and manufacturer's suggested retail prices starting at $779.
About Acer
Established in 1976, Acer is an information and communication technology company dedicated to the research, design, marketing, sale and support of innovative products that enhance people's lives. Acer's green supply chain delivers environmentally friendly PCs, displays, projectors, servers, tablets and smartphones — tools our customers need to explore beyond limits and experience more. Ranked No. 3 for notebooks globally(4), Acer employs 8,000 people, and 2011 revenues reached US$14.7 billion. Please visit www.acer.com for more information.