Ray Allen Recalls The Air Jordan Xvi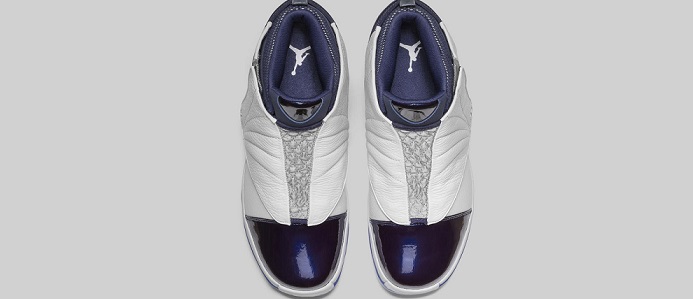 When the Air Jordan XVI originally released in 2001, Michael Jordan was already in the middle of his second retirement. The Air Jordan XVI, designed by Wilson Smith with a bit of guidance from Tinker Hatfield, was created with Jordan's post basketball challenges in mind.
"We were inspired by the fact MJ was retiring for the second time and the thought that he was going from the basketball court to the boardroom," explains Smith.
Design for the AJ XVI stemmed from refinement and learning from prior models. "We saw opportunities in the Air Jordan XV, where we could make this shoe more flexible, to work naturally with the foot," says Smith.
From there, it was on Smith to bring the idea to life — and do so in a sharp, distinguished fashion. Per Wilson, the team wanted to incorporate visible technology — combination of Zoom Air cushioning in the forefoot and blow-molded, Nike Air cushioning in the heel — in the subtlest fashion possible. "It was the first shoe we wanted to bring visible Air back into at Jordan and did so in a way where it was really flowing with the design."
Now, nearly a decade and a half later, the design still stands as one of the most unique Air Jordans ever introduced. The Air Jordan XVI would go on to become one of the last models ever worn by MJ on the hardwood after his return in 2001, but became a favorite to many of the brand's family of basketball athletes.
Two-time champion and ten-time All-Star, Ray Allen is no stranger to the Air Jordan XVI and regularly wore player exclusive models of the shoe while playing in Milwaukee. Later, during his final playing years in Miami, Allen returned to the silhouette — again donning neck-breaking PEs. Here, he recalls his favorite moments in the shoe.
Every time I see that shoe — the Bucks PE — I always think about the uniform.  I think about the time and place.  It's just like music for me, when you think about where you were when you hear a song, you think about where you were when you first heard it.  And that's kind of how I think about it with the XVIs.
With XVI, I just remember exactly where I was, and all these memories flood back from the games that I played in, to the players that I played with — that whole era.
Most notably, the last time I wore the XVIs was my last year with Miami. When I came into the locker room and everybody saw me with them on, they just…everybody put in their orders.  Everybody was like, 'I've got to get a pair.' And then I had the green XVIs that I wore for Christmas. Once everybody saw those, they went crazy.
The Air Jordan XVI will launch globally on December 22 at select Jordan retail stores and on Jordan.com.