Qatar Airways and Xiamen Airlines Unveil Landmark Codeshare Alliance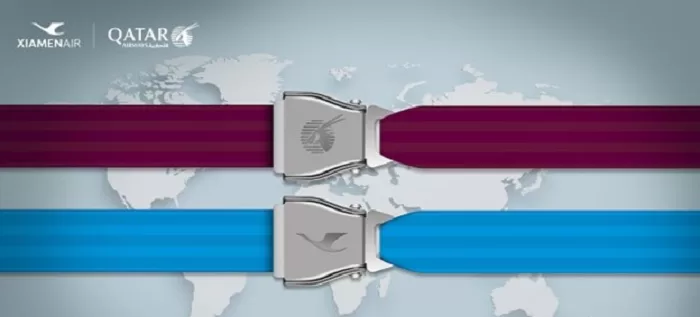 Qatar Airways and Xiamen Airlines have joined forces in a groundbreaking codeshare partnership, elevating Mainland China-Qatar connectivity to unprecedented heights in global aviation. This strategic alliance strengthens ties between the two airlines and offers enhanced travel options and seamless connections for passengers traveling between Mainland China and Qatar. Experience a new level of convenience and accessibility in air travel with Qatar Airways and Xiamen Airlines leading the way.
This milestone collaboration, marking Xiamen Airlines as the pioneer in offering nonstop passenger flights between these two pivotal regions, ushers in a new era of seamless air travel. Set to commence on October 20, 2023, this venture promises to revolutionize the travel experience for passengers, offering unparalleled connectivity and convenience.
Here are the key details:
Historic Collaboration: Xiamen Airlines becomes the first Chinese carrier to offer nonstop passenger flights between Mainland China and Qatar.
Commencement Date: The codeshare partnership takes flight on October 20, 2023.
Prime Routes: Xiamen Airlines will operate daily flights between Beijing's Daxing International Airport and Hamad International Airport in Doha.
State-of-the-Art Fleet: The service will be carried out by

Boeing 787-9 aircraft,

epitomizing a commitment to cutting-edge travel experiences.
Optimized Schedules: Flights from Beijing are timed for maximum passenger convenience, arriving in Doha at 22:45 and departing at 02:00, facilitating seamless connections to Qatar Airways' expansive global network across the Middle East, Africa, and Europe.
Secondary Route: In addition to the Beijing-Doha route, Xiamen Airlines will introduce two weekly flights from Xiamen, a special economic zone in Fujian Sheng province, to Doha. This service will kick off on October 31, 2023.
Enhanced Connectivity: Both the Beijing and Xiamen flights are strategically scheduled to ensure smooth transitions for passengers connecting to Qatar Airways' extensive network.
Expanded Presence in China: Qatar Airways further cements its position in Mainland China, with existing services to six destinations and a total of 31 weekly flights. The airline also offers double daily flights to Hong Kong.
Reciprocal Codeshare: As part of the partnership, Xiamen Airlines will feature its marketing code on Qatar Airways flights to and from Beijing, amplifying connectivity and convenience for travelers.
SkyTeam Alliance Member: Xiamen Airlines, a distinguished member of the SkyTeam Alliance, is renowned for its high service standards and operational excellence, operating a network of 105 destinations across China and the globe.
Aircraft Configurations: The direct services from Beijing to Doha will be operated by a Boeing 787-9, offering a two-class configuration. This includes 30 Business class seats and 257 in Economy class, accommodating a total of 287 passengers. The Xiamen-Doha-Xiamen service, operated by a Boeing 787-8, will have 237 passenger seats across three classes.
Leadership Statements: Qatar Airways Group Chief Executive, His Excellency Mr. Akbar Al Baker, expressed his excitement about the partnership, highlighting the expanded travel options and seamless experiences it will offer to customers of both airlines. Mr. Zhao Dong, Chairman of Xiamen Airlines, echoed this sentiment, emphasizing the shared commitment to providing high-quality service and anticipating exceptional flying experiences worldwide.
As the aviation industry continues its trajectory towards greater interconnectedness, the codeshare partnership between Qatar Airways and Xiamen Airlines stands as a beacon of innovation. This trailblazing collaboration not only expands the horizons of air travel but also signifies a testament to the shared commitment of these two industry leaders to redefine excellence in service.
With this milestone, passengers can anticipate a future of travel that transcends boundaries, offering a seamless journey between Mainland China and Qatar. Qatar Airways and Xiamen Airlines have set a new standard for global connectivity, leaving an indelible mark on the world of aviation.
Source: Qatar Airways