Qatar Airways Increases Flights To The Kingdom Of Saudi Arabia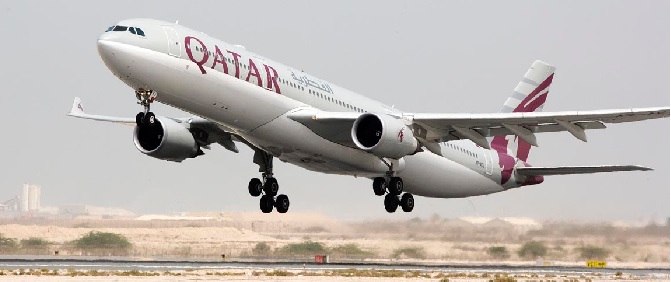 Qatar Airways to operate 158 flights to Saudi Arabia with increased services to Riyadh and Dammam
Qatar Airways has announced an increase in services to Dammam and Riyadh, connecting travellers from Saudi Arabia to more than 150 worldwide destinations through the award-winning Hamad International Airport in Doha.
From 30th October 2016, Qatar Airways will add another eight flights a week to Riyadh and one more daily flight to Dammam, increasing its connectivity to the two major Saudi cities. Through its hub in Hamad International Airport, Qatar Airways will operate four flights a day to King Khaled International Airport in Riyadh, and five daily flights to King Fahad International Airport in Dammam.
Qatar Airways Senior Vice President of Commercial Middle East, Africa and Pakistan, Mr. Ehab Amin said: "There has been significant demand for our services in the Kingdom within the last year, and we have stepped up our services to provide our passengers with the flights they need to make travelling more convenient.
"By adding more flights, we are offering our travellers more choice to connect to our extensive network. With the increase in services to 158 weekly flights from eight points in the Kingdom, Qatar Airways will also have more First Class seats available, allowing even more passengers to experience the airline's award-winning premium class service."
The additional flights take Qatar Airways' total connectivity within the Kingdom to 158 flights a week, serving eight destinations: Riyadh, Jeddah, Madinah, Dammam, Hofuf, Gassim, Taif, and Abha.
Qatar Airways, the official sponsor of Al-Ahli Saudi FC and F.C. Barcelona recently announced hosting a friendly football match bringing together both teams to play at Shiekh Thani Bin Jassim Stadium (Al-Gharrafa Stadium) on Tuesday, 13 December, 2016.
"The new increase in our services to the Kingdom of Saudi Arabia will enable fans of both teams to travel to Doha for the match in December, or travel directly to the clubs' home town for matches, with more flight options making their journeys easier," Mr. Amin said.
Travellers from Saudi Arabia can take advantage of the increased frequencies to visit the new destinations that Qatar Airways has announced this year, which include exciting cities all around the globe, such as Los Angeles and Atlanta in the USA, Adelaide in Australia, Auckland in New Zealand, and numerous others in Europe, Asia, and Africa.
Flight schedule:
Doha – Riyadh:
QR 1168  Daily  DOH RUH 19:15 20:35
QR 1169  Daily  RUH DOH 22:05 23:25
Riyadh-Doha:
QR 1236  Daily DOH RUH 08:40 10:00
QR 1237  Daily  RUH DOH 11:15 12:35
Doha- Dammam
QR 1162   Daily DOH DMM 18:40 19:40
Dammam – Doha
QR 1163   Daily DMM DOH 21:30 22:30
About Qatar Airways:
Qatar Airways, the national carrier of the State of Qatar, is one of the fastest growing airlines operating one of the youngest fleets in the world. Now in its 19th year of operations, Qatar Airways has a modern fleet of 190 aircraft flying to more than 150 key business and leisure destinations across six continents.