Airbus Corporate Jets Brings New Look to Large-Cabin Design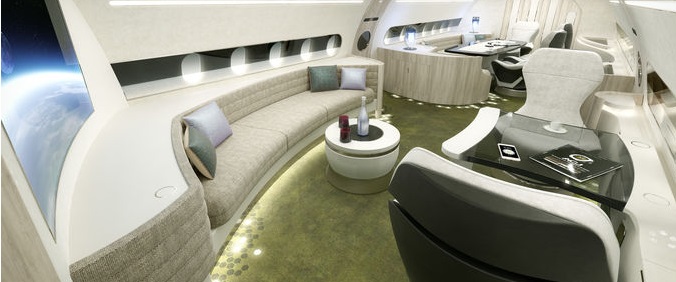 Cabin combines customer wishes with fresh design approach
Airbus Corporate Jets has combined its knowledge of customer preferences with a fresh approach to cabin design, creating a new cabin concept for its ACJ320neo Family.
Called Melody, it features flowing lines inspired by the curves of nature, such as hilly horizons, rolling rivers and desert dunes. These flowing lines are represented in both the main pathway through the cabin and the curved walls of zones within it.
The new concept also focuses on providing a more attractive environment that is both quieter and better adapted to providing sound and vision in a "home cinema" setting.
"A key feature of Airbus corporate jets is the better travel experience that they deliver – through freedom of movement and enhanced sociability as well as their greater space and comfort – and the new Melody cabin highlights this benefit over traditional business jets," declares Airbus Chief Operating Officer, Customers John Leahy.
While each cabin designer has their own style, there are general principles that most follow, including to start by understanding how a corporate jet will be used, and the lifestyle, tastes and preferences of the customer.
 Airbus Corporate Jets' Head of Creative Design & Concepts, Sylvain Mariat, capitalised on his many discussions with customers over the years – in hotels, homes and offices – to identify shared values, such as the relaxation drawn from nature and quiet and comfortable settings.
He married these values with a forward-looking approach to create the Melody cabin for new aircraft, such as the ACJ320neo, deliveries of which will begin at the end of 2018.
The combination also benefits from new technologies – such as weight-saving carbonfibre in tables and cabinets and the simplification that comes from greater use of wi-fi – to enable delivery of a lighter cabin, and hence to increase aircraft range.
 Airbus has already delivered an ACJ319 with these technologies which, with the addition of Sharklets, is already regularly flying from Asia to the US west coast.
More than 180 Airbus corporate jets are in service around the world, flying with companies, individuals and governments on every continent, including Antarctica.
About Airbus Corporate Jets
Airbus Corporate Jets (ACJ) create the world's most rewarding flying experiences with customers by providing them with unique expertise, the finest service, best technology and highest standards of care in corporate aviation.
All Airbus corporate jets come from the most modern aircraft family on the market. Derived from Airbus' successful market-leading jetliners, ACJ customers will invariably be close to Airbus' global support network and, wherever in the world they choose to fly their aircraft, they will be supported around the world, around the clock.