Nike Introducing The Kobe A.D.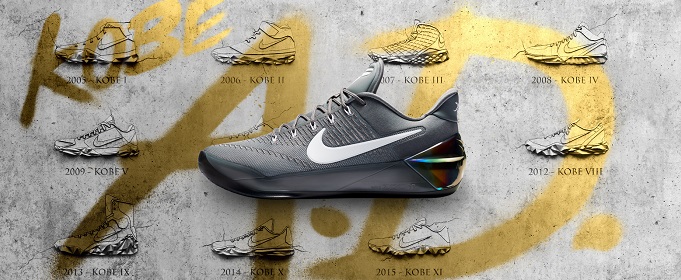 On April 13, 2016, Kobe Bryant played the final game of his 20-year career. The contest, his 1,566th as a professional, ended in signature style: The Black Mamba netted a memorable 60 points. Some athletes might have let that sink in for a day, maybe a week. Not Bryant. He was in his office at 8a.m. April 15, opening the new chapter of his life with the same intensity he'd pushed through the previous two decades on the hardwood.
Noted for his cerebral approach, Bryant's transition from player to mentor focuses on transference of his revered "Mamba Mentality." This is evident in both his approach to the game's intricacies — from footwork to reading defenses — and his consideration of equipment.
"Even though I am not on the court every day, there are people around the world who are helping to keep the 'Mamba Mentality' alive," says Bryant. "I have seen it in basketball, football and with everyday individuals who are working to be better and are committed to being great.
Kobe Bryant's first post-retirement signature silhouette, the Nike Kobe A.D., continues a legacy of lightweight, low-profile on-court footwear. Combining a Zoom Air unit in the heel, Lunarlon foam in the midsole and a minimal rubber outsole (with micro-tread traction), the shoe provides responsive, flexible cushioning and maximum court feel. A breathable mesh upper with incorporated Dynamic Flywire, ensures lock down for quick changes of direction toward the basket or to cover an opponent.
The Nike Kobe A.D., with a suggested retail price of $160, releases November 22 at nike.com and select retailers.