MADAME LE HOANG DIEP THAO, AWARDED THE MOST ADMIRED CEO OF VIETNAM F&B INDUSTRY BY GLOBAL BRANDS MAGAZINE
Co-founder of the world acclaimed Trung Nguyen Coffee, CEO Le Hoang Diep Thao of TNI KING COFFEE has been awarded and recognized as the Most Admired CEO in Food & Beverage industry by Global Brands Magazine (GBM). The award is an appreciation for Madame Thao's effortless dedication to inspire Vietnamese women and society in doing business and creating opportunities for others successfully.
From a coffee start-up at a young age …
Coffee business is not a feminine one. Therefore, it is rare to see a female leader on the top chair of a Global brand. Doing business means making breakthrough decisions and have a clear vision on many perspectives of the market, especially in an industry that was not set up for women. This breakthrough has proven a lot about Madame Thao's reputation in the coffee market around the world.
Madame Le Hoang Diep Thao had built Trung Nguyen Coffee 20 years ago. She deeply understands that "Rome was not built in a day" through her challenging journey with Trung Nguyen, She has always been proud of her origins, a small town in the Central Highland of Vietnam, where "coffee is in the gene of its people". This gene motivates Madame Thao in every occasions where she experiences and was put in a difficult situation and has to start all over again. Madame Thao has earned her reputation by overcoming any hardships throughout her business life.
Obviously, Madame Thao endures her enthusiasm to her coffee brand. She wants to conquer the world with the best-in-class Vietnamese origin coffee and brings back the international flavor to her own country. She decided to rebuild this vision again with TNI King Coffee 5 years ago after going through the turmoil of family affairs. Through Madam Thao's wisdom, dedication and hard work, she has built up from ground zero to a multi-million-dollar empire that spans around the world.  Currently, this brand, TNI King Coffee has been presented and sold in over 60 countries including Vietnam itself.
To be a leader on the start-up runway
Vietnam has gone through tremendous changes and evolution to become a mid-income high growth country. This 100-million population market attracts more and more players in the Food & Beverage industry. Hence, with the new generation grows strongly with different tastes, more demand on services and experiences. These are the biggest challenges that Madame Thao and her team need to overcome.
Madame Thao often seeks out the opportunities when placed in a disadvantaged situation. The best way to quickly win the favor of consumer by giving them an international brand with a local taste. Immediately, she took advantage of her experiences and network that has been built for 20 years to create a global-standard class specialty coffee.
TNI King Coffee has full access with the best Arabica, Catimor and Excelsa coffee beans from the "holy land" of coffee. Mixing these beans with the Vietnamese specialty Robusta beans from Buon Me Thuot (Daklak) and Cau Dat (Lam Dong) has given birth to the premium Ground coffee by King Coffee. TNI King Coffee has also developed a strong supply chain system from top down to many kinds of distribution channels in order to increase their awareness via instant coffee category.
Next to product improvement, King Coffee also focus on brand equity & identity which is the most important strategy to win the market. In 2020, King Coffee officially announce their sponsorship to Vietnam National Football Team and open their Flagship book-coffee store in Ho Chi Minh City. In the same year, Madame Thao initiate Women-Can-Do program in cooperated with Vietnam Central Women Association to encourage more women to start their own business. Participants can choose between Distribution Centre (WE) or coffee cart franchising (WEhome café).
The Global inspirational CEO goes to the CEO of TNI King Coffee
Madame Le Hoang Diep Thao's works did not go unnoticed. Impressed by Madame Thao vast achievement and dedication to the coffee industry, the London based magazine, Global Brands Magazine (GBM) has awarded her "Most Admired CEO – Food & Beverage Industry in Vietnam" for the year 2020 Award.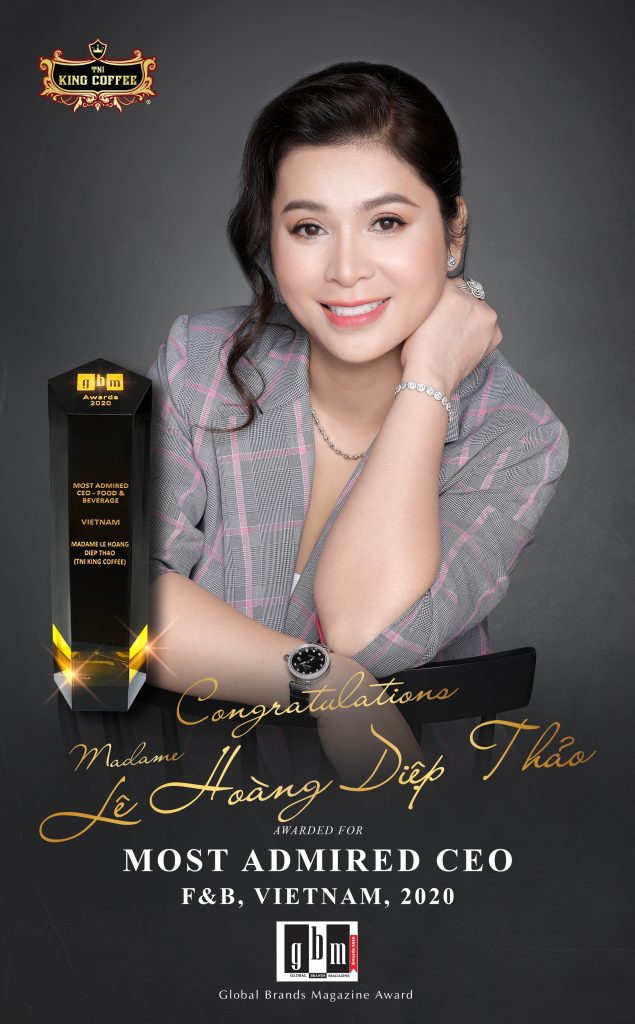 Madame Thao will be attending the Gala Event held in Dubai in Quarter 2 2021 to receive all the award she clinched for herself and her company. In total , Madame Thao has been conferred 3 awards from Global Brands Magazine; which other two includes "Most Popular Coffee Brand – Vietnam 2019 Award" and "Fastest Growing Coffee Brand Globally – 2020 Award".
Global Brand Magazine (GBM) is a prestigious magazine in London, UK. Their key focus is bringing in ideas, discussion, articles, and research from experts at different industries about branding all over the world. Every year, GBM launch their award to honor brands that stand out from others at many countries. The board of trustees include GBM Editors, media and brand experts. They discuss internally before interview nominees' Board of Directors to make their final judgement.
About TNI KING COFFEE
Trung Nguyen International (TNI) has headquarter in Singapore, established in 2008 and TNI King Coffee belongs to the group. In 2020, they move their HQ back to Ho Chi Minh City, Vietnam and under Madame Le Hoang Diep Thao, co-founder of Trung Nguyen Group. She is considered as the one who set the first stone for Vietnam coffee industry towards international market.
KING COFFEE is having their marks in Korea, China, Singapore, Australia and Israel, Russia. Especially in China, King Coffee is Top 4 best-seller brand on T-mall Super Market (Alibaba's E-commere website)
August 2017 marks King Coffee return to Vietnam. Within 2 years, TNI King Coffee has fully set up their distribution channel and coffee shops at 63 provinces across Vietnam.