King's Immuno-Oncology Spin-Out Gains £30M Funding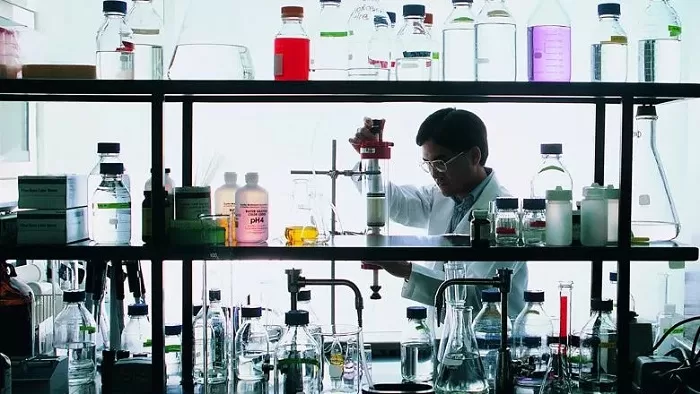 A spin-out company created by Professor Sophia Karagiannis and Professor James Spicer has secured £30.75 million to support further development and clinical studies of IgE-based antibody immunotherapies to treat cancers.
Epsilogen Ltd, an immuno-oncology company developed by Professor Sophia Karagiannis and Professor James Spicer is conducting ground-breaking work to develop novel immunoglobulin E (IgE) antibodies to treat cancer. The funding will enable further clinical development of their lead drug candidate MOv18 IgE for platinum-resistant ovarian cancer. This type of cancer is resistant to platinum-based chemotherapy treatments.
Studies at King's undertaken by Professor Karagiannis' team, from the School of Basic & Medical Biosciences, have shown that IgE therapies have specific properties that allow them to activate the human immune system to effectively target cancer cells. Initial studies to develop the first-in-class IgE and early prototypes of this platform and to test the first IgE in early clinical trials were supported through several funding streams including the NIHR Guy's and St Thomas' BRC.
MOv18 IgE targets the folate receptor alpha (FR alpha) antigen and is the world's first IgE antibody to enter the clinic. Previously announced data from a phase I trial shows MOv18 IgE to be safe and well-tolerated with early signs of clinical activity also seen.
The financing will also enable Epsilogen to progress the development of its proprietary IGEGTM antibody platform which combines elements from both IgE and IgG antibodies into novel and proprietary antibody molecules with enhanced functionality.
James Spicer is Professor of Experimental Cancer Medicine, at the School of Cancer and Pharmaceutical Sciences and trial lead from the National Institute for Health Research (NIHR), King's Health Partners Experimental Cancer Medicine Centre. He said: "We have learned that IgE functions differently to other antibodies and studying MOv18 IgE in the world's first clinical trial has been a huge step in the development of IgE therapeutics. This Series B financing round is a significant achievement for Epsilogen and would not have been possible without the research by our dedicated teams at Guy's and St Thomas' and at King's."
The round was led by new investor Novartis Venture Fund and joined by new investors 3B Future Health Fund and British Patient Capital, Schroders Capital, and Caribou Property. The new syndicate joins founding Series A investor Epidarex Capital and Series A investor ALSA Ventures both of whom also committed further capital in this Series B fundraising round. In connection with the closing of the financing, Dr. Marianne Uteng of Novartis Venture Fund and Dr. Marianne Bjordal of 3B Future Health Fund will join Epsilogen's Board of Directors.
Dr. Tim Wilson, Chief Executive Officer of Epsilogen, commented: "This significant, new financing round will not only fund demonstration of clinical Proof of Concept for MOv18 but also allow Epsilogen to maintain its position as the leading pioneer in the development of IgE therapeutic antibodies for the treatment of cancer. We are very pleased to have attracted new investors of the calibre of Novartis Venture Fund, 3B Future Health Fund, British Patient Capital, Schroders Capital, and Caribou Property. We also appreciate the continued support and investment from our existing investors Epidarex Capital and ALSA Ventures."
Source: King's College London