KFC famous bowl spurs a great debate: Should foods touch or not?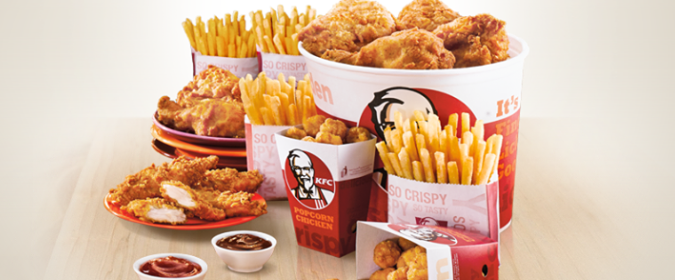 New Survey Data Reveals What Eating Habits Say About Your Personality
It's the meal that inspired the signature routine for one of America's most famous comedians. (You're welcome, Patton Oswalt.) The dish was described by a national food writer as "the kitchen sink of KFC goodies, a little of a lot of things, all smushed together in a big, action-packed 'portable' bowl.'"
Seven years after its debut, the Famous Bowl remains one of the most talked-about dishes to ever appear on a KFC menu. (It doesn't generate quite as much conversation as the legendary Double Down®, but then again, few topics do.) So why the fascination with the Famous Bowl?
Sure, crispy chicken, corn, mashed potatoes, gravy and cheese taste great separately. But put those same foods in a bowl and you've got yourself a dish that creates a great debate: Should foods touch or not?
"Turns out, that simple question inspires some very passionate responses, both 'yea' and 'nay,'" said Kevin Hochman, Chief Marketing Officer for KFC U.S. "We recently surveyed Americans and found that 57 percent are okay with having at least some of their foods touch. To those folks we say, 'thanks," and this Famous Bowl is designed especially for you."
While more than half of Americans said having foods mixed together was just fine with them, a third said they want to keep foods in their proper places on the plate and eight percent confessed to wanting each food on a separate plate. To dig a bit deeper into this touchy question, KFC enlisted Dr. David Solot, an authority on eating habits with a Ph. D. in organizational psychology.
"People who are okay with their foods touching are more likely to be risk takers," Dr. Solot said. "They don't feel the need to precisely control their eating experience, and are more comfortable letting go and enjoying whatever may come."
Dr. Solot added that fans of dishes like the Famous Bowl are "more likely to enjoy trying new things, which suggests they are laid back and willing to go with the flow." To learn more about KFC's survey of American eaters and to hear more from Dr. Solot, visit the KFC Facebook page.
The KFC Famous Bowl is featured as one of four signature combo lunch meal deals, available through March 23, for just $3.99*:
Famous Bowls Combo: KFC's Famous Bowl and 20-ounce drink
Pot Pie Combo: KFC's Pot Pie and 20-ounce drink
6-Piece Bites Combo: 6 Original Recipe® Bites, an individual side and 20-ounce drink
Chicken Littles® Combo: 2 Chicken Littles®, an individual side and 20-ounce drink
Where do you stand on the touchy question of touching foods? Tell us! KFC's #HowDoYouKFC campaign invites consumers to tell how, where, when, and why they enjoy KFC by sharing photo or video footage, chronicling the way they enjoy KFC. Be sure to use the hash tag #HowDoYouKFC.