Goya Foods Expands Global Reach with the Opening of Four New Facilities to Support Consumer Demand of Goya's Healthy Product Lines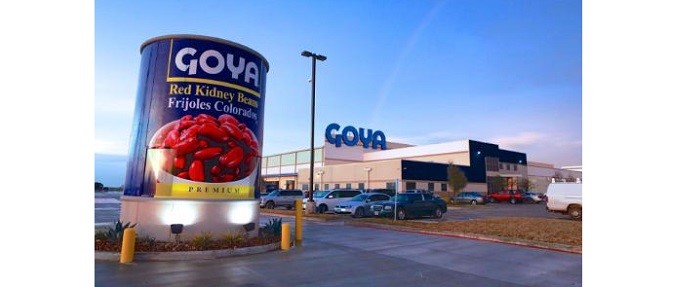 Goya Foods, the largest Hispanic-owned food company in the United States, opens four new state of the art manufacturing, production and distribution facilities in Texas,Georgia, California and New Jersey as part of a $250 million investment for a global expansion to support consumer demands of Goya's healthy product lines.
As the only Hispanic food company that offers consumers an entire line of low sodium, organic, diet and sugar free products, Goya's cutting edge, high tech facilities will maintain its mission to produce authentic, high quality and affordable products without sacrificing taste to national and global markets.  "With the growing Hispanic population and the need for good nutrition, it's an opportune time for Goya to expand," says Bob Unanue, President of Goya Foods.  "For more than 78 years, Goya has not only positioned itself as a leader in the Latin American food industry and a trusted American brand, but as an iconic symbol of the Hispanic culture.  Our commitment to excellence is the cornerstone of providing our consumers with products that offer 'good taste, good for you and good value,' all key elements that resonate with our popular tagline that our grandfather created, 'If It's Goya, It Has To Be Good'."
Each of Goya's new facilities will help reach new consumers and strengthen the Goya brand throughout the United States and internationally including Latin America, the Caribbean, Europe, Africa, and Asia.  The new 350,000 square foot Houston facility that sits on a 130-acre farm, scheduled to open on March 27, 2014, will serve as the prime hub for the manufacturing and distribution of Goya's healthy bean lines and will produce 1,000 cans of beans per minute serving consumers west of Mississippi.  The positioning of the Texas facility is a strategic location for Goya that provides key access to skilled workforce, affordability, a favorable business climate, railroad transportation, and acts as a launching pad for global export from Houston's port and the Panama Canal.  The environmentally sustainable center is also equipped with an advanced water treatment plant that will recycle and purify water used for the soaking and transporting of beans and other products, crop irrigation and replenishment of local streams.
The 250,000 square foot facility in Los Angeles will serve all of the West coast and the 151,000 square foot facility in Atlanta will serve all of Georgia and the surrounding areas. Goya's new Northeast headquarters in New Jersey, scheduled to open in fall of 2014 and totaling nearly 900,000 square feet, will be Goya's largest expansion in the company's history.  The new site in Jersey City will feature office space and a warehouse totaling 638,000 square feet on 40 acres of undeveloped land and the fully renovated 240,000 square foot facility in Secaucus will be armed with a new rice packaging line to produce 600 bags of Goya rice mixes per minute, six times faster than its current production.
Goya has always been at the forefront of offering nutritious and affordable ingredients and authentic recipes from around Latin America and Spain since 1936, while maintaining traditions and evolving with the needs of consumers. Goya's healthy product lines featuring a variety of low sodium and organic beans, organic rice, brown rice and quinoa, frozen vegetables and fruits, coconut water and diet beverages, as well as household staples like olive oil and low sodium condiments, succeed in uniting both wellbeing without sacrificing on authenticity of each product's flavor.  Goya's bean line features more than 40 types of beans and are a super food packed with protein, fiber, all natural vitamins, minerals, antioxidants, phytonutrients and anti-inflammatories that help lower the risk of obesity, heart disease, cancer, high blood pressure, and diabetes, all nutritional elements that Goya has instilled and promoted among consumers.
In January of 2012, Goya collaborated with the USDA and First Lady Michelle Obama to support the MyPlate/MiPlato campaign, a national health initiative to help educate Americans on how to eat healthy.  Goya has produced and distributed over 336 million cans marked with the MyPlate logo and created more than 250,000 copies of two editions of the MyPlate cookbook, brochures, posters and lesson plans that have been distributed to consumers, supermarkets, teachers, school programs, and events nationwide.  In addition, Goya has reached millions by integrating healthy eating into its overall communications campaigns and will continue to focus on the health and wellbeing of their consumers for many more years to come.
For more information about Goya Foods, please visit www.goya.com. 
About GOYA: Founded in 1936, Goya Foods, Inc. is America's largest Hispanic-owned food company, and has established itself as the leader in Latin American food and condiments. Goya manufactures packages and distributes over 2,200 high-quality food products from the Caribbean, Mexico, Central and South America. Goya products have their roots in the culinary traditions of Hispanic communities around the world; their combination of authentic ingredients, robust seasonings and convenient preparation make them ideal for every taste and every table. For more information on Goya Foods, please visit www.goya.com
Press Contact:
Natalie Maniscalco
Natalie@retromedianyc.com 
845.659.6506
Photo – http://photos.prnewswire.com/prnh/20140327/NY91896
SOURCE Goya Foods