INTERVIEW WITH MADAME LE HOANG DIEP THAO–FOUNDER & CEO AT KING COFFEE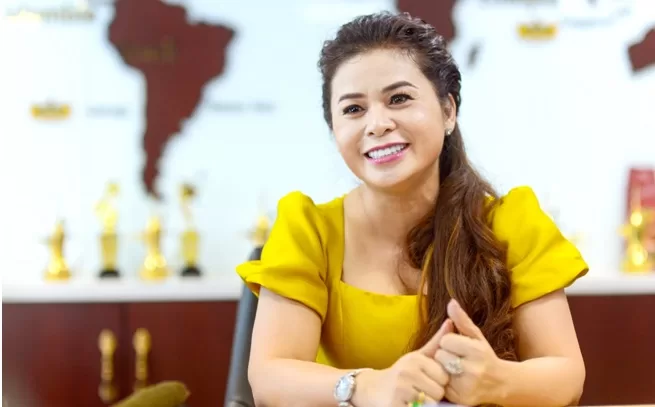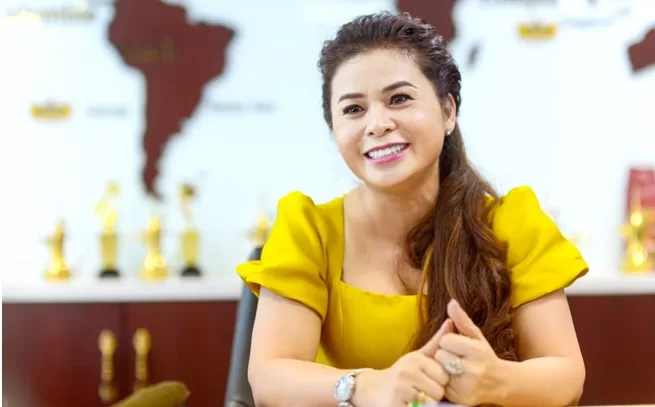 8th February – HCMC Vietnam – Last year, impressed by Madame Thao's vast achievement and dedication to the coffee industry, a prestigious London based publication, Global Brands Magazine (GBM) awarded her with the title of "Most Admired CEO – Food & Beverage Industry in Vietnam" for the year 2020.
According to Eastern Culture, People of the Ox age, are known for characteristics like industriousness, hard work, diligence, always giving their best at work. As one such businesswoman of Ox age, co-founder of Trung Nguyen Group, Mrs Le Hoang Diep Thao is also the head of TNI Corporation with the coffee brand King Coffee.
On the occasion of celebrating the new spring year of Ox 2021, the magazine has interviewed Madame Diep Thao about her passion and message to partners, customers and readers.
1. With the establishment of King Coffee brand, you are considered as "the second start-up", looking back, you have built King Coffee with all the enthusiasm and tireless working intelligence. So, what interesting experiences has the job at King Coffee brought you?
Coffee has always brought me endless joy, creativity and passion. With both of my startups, Trung Nguyen or King Coffee, they are unforgettable milestones in my life.
With Trung Nguyen, everything started from the most basic things: learn about coffee beans, grasp seasonal prices, learn how to process and package finished products, self-manage the first few employees in the small coffee factory, then gradually reaching further, find ways to open a store, develop a distribution system according to international standards, etc.
As for King Coffee, since I had accumulated more than 20 years of experience, when starting a business, I chose to immediately set up a standard system from the beginning: modern factory with international certifications, systematic distribution regularity, diverse products satisfy all the demands of enjoying coffee in modern society, all while still paying attention to the smallest details towards perfection.
The journeys of these experiences are completely different, but equally very interesting. I think the cups of coffee I drink every day have helped me to always renew myself in such creative ways.
2. To continue promoting the position of Vietnamese coffee in general as well as King Coffee in particular in the international market. What is your market penetration strategy?
King's market entry story is probably well known. It is a strategy that goes against conventional thinking when developing an entirely new brand.
In 2015, when I had to start a new business with the King Coffee brand, I chose to develop King Coffee from overseas markets. King product appeared first in the US market, then through other major international markets such as Korea, China, Singapore, and then returned to Vietnam. Within 1 year, King's distribution network covered all 63 provinces and cities, thanks to the international quality of the products and reputation from overseas markets that I brought.
In the near future, I will once again promote Vietnamese coffee in the international market to a higher level. With the goal, coffee will become a strategic commodity of Vietnam, promote alignment between Vietnamese brands in this sector. So that, we are truly a coffee great power of the world.
3. As a person with a wealth of experience and a great love for coffee over the years, What do you think are the optimistic signals of the Vietnamese coffee market during the current Covid-19 pandemic?
In 2019, the increase in domestic consumption has increased drastically. It is evident in the growth rate of 3% in the number of cafes/bars, corresponding to 30,770 shops. Transaction growth was also at 3% and current value growth of 6%, reaching VND 128.6 trillion. According to forecasts, the number of cafes/bars will continue to grow rapidly in the next 5 years. This means that the rate of domestic consumption has a complete basis to increase and achieve the industry's targets. Although, in this year, we have slowed down significantly, according to the latest report of the General Statistics Office of Vietnam, the growth rate is 5% in 2020. This is a very encouraging signal and should be promoted next year.
The Covid-19 pandemic has caused great damage not only in terms of individuals' lifestyles but also on the global economy. It has disrupted the global supply chain, affecting not only businesses but also the lives of people between countries around the world. Particularly for coffee, the total industry output decreased by 15% in the last crop year. However, total output and value remained momentum at 2.2%. I think, 2021 will be the year of a resurgence in the global supply chain that is failing. The proportion of agricultural exports and imports will gradually recover to the status quo.
However, the pandemic also gives me more perspective on the upcoming path for business. Above all, each business needs to build strong internal resources. That means they have to maintain the four pillars of a strong business: people, finance, operations and products.
4. Due to the impact of the COVID-19 pandemic, 2020 is a turbulent year for the market economy worldwide. So how did King Coffee "fend off" this crisis? What are your aspirations for King Coffee?
We are also very arduous.
King Coffee has offices in many countries, so when a pandemic occurs, I have to handle each country according to the situation surrounding the location.
In isolated places, I let employees work online and take advantage of the e-commerce system that King has built to still be able to sell well.
In more peaceful places, like Vietnam, where the whole country implemented social distancing, we choose to work 50/50, both complying with the government's guidelines ensuring that the production and business activities are not stalled. In the distribution system or in the chain of shops, we have many innovative solutions to be able to sell while ensuring the safety of our customers and employees, such as promoting online sales, coffee delivery, coffee to go, arranging furniture so that they're at a safe distance, developing a distribution system according to the 4.0 business model as in the "Women Can Do" project, etc.
And what was the result? First, King Coffee achieved more revenue than before the outbreak. Second, I didn't need to fire any employees just because of economic hardship. So, positively, although this pandemic created too many challenges and risks for the business, it helped King Coffee to be more united, stronger, and turn risk into an opportunity. Since then, we are more creative to overcome difficulties excellently.
5. As mentioned above, King Coffee is considered "the second startup" of yours. Many years of experience having been a co-founder and executive at Trung Nguyen is a huge advantage to you. However, developing a coffee brand business is not easy when you have to renew based on old things. Was this a challenge for female entrepreneurs like you? What did you do to get rid of the "shadow" of old things?
Well, as I shared, when starting with King, I did the exact opposite of what I used to do when I started in Trung Nguyen. If something is considered old, then perhaps it's… my love of coffee. It was a very old, very loyal and enduring love! And now, that love is more and more intense, it motivates me to work harder and dedicate more. Thanks to this old thing has been and is helping me to always renew myself.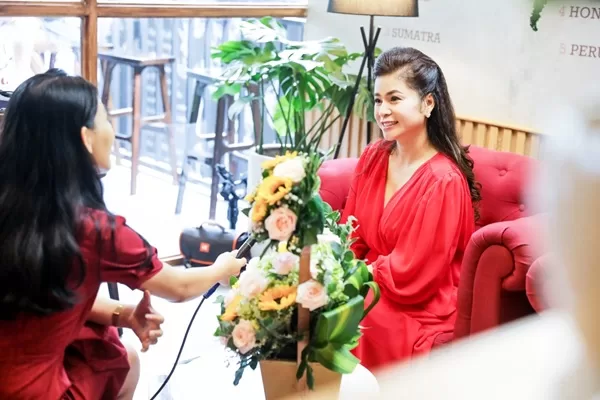 6. What has changed in the general trend of your business motto from the beginning of your business to the present?
This is a great question. Life is full of changes, but there are things that are inalterable. Sometimes we try to change things that are not meant to be changed, yet do nothing when it's time for a change. While life fluctuates every day, how do we know what should and should not change? Sometimes, from one wrong move, we will be sent away a thousand miles. Therefore, before important decisions, I always have to keep in mind: Let perseverance overcome adversity.
So what is immutable? It is my drive to develop Vietnam's coffee industry, help farmers get rich and be proud of their achievements. Our products are consumed and loved all over the world. From there, they can benefit the nation and the community. And things like price, season, tastes, import and export… will be things for me to consider customizing, based on the constant that I always carry, as a guideline for my business activities.
7. With the journey of decades of bringing Vietnamese coffee brands to the world, when you face difficulties and thorns in the marketplace, have you ever cried or thought you would give up? When having difficulties at work, what is the first thing that comes to your mind? What lesson did you learn after overcoming those difficulties?
If it is said that there are no difficulties or failures, all entrepreneurs will surely laugh.
I also had periods of ups and downs and hardships. There are also times when it's so hard difficult that you want to give up. There are also times when I'm tired, fed up, wanting to listen to many loving people telling me to rest soon, such dedication is complete. But it was only fleeting.. When I think of thousands of farming households waiting for me, thousands of families of workers and employees of my company in need of jobs and stable income every month, I am determined to continue. The value of entrepreneurship, I think, is there. Once a certain milestone is reached, enriching yourself is not the ultimate goal. To create jobs, to enrich society, to be a refuge for the community… those are the qualities that make an entrepreneur.
8. In 2020, you received the Most Admired CEO Award 2020 in the Food & Beverage sector from Global Brands Magazine (GBM). How do you assess the current generation of young Vietnamese business women? What are their strengths and weaknesses at this stage?
The young entrepreneur's biggest strength is… youth (laughs).
Youth gives people many opportunities. They learn, stumble, fail, and start over. Even though they taste the pain, they still have the strength to move on. I think, if someone knows their ownself and knows how to make meaningful use of their youth, that person will surely succeed. But success here doesn't have to be about being very rich or being very famous. We do the all things we are passionate about and are passionate about what we do and make the things we do the most successful. And then, become a person who brings useful things for yourself, for your family and the community.
9.According to you, what do entrepreneurs need to add to improve themselves better and better?
I have always believed, everyone can succeed. Each person will choose their own way to perfect themselves. (Laughs).
10. It is known that in 2020, you had started the project to help 100,000 women start-up "Women Can Do". Through this project, as an inspiring global business woman, what do you want to say to women taking the first steps of their business careers? Today, what advice do you have for women doing business in particular?
The goal of the "Women Can Do" project is very huge. But I believe, if you always have the desire to keep moving, it will be an opportunity for you to learn how to manage yourself and your family. From there, it will bring you results that exceed your expectations. Economic improvement is just the most visible goal of this project. Moreover, cultivate yourself, dare to make a dream and share it together – that's all I expect from you when participating in this project.
11. Today, more and more women feel confident entering the business path. So what do you think are the advantages that women have, and what should they do to more to develop their own career path?
According to a quote: "The hand that holds the crib is the hand that rules the world." That means business is always fierce, while women are soft and flexible, there is a hidden strength in each woman, whether in the family or in society.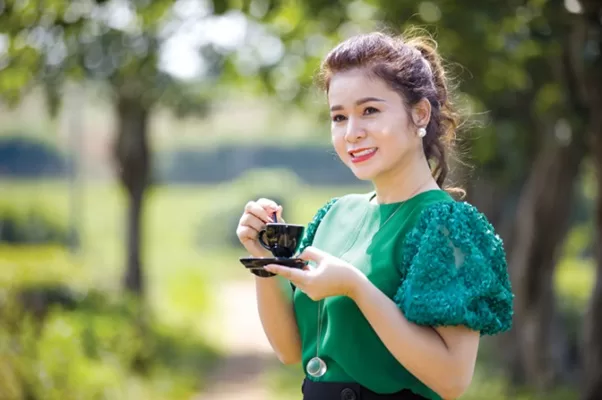 12. These are questions about the woman's side of the business. Therefore, in life, you will need to overcome many difficulties. In your opinion, what are the important things that a woman needs to build up to face and overcome all "crises"?
I would like to return to my point: Let perseverance overcome adversity. In life, the thing that never changes is our love for family, parents and children. No one can predict what events will happen in their family. No matter what happens, that is, before the changes, if we keep in our hearts an unchanging love, we will know what we need to do to protect the family, and the people who I love most.
13. You are a workaholic, even though you are in your 40s, people always see your youthful, bright smile. What is the secret to preserving your youthful beauty and charm?
Thank you, for the compliment! My life when I go home is very simple. I try to do yoga, play with my children, eat healthy, try to sleep early to always wake up early. These are external factors. More importantly, we must always maintain an optimistic spirit and calm. When you feel confident, you will always be able to smile at everyone around you.
14. In life, have you ever felt a loss of confidence and motivation in yourself? What your way of lifting up your spirit be more optimistic?
Yes of course, because no one succeeds without overcoming a challenge. I have lost faith in the past because of unfair and unjust things that I experienced. Thanks to the trust from my children I always found myself more calm. Children are very strange, they instinctively love but very fair. When I cried, the children said, "Mom do not be sad, mom will be happy!". After that, my tears were no longer sad ones. They were happy tears, because I have children who understand and love their mother very much. I find faith and joy in protecting my children, that is how I stay more motivated when I am at a loss.
15. After the lesson of "gain and loss" in life, in your opinion, what is the greatest "asset" for a woman? Especially for a businesswoman, what difference does this make?
Surely every woman will have the same answer as me.
My greatest assets are my children. They are the crystallization of the most beautiful things from love, the peaceful happiness of the present and the continuation of the family in the future.
On the occasion of celebrating the new spring year of Ox 2021, what message do you have to send to partners, customers and readers?
First of all, thanks to Global Brand Magazine for recognizing me and King Coffee in this early spring issue. Through this article, I respectfully say thank you and wish everyone with good health, happiness and success. Thank you for supporting King Coffee and me on the journey of building a Vietnamese coffee brand to reach the world. Besides, I wish for my country to be rich and strong, and will be filled with happiness.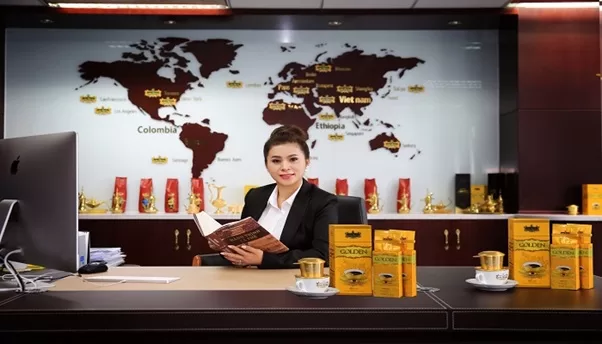 Sincerely, Thank you and wish you a Happy New Year!