DISCOVERY COVE -PARADISE WITH A PURPOSE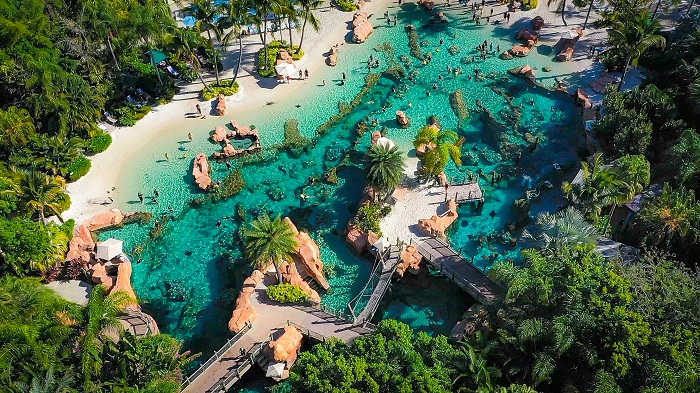 A one-of-a-kind, all-inclusive daytime adventure, Discovery Cove in Orlando, Florida offers a spectacular array of awe-inspiring animal encounters at a 35-acre tropical oasis, right in the heart of Central Florida. A visit to this intimate destination includes endless food and drink options (including beer and wine), wet suits, snorkel gear, towels, and many more amenities. With reservations required and limited capacity, the experience is one of the most exclusive attractions in the country.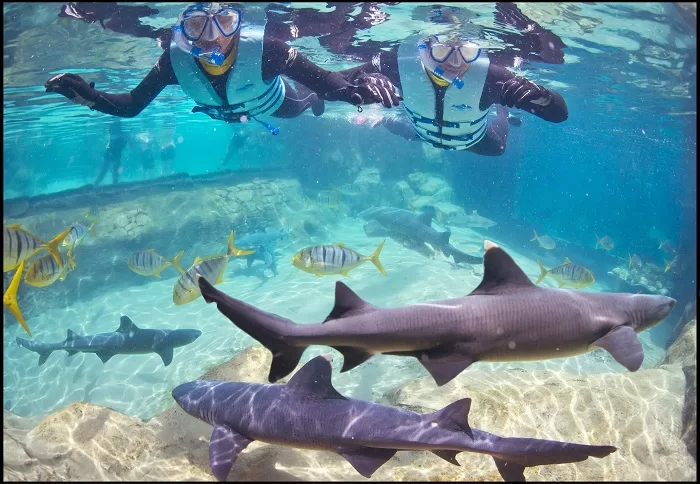 Committed to providing an unparalleled getaway where immersive animal experiences and relaxation abound, Discovery Cove is equally dedicated to conservation and inspiring others to share in their ongoing efforts.
At Discovery Cove, paradise comes with a purpose—and a plan. At this stunning day resort, you not only connect with dolphins, snorkel among thousands of tropical fish and velvety rays, hand-feed exotic birds, strut alongside flamingos, and more; but also understand the importance of protecting these natural wonders and the animals that call it home from first-hand conversations with park ambassadors that interact with guests throughout the day. Discovery Cove's mission to help further research, education and conservation efforts around the world is an important part of the park's overall structure and a message we want visitors to hear and adopt, as well, as they engage with us and return to their communities.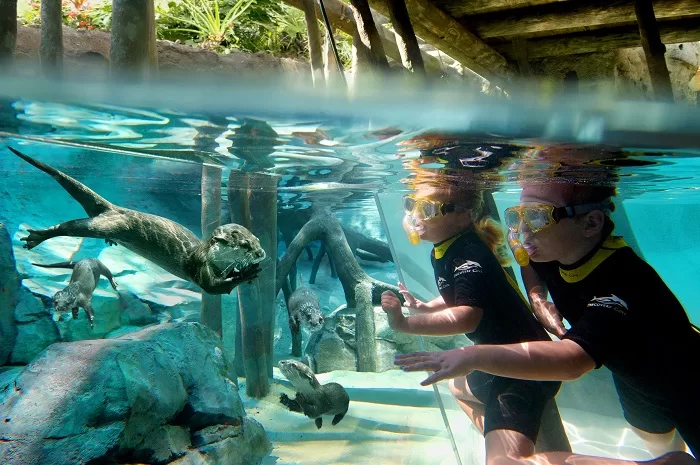 BECAUSE OF THE ANIMALS
Discovery Cove is committed to protecting the environment and preserving its future by inspiring others to act. Working in partnership with our colleagues at SeaWorld, we actively support global conservation initiatives by providing financial and scientific contributions focused on marine animal health, habitat protection, and education programs that help to develop the next generation of conservation ambassadors. We take great pride in our work to rescue marine animals: our SeaWorld Rescue team continues to respond to alarming numbers of large marine animals, including dolphins, imperilled by humanity's encroaching footprint. To date, we have helped more than 37,000 animals in need throughout the company's history.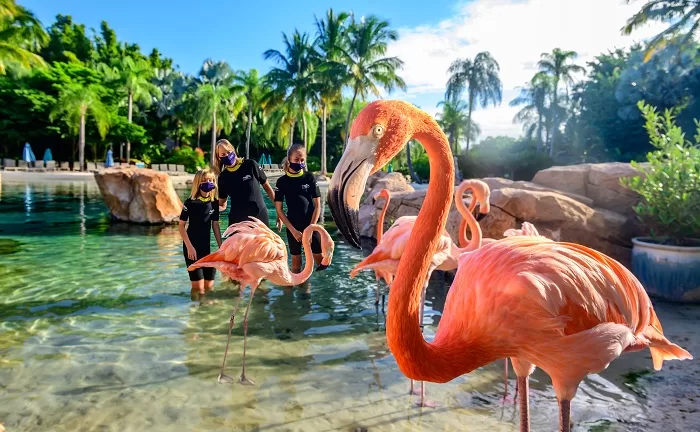 Accredited by the Association of Zoos and Aquariums, Discovery Cove maintains the highest standards of care for the animals in its domain, while helping those in the wild, too. Revenue generated at AZA-accredited facilities directly supports millions of dollars in animal welfare research, global conservation efforts, and critical rescue and rehabilitation activities.
MAKING A DIFFERENCE
Several species at Discovery Cove participate in the Species Survival Program with a mission to oversee the population management of select species within AZA member institutions and enhance conservation of this species in the wild.  Since 2019, Discovery Cove has announced the birth of five spotted eagle rays, a threatened marine species which is a part of the Species Survival Plan® (SSP) of the Association of Zoos and Aquariums (AZA). The rays are thriving, well and part of The Grand Reef.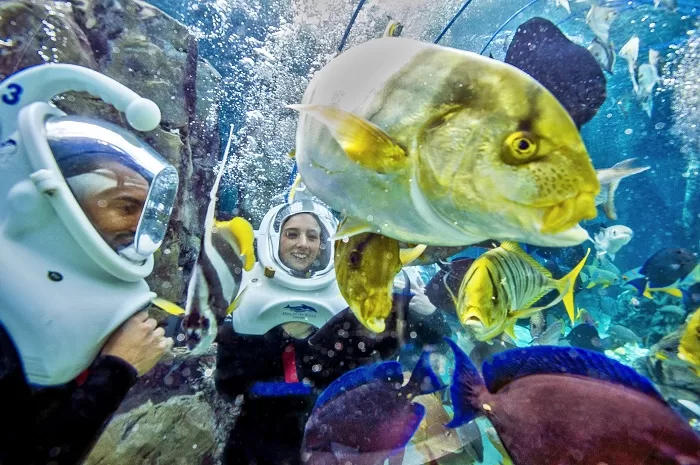 Every guest at the park helps make a difference, too. Discovery Cove donates a portion of the proceeds from every SeaVentureexperience to Rising Tide Conservation, a non-profit dedicated to the protection of coral reefs through sustainable aquaculture. And, for guests who book a Shark Swim, a portion of the proceeds supports the Guy Harvey Ocean Foundation, which conducts scientific research and hosts educational programs aimed at conserving the greater marine environment.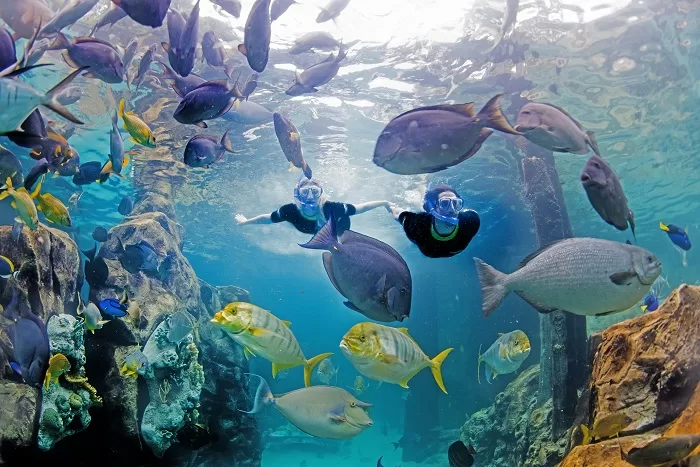 There's also a special behind-the-scenes, private tour guests can take alongside Ambassadors to learn more about the birds and small mammals at Discovery Cove.  Animal Trek is led by animal experts who lead guests on a journey off public pathways to meet and connect more with the animals.  During the trek, Ambassadors explain a little about the animals, their journey and how to make sure these creatures have ongoing support for survival and care.
ONGOING COMMITMENT
Discovery Cove is an awe-inspiring environment, where close, personal encounters with animals inspire guests to get involved and help protect natural resources in their own communities and around the world. As the Vice President of Zoological Operations at Discovery Cove has observed, "the up-close connections we offer our guests can have a profound effect on their behaviour long after the visit. Swimming alongside a spotted eagle ray, watching otters play together and looking a dolphin in the eye are experiences that open person's heart to want to do more and make a difference in the world we share with animals."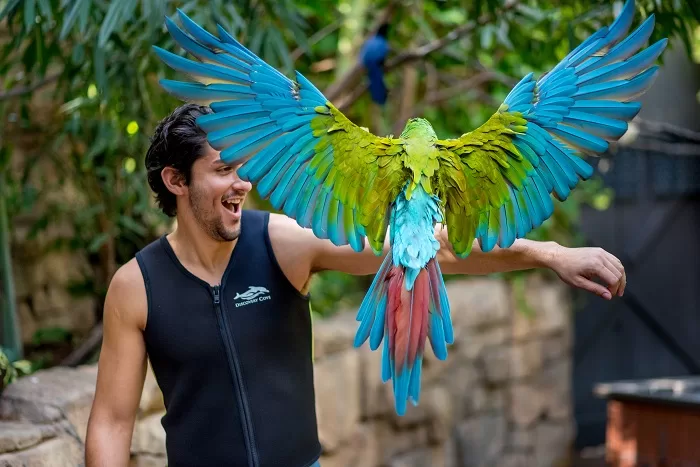 For more information, or to book a reservation visit DiscoveryCove.com.