Myanmar's Independence Day – How is it Celebrated?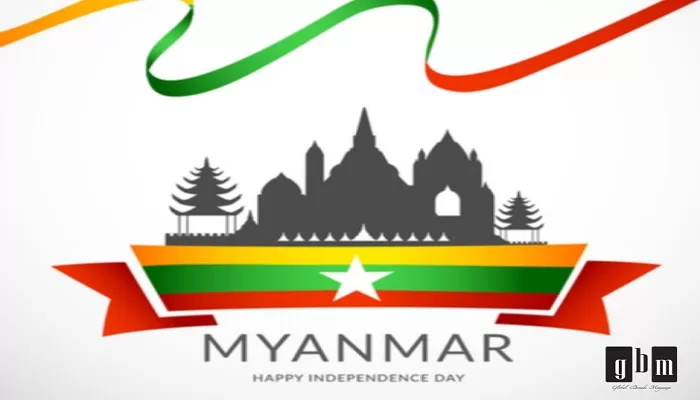 On 4th January, Myanmar celebrates its successful secession from The British Empire in the form of its Independence Day. This day commemorates the day in 1948 when Myanmar was granted independence by law and gained its status as a sovereign state. Myanmar's culture and traditions have been influenced by three major world religions: Buddhism, Islam, and Christianity. The Republic of the Union of Myanmar is one of the founding members of the Association of Southeast Asian Nations (ASEAN) and participates in many trade agreements with other nations around Asia.
The people of Myanmar, although reserved, are extremely friendly. You can strike up a friendly conversation with almost any local citizen of Myanmar. Locals will treat you with respect and give you fair prices without the intention of gouging you for money. The people of Myanmar are extremely polite and proud of their culture. You can often find Buddhist monks roaming around the streets of Myanmar.
Myanmar has a diverse population that is made up of over 100 different ethnic groups; however, there are three main language families: Sino-Tibetan (Chinese), Austroasiatic (Mon-Khmer), and Indo-European (Indic). The most spoken native language is Burmese, a member of the Sino-Tibet family.
For brands that are looking to enter the market of Myanmar, or just increase their presence and grow their customer base, Independence Day is a great time to do so. This day celebrates the country's newly formed sovereignty and is a popular date for political rallies, parades, and sporting events such as football matches.
This holiday period offers an ideal opportunity for international businesses to showcase their products in Myanmar by attending Independence Day celebrations across the nation; this will help forge new business relationships that can be built upon after these festivities are over. A good bet to increase sales and brand recognition during Independence Day is to offer discounts. Myanmar is still largely a low-middle-class income country, so naturally offering discounts or great deals with existing products or bundles would be a sure-fire to increase sales. In fact, sales and discounts attract everyone's attention, regardless of income or country.
Taking out banner ads on print media is also a definite way to capture attention during Independence Day. Brands that are local could advertise about producing locally made products. People are generally patriotic towards their country. Seeing local brands advertise their products can instill a strong sense of fulfillment and patriotism among the customer base in Myanmar. A lot of people will buy and support the brand thinking that they are in fact, supporting their country and along with it, the development of their country. Foreign brands can also adopt this strategy. Seeing foreign brands care for the country of Myanmar by releasing ads on print media can go a long way in establishing and improving brand position and also improve brand image.
Another important step foreign brands can do to strengthen brand image is to open operation plants in the country of Myanmar. Not only is this going to increase jobs in the country, but it will also add to the GDP. Advertising this during Independence Day may lead to a stronger brand image. Brands can also tie-up with governments to fund and develop public infrastructure. As part of their CSR initiative, brands can develop low-income housing. Building infrastructure or supporting and funding the development of public projects is always a great way to increase brand awareness.
Though Independence Day can act as a great way for brands to interact with consumers and their specific target markets, they should also exercise caution. Brands should be particularly sensitive about promoting their brand during Myanmar's Independence Day celebrations. Businesses should refrain from advertising products or conducting other promotions that may be frowned upon, especially during important events such as Independence Day.
There have been past incidences where companies conducted these activities without being aware that Independence Day was also an important day for political rallies across the nation with local organisations protesting against foreign influence over various issues such as land rights disputes or military involvement within politics among other things by placing banners on public buildings which read "No to foreign corporations".
A good way for brands to stay relevant without being too aggressive with sales is by adopting a service-oriented approach. Showing the locals that you care and take factors like Covid, social distancing and the health of the locals seriously can help strengthen brand image. In uncertain times like this, a service-oriented approach is far more important than aggressive push marketing strategies. Without being burdensome and annoying with advertisements, brands such as Samsung have changed the way advertisements can reach the target audience. In their recent advertising efforts, Samsung has marketed its SOS service which can send messages to friends and family and other close ones.
Furthermore, focusing on supply chains and keeping the prices low with limited SKU's, brands can stay relevant and also enter into the Myanmar market. Adopting an active strategy, where brands are involved more in the actual supply chain will help them gain control and understand the market and situation better. With a politically unstable climate, it is important for brands to understand how to enter when to enter, and more importantly, what to sell. Garuda Food, an Indonesian food manufacturing company managed to enter the Myanmar market by adopting this proactive approach. By tying up successfully with DKSH, they managed to bring their products into the Myanmar market. They focused on rebranding and product placement strategies. Another successful campaign that they had launched was to offer samples of their food to their target market. This helped establish a sense of familiarity in the minds of the consumers, and since the brand had successfully managed to position itself, its entry was effortless.
While Myanmar's government is keen to open their country up for international investment, they are also acutely aware of the need to maintain stability within its borders. With this in mind, it is important that brands make sure any promotional activities conducted during Independence Day celebrations do not appear as an attempt by foreign businesses trying to take advantage of local grievances against them; particularly with regards to land disputes or natural resources which have caused political unrest across Southeast Asia over recent years.