How to Find the Ideal Vegan Guitar Strap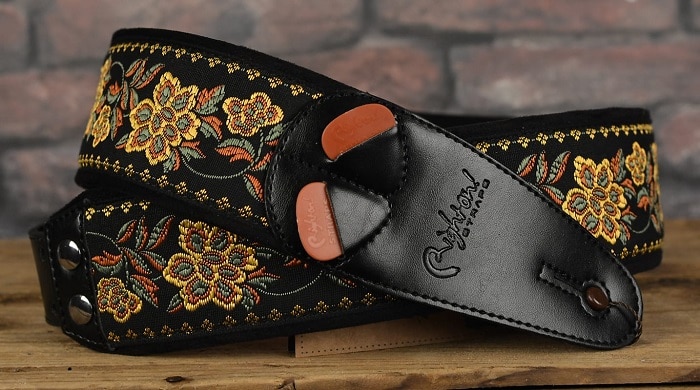 Since not all guitar straps are made organically, it can often be important for vegans to find ones that are made with care and without any harm to animals. The good news is that there are actually a wide range of great options out there that are suitable for those who are ethically conscious.
What should you look for in a quality vegan guitar strap?
Of course, when looking for vegan options, one of the first things that you need to determine is the materials that have been used. Since genuine leather is often considered to be one of the most durable materials, it's commonly used for – and is often synonymous with – high-quality straps. Unfortunately, this means that most vegan ones are made from nylon and aren't produced with much care at all, often making them uncomfortable, easily worn down, and more likely to break.
In most instances, your best bet will be to look into purchasing a handmade guitar strap. While these tend to be crafted in small batches and are often more expensive than the quickly and cheaply produced ones, they're typically still affordable and offer far better quality.
Some of the most common materials used for quality-made vegan straps are automotive and industrial vinyl (even better if it's recycled), cotton/hemp, and stainless steel for the rivets.
Length and width
Regardless of whether you want a vegan or standard strap, it can be important to consider length and width carefully. Here are some things to remember when searching for the best one to buy:
Most strap lengths are adjustable between 40 and 60 inches, since this is suitable for the majority of people (it may be worth getting a longer one, perhaps 70 inches or so, if you play bass or are exceptionally tall)
For a thin strap, you should look for ones that are about 2 inches wide. Thicker ones tend to be around 4 inches and are generally used to support bass (as these guitars tend to be heavier). These are generally more comfortable when playing for extended periods of time
Thicker ones aren't always the best option, so it's often important to consider your own requirements when buying
How's best to go about learning?
Hoping to begin your journey as a musician? The guitar could be the perfect tool for you. If you can master it, you'll have so many new ways to express and explore your creativity and create amazing tunes – but how can you get to that skill level?
You may want to use some of the many great resources online if you would like to learn guitar at home – a great option for stay at home moms, or essentially anyone who wants to learn at a more tailored pace. If so, it might be worth checking out All Stringed. With a variety of great reviews on some of the most popular learning programs and courses out there, we're sure that you'll be able to find the right resources for your needs.