How to Choose a Midi Controller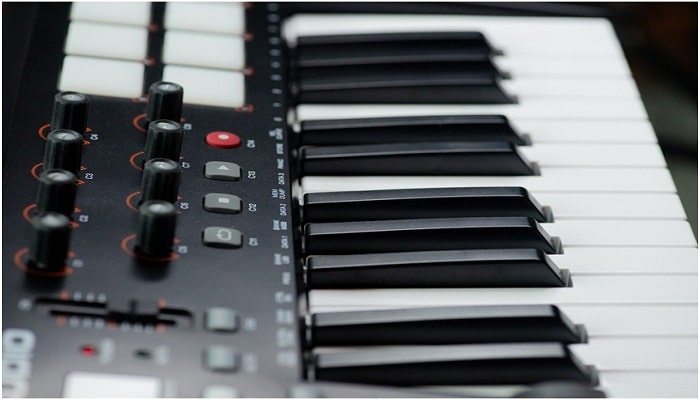 A midi-controller is an instrument that helps you create music. It converts a certain physical process (when you press the key, turn the volume knob, etc.) into a set of MIDI (Musical Instrument Digital Interface) commands and then transmits the data to MIDI-enabled devices (synthesizer, computer, etc.).
If you want to get such a unit for your home studio, you have to consider a lot of things. So keep on reading to find out about the most important factors that should influence your choice.
Number of keys
It's the most compact type of MIDI controller that is valued for its portability and simplicity. It enables you to work with hip-hop beats and other simple kinds of music. Besides, it's also considered as a "one hand" instrument and is very easy to take it with you anywhere.
This is one of the smallest and the cheapest types of MIDI controllers. It's portable enough for frequent transportations. It also will be perfectly suitable for the creation of some simple music, but won't be the best choice for the complex one. If you are interested in such a model, reading some review is the fastest way to find the best 49 key midi controller for your individual needs.
This is a great alternative between compact and full-size models. It has a similar sound as the real piano and enables you to create some complex music compositions.
It has the same number of keys as a classic acoustic piano and it's a perfect choice for experienced users, as well as for pianists. However, bear in mind that such an instrument is not portable and difficult to transport.
Key action and size
The weighted hammer action keys are the most realistic ones and provide the feeling of a real acoustic piano, so they will be especially relevant for pianists. However, note that this is the most expensive type of key action. The semi-weighted keys is less expensive, and the most popular type of key action. The non-weighted keys is the cheapest option which, however, provides really bad playability.
Weighted action MIDI controllers usually have the full-size keys, like the acoustic piano. The semi-weighted keys come in a great variety of sizes, from full to mini. The right choice depends on your skills, hand size, required portability, etc.
Velocity
Velocity defines the sensitivity of the keys. Most models have fixed velocity, but some MIDI controllers provide the ability to alter sensitivity ranges to suit different playing styles.
Software and compatibility
This is one of the most important types of information that you should check before making a purchase. Make sure that the MIDI controller can work with your version of Mac OS or Windows. It's also better to decide what software you want to use in advance and then make sure that the model you are going to buy will be able to work with it.
Functionality
The functionality of modern MIDI controllers is so diverse that it's very easy to get lost. However, if you aren't an advanced musician, it's better to choose a model with a minimal set of control buttons. Otherwise, you will spend more time trying to figure out how it works than creating music.
Pedals
Most MIDI controllers, except for mini models, come with at least one input for pedal (for piano-like sustain pedal, as usual). However, if you are an advanced player, you will clearly want one or two more inputs for other pedals.
Weight
This factor may seem as non-important, but you definitely need to consider the weight of an instrument if you plan to transport it from time to time. And don't think that weight depends on the number of keys, so you shouldn't check it before buying the controller. Some models are made of light plastic, the others are manufactured of some more durable and heavy material which significantly influences the weight.
Power supply
Most MIDI controllers are powered via a USB cable, but if you want to use it outside, you need to choose a model that can also be powered via batteries.