How Brands In The Wedding Industry Are Adapting To The Needs Of Pandemic Customers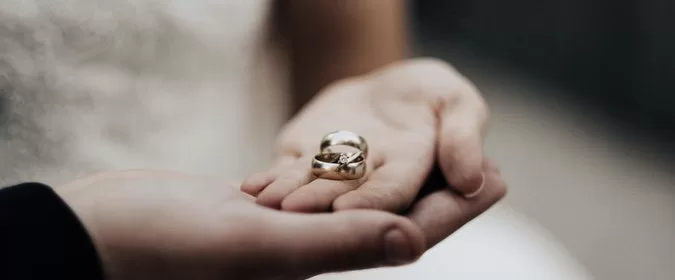 With the wedding industry being one of the industries most deeply affected by the pandemic, many wedding brands have had to quickly adapt their business to stay afloat. Thanks to the countrywide lockdown and physical retail standstill, around 63 percent of couples have postponed their nuptials, according to a LendingTree survey. Meanwhile, others have been forced to find new, unique ways to plan their wedding and get married. As a result, brands in the wedding industry like bridal boutiques, jewelers, and even florists have shifted their services online and are adopting unique initiatives to meet the changing times and customer needs.
Wedding Dress Shopping: Lein And Mon Cheri Bridal Are Offering Off The Rack And Virtual Fittings
The American Bridal and Prom Industry Association estimates that up to 80 percent of wedding dresses are manufactured in China. Local wedding retailers have had to be creative to help brides find their dream dress during the pandemic. One significant impact of the pandemic has been the delays in logistics, which has meant that wedding dress deliveries, trials and adjustments have all been affected. In response, brands like Mon Cheri, Azazie and Lein have turned to their ready to wear, occasion and sample dress collection as inventory. In some instances, bridal brands like Azazie were already shipping sample dresses to their customers to be tried on. Now, brides can choose from these selections, while the country slowly resumes normalcy.
New York-based bridal brand Kelly Faetanini also launched their try at home virtual wedding dress program in April. Following a bridal questionnaire, brides are then able to have a Zoom consultation with an in house stylist/salesperson to help them find the perfect dress fit. The program also applies to grooms.
Engagement Rings And Wedding Jewelry: Signet Jewelers And Zales Offering Scheduled In Person And Digital Consultations 
Another way wedding brands are embracing the changes in consumer buying patterns is by offering over the phone and virtual engagement and wedding shopping. With most jewelry stores closed, many of them have had to shift their focus to e-commerce sales. While consumers have historically been cautious of online jewelry shopping, particularly for pricey pieces like engagement rings, the tide has certainty changed during the pandemic. Signet Jewelers' online sales increased 6.7 percent in the last quarter, thanks to its newly launched virtual shopping platform that helps you choose the ideal proposal jewelry digitally. Many brands are now offering this service, and have adapted to provide printable ring sizing guides to help consumers choose the right ring size. Other smaller independent jewelers are opting for an appointment system to help with staggering arrival and departure times.
Bridesmaid And Wedding Styling: Brideside & Floravere Offering Wedding Shopping From Home And Virtual Styling Questionnaires
With many bridal salons now offering remote consultations and prepaid shipping labels for trying on dresses at home, Brideside has been one of the bridal brands that have responded the fastest by introducing its Wedding Shopping From Home initiative soon after the lockdown order. For those looking to style their wedding party amid the pandemic, brides can arrange to have a virtual styling session with their bridesmaids using video conferencing software. Based on your session with the stylist, the brand will then create a mood board and potential wedding party, styling selections for your consideration – all without leaving your home. The brand also offers a try-on program, where you can get up to three sample dress styles delivered for $30.
Other brands like Floravere have taken another route to help brides choose their wedding day style. Using a Bride Box questionnaire, brides can fill out their visions and needs before being matched with a stylist. Brides can then select their best-liked styles from those selected and order sample gowns to be tried on for $35 per dress. Each sample also comes with pre-paid labels, which makes it easy to return them when you're done.
With the extent and timeline of the pandemic (and its aftermath) still uncertain, wedding brands are recognizing that they need to accelerate their migration to the digital age. With the changes comes a very good chance that these new ways of planning the ideal wedding may be here to stay – for a while at least.