Here Comes The Sun as Costa Coffee Launches Biggest and Coolest Summer Range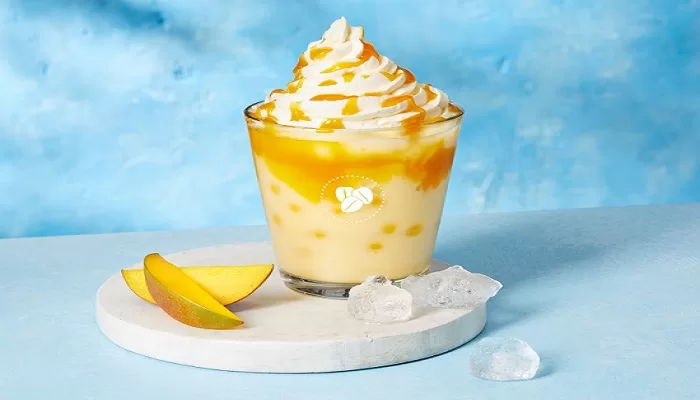 The Nation's Favourite Coffee Shop*, Costa Coffee, is set to cool down the nation this summer, with the launch from Thursday 5 May, of its biggest and chilliest summer drinks menu, with 16 new beverages. Alongside this, there is also a choice of new scrumptious sweet and savoury foods to try. And customers will also continue to benefit from special offers throughout summer through the free Costa Club rewards scheme.
Brighten your day with some 'Frappé-ness'
You are invited to the frap party, thanks to the new creamy Costa Coffee Frappé range. Bursting with classic summer flavours and an ideal accompaniment when venturing outside to enjoy those long bright days in the sun.
Every cloud has a mango lining and say hello to the new limited-edition Tropical Mango Bubble Frappé & Light Dairy Swirl, which features flavour notes of rich mango and delicate coconut. For that extra burst of tropical flavour, the drink includes small mango flavoured juicy pearls and is beautifully finished with a light dairy swirl and a drizzle of mango sauce.
Why not try either the new Chocolate Fudge Brownie Frappé & Light Dairy Swirl or the new Salted Caramel Frappé & Light Dairy Swirl? Both can be personalised with a shot of coffee for that extra kick. Also in the range is the Ruby Frappé & Light Dairy Swirl, Coffee Frappé & Cream, Strawberry & Cream Frappé or the Mint Choc Chip Frappé & Cream to indulge your taste buds with.
Summer of ice
Fancy an iced twist on a Costa Coffee classic that is made up with a dairy alternative option? The new Chocolate & Oat Drink Iced Velvet Latte is for you – a smooth and indulgent Mocha oat drink that features a subtle hint of chocolate. Yum!
Refresh with the new Iced Tea range
Why not sip back, relax, and try three new 'tea-licious' FuzeTea Iced Tea crafted options that are delicious fusions of gentle tea, joyful fruits and exciting herbs. Choose from classic flavours that complement each other such as Peach Hibiscus, Strawberry Mint, and Lemon Ginger**.
A fan favourite is also back, as the fresh Lemonade and Strawberry Lemonade returns to Costa Coffee stores just in time for the hot weather to hit.
Summer to go
Fancy a Frappé on the go? Costa Express is introducing a new Iced Salted Caramel Frappé, and it is available exclusively across selected Costa Express's Hot & Iced Drinks self-serve machines from Thursday 5 May. This new addition is created using a shot of Espresso, foamed fresh milk, ice, and the all-important buttery salted caramel syrup.
Costa Coffee is also offering a cold coffee refreshment for busy on-the-go coffee fans as part of an update to the ready to drink range. Not only does the existing range have a new taste but available across selected retailers, a new richer, creamier, and indulgent ready to drink Frappé range can be purchased in three new flavours: Smooth Coffee, Caramel Swirl and Choc Fudge Brownie.
Crafted by combining Costa Coffee's slow-roasted, smooth and nutty Signature Blend coffee espresso with fresh milk, the fudge chocolate brownie flavour or caramel swirl flavour is then added to finish off a great iced coffee taste experience.
Savoury summer picks
Looking for those picture-perfect picnic items? Costa Coffee is launching two new scrumptious savoury items for summer. The new Roast Chicken & Bacon Toastie is made up of roast British chicken, bechamel sauce and mature cheddar cheese, mozzarella cheese and sweet cure bacon on cheese-topped bread. Also on the menu is the new Chicken & Chorizo Panini, created with roast British chicken and red pepper and paprika chutney, chorizo, mozzarella cheese and mature cheddar cheese in a stone baked panini.
There's also a wide selection of plant-based options to choose from this summer, including the Vegan Macaroni Cheeze, Vegan Smoky Ham & Cheeze Toastie and Vegan Bac'n Bap****.
And to complement the Costa Coffee Now Serving M&S Food range, which launched in March in over 2,500 Costa Coffee stores, featuring much loved M&S Food classics, the new Mac 'N' Cheese Sourdough Toastie will be added. Made up of crispy toasted Sourdough bread, stuffed full of oozy four cheese sauce and macaroni, making it the ultimate comfort food. And for those who want some great picnic food, then the existing M&S Food menu at Costa Coffee has some great options, including the M&S BLT Sandwich, M&S Plant Kitchen Nutty Super Wholefood Salad and M&S Watermelon Fingers.
Sweet treats
For Lotus Biscoff lovers a new sweet offering has arrived in the form of Lotus Biscoff® Rocky Road. This slice of heaven is a delightful combination of Lotus Biscoff® spread, Lotus Biscoff® crumb, marshmallows and sultanas, that is drizzled with caramel and even more Lotus Biscoff® crumb to give a true taste sensation.
Costa Coffee has also chosen to embrace a tropical theme this season adding a new Passion Fruit Tart, Tropical Muffin and Flamingo Shortcake to the menu. Also available this summer is the new Blueberry & Frangipane Style Tart, a yummy butter pastry with frangipane style layer topped with blueberries. Along with a new gluten free Lemon & Ginger Slice and vegan Chocolate & Caramelised Biscuit Loaf Cake to pair perfectly with an afternoon Americano or Flat White.
Those looking to enjoy a sweet treat alongside a pot of English Breakfast Tea, Costa Coffee is now serving scones! Pick up a new All Butter Sultana Scone which comes with Strawberry Conserve and Clotted Cream. Or why not pick up Costa Coffee's incredibly special Jubilee Muffin? A scrummy vanilla muffin filled with a raspberry jam and topped with buttercream and a sweet crown.
Naomi Matthews, Food and Beverage Commercial Director UK & Ireland at Costa Coffee said: "We're excited to introduce our biggest ever drinks range with 16 new additions. Combining fantastic flavours with our signature crafted coffee as well as some tasty new food items to choose from. We hope all our customers enjoy the new ranges and have 'ice' days!"
All drinks and food can also be ordered via Click & Collect or through delivery via Just Eat, Deliveroo and Uber Eats. For more information visit www.costa.co.uk/order-online/delivery
Everyday value and offers
Members of Costa Coffee's free Costa Club rewards scheme will continue to receive a free drink after any four hot or cold handcrafted drinks have been purchased using a reusable cup. Or a free drink after any eight purchased without a reusable. Members also receive a free slice of cake for their birthday.
And from 5 May until 15 June, Costa Club members who are aged 18 and over, have the chance to win millions of prizes through a special scan to win Coffee Shot competition*** on the Costa Club mobile app. Members can enter by scanning the app when making a purchase of at least £1 in either participating Costa Coffee stores, Costa Express self-service machines, Costa Collect or Costa Delivery. Members have the chance to win £10,000 in cash and various other prizes such as a luxury cruise, gym and entertainment passes and free Costa Coffee lunch and coffee vouchers.
In addition to the Costa Club rewards scheme, Costa Coffee also provides customers £1 and £2 breakfast deals every day till 11am and filter coffee all day for £1****. Costa Coffee was also the first large-scale UK coffee chain to partner with anti-food waste app, Too Good To Go. This allows people to buy and collect unsold food at a discounted price of £3 from Costa Coffee stores and prevents food from going to waste. To date, 630,000 Magic Bags as they are known, have been collected by customers.
Source: Costa Coffee