GBM Interview – "RealVantage – your real estate investing edge"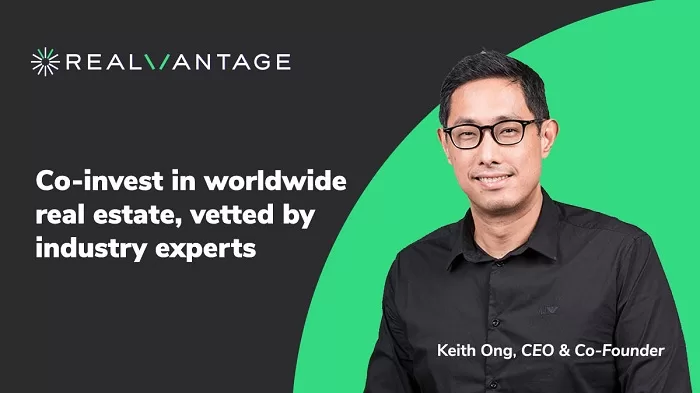 RealVantage is a real estate co-investment PropTech platform that simplifies traditional capital-intensive real estate investing for individuals. They have grown multiple folds since the early days in 2019. We interviewed Keith, CEO & Co-founder of RealVantage to find out more!
Please give us a brief overview of RealVantage and the service you provide.
Real Estate investors face several pain points when going about with real estate investments. In general, they get very limited access to institutional-grade investment opportunities with good returns. When investing in overseas real estate, the investors are also typically unfamiliar with local market dynamics and risks involved. Asset management is also a very time consuming process wherein compliance with city and building regulation, leasing and tenant search, to name but a few, makes it painfully difficult.
RealVantage provides a solution to allow accredited investors on the online platform to gain access to good real estate investment opportunities at a lower quantum size and allows for easy diversification within the real estate asset class across a) countries, b) sectors, and c) strategies.. To date, investors are more than ever before receptive towards the concept of investing through online platforms. This is evidenced from the greater growth trajectory with the advent of robo advisory platforms as well as alternative P2P (peer-to-peer) lending platforms. Now, users on our platform can sign up easily to get access to well-curated real estate investment deals across the USA, UK and Australia at a click of a button.
Describe more about the people at RealVantage. Team-wise, how are you best placed to do this?
The RealVantage team comprises professionals that have worked in esteemed institutions such as Deutsche bank, JLL, REIT Management firm – ARA, Sovereign Wealth Fund – GIC, Private RE Fund – Partners group, Barclays bank, etc. RealVantage also has advisors that have a wealth of investment experience – This includes Asia's Sasseur REIT CEO – and Fortune REIT's ex-CFO who is part of the RealVantage investment committee. On the technology and data fronts, the team also comprises former quantitative portfolio managers, quantitative traders, and olympiad medallists, PhDs in the team.
Who is your target audience? Can you elaborate more on the type of platform users who are with RealVantage?
The platform appeals to small financial institutions such as private equity funds and Family Offices looking to invest and diversify into the real estate asset class.
Another group of investors on the platform include sophisticated Accredited Investors – typically they are individuals with professions as lawyers, bankers, doctors, pilots, Directors or C-level executives etc. in corporates.
Has your company overcome any major challenges in the past 12 months? If so, how?
RealVantage has been growing well, both in terms of the number of users as well as the number of investment deals — up till the onset of the covid pandemic. The pandemic has led to a pause in the investment activities into real estate assets as with all sectors in the rest of the worlds. During this period of uncertainty, where the risk levels in the markets were very high, the platform decided to take a cautious approach towards investments, and instead doubled down on our asset management efforts to ensure that the current investments made by the firm maintain their projected returns. The strategy panned out well and the platform is once more starting to make investments into the markets, four months after the peak of the pandemic.
Are there any trends you are seeing in real estate co-investing space right now? How are you adapting to these?
The trend towards real estate co-investment is growing strongly – and this is also seen in other parts of the world.
For instance, in the USA and the UK, there have been many PropTech or real estate co-investment platforms due to high demand from investors looking for better access and diversification options in real estate investment. In fact, some of these platforms have grown massively over the last 3 to 4 years raising VC funds to the tune of hundreds of millions of dollars.
In SouthEast Asia, at this point in time, RealVantage is one of the few co-investment platforms that is providing institutional quality access to USA, UK, Australian real estate deals. We are leading in our field, as evidenced from the awards that we won (Stevie Award for the most innovative startup of the year 2020) and Global Brands Best Co-Investment Platform 2020 awards. This is a clear testament to our strong team with over a hundred years of institutional experience in private equity, investment and asset management.
What type of deals do you have on the RealVantage platform?
We have an assortment of opportunities available from time to time. Strategy-wise, we categorise our product offerings in three different types: core, value-add and opportunistic . Sector-wise – we cover a range of investment deals ranging from residential, industrial, retail and office spaces. Geographically, our deals may come from Australia, the USA, the UK and Singapore. Just to give you more colour, for example, our investors have invested into a 225-unit class A multi-family complex in Atlanta, Georgia in the USA. They would also have had the opportunity to gain exposure to an industrial food processing plant based in Perth, Australia. Some investors on the platform have also participated in a development opportunity through RealVantage, to build townhouses in an affluent area located in Sydney, Australia.
What is your competitive advantage at RealVantage?
RealVantage provides a smarter way to invest in Real Estate through:
Greater Access to good real estate assets
Better Diversification across geographies, sectors, asset types, strategies
Investment at Flexible Investment Quantums
No Landlord Hassles – Platform handles all aspects of asset management on behalf of users
Transparent Ownership – Clear legal structure on asset ownership
Alignment of interest between investors and platform – RealVantage Managing partners invest in each and every deal that comes up on the platform!
What is the difference between co-investment – RealVantage's offering, and REITs? Which is better for investors?
Whether REITs or real estate co-investment is the more suitable investment product really is situational and dependent on individual investors. There is room and purpose for both investment modes to co-exist within an investor's portfolio strategy. For investors seeking superior returns and having a longer investment horizon, real estate co-investing is the better investment channel. It grants sophisticated investors better use of leverage, exposure to middle market opportunities, participation in value-add/opportunistic strategies and access to other parts of the capital stack (equity and debt). Real estate co-investment is able to provide the flexibility for investors to generate greater alpha by capitalising on investment themes at a micro level.
Looking ahead, what does the future have in store for RealVantage? Do you have any future plans or projects you would like to share with us?
RealVantage is planning to widen the range of real estate opportunities for our investors in terms of new geographies, sectors and other strategies to suit different risk-return appetites. RealVantage will also be exploring new modes of investments such as portfolio deals and the flexibility of exit early. On the technology front, we will be rolling out new features to enhance the user's experience and harnessing more Artificial Intelligence tools to better originate and assess deals for our investors.
Thank you Keith! We wish you all the best for RealVantage.