Fun Runs in the Family at Discovery Cove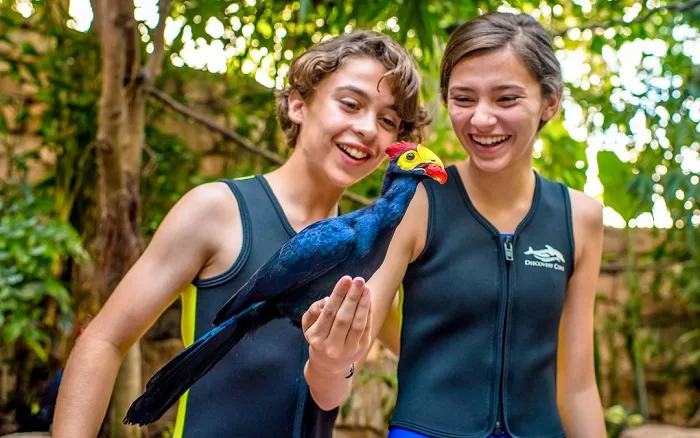 Families the world over know Orlando, Florida, is the place to go for amazing theme park adventure and vacation memories of a lifetime. At the heart of Central Florida's world-renowned collection of attractions is Discovery Cove, the only Orlando theme park that is all-inclusive, where everything is taken care of – from parking, snorkel gear, and towels, to freshly prepared all-you-can-eat breakfast, lunch, snacks and drinks (including beer and wine). All that fun-loving families have to do is show up.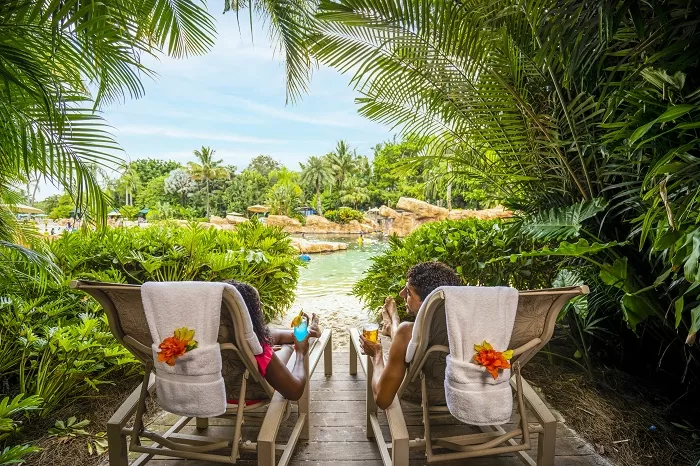 A secluded, 35-acre tropical paradise of pristine beaches and lagoons, a shaded lazy river, and lush nature trails, this one-of-a-kind day resort features some of the most breathtaking immersive animal experiences the world has to offer. Wide-eyed guests can swim with dolphins, snorkel among thousands of tropical fish and rays, hand-feed hundreds of exotic birds, drift down a canopied river, or simply lounge on white sandy beaches, relaxing in the Florida sunshine, all while enjoying this luxurious tropical atmosphere. One of the most exclusive attractions in the country, Discovery Cove requires reservations and limits the number of daily guests, ensuring an intimate and carefree VIP experience. As a Certified Autism Center, Discovery Cove is also an autism-friendly vacation spot for all kinds of families with different needs.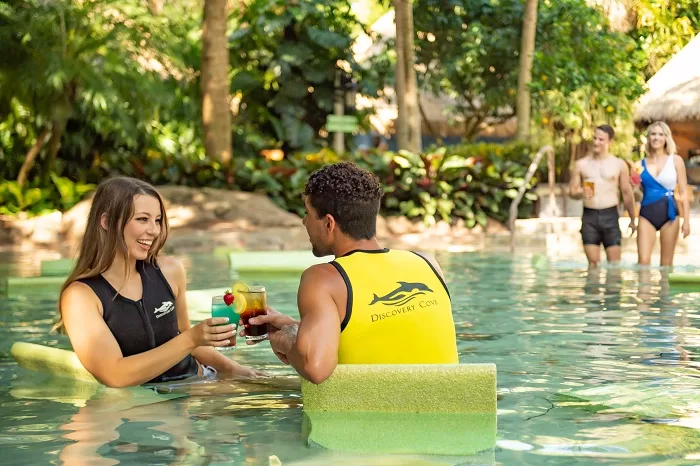 For more than 21years, Discovery Cove has dazzled and delighted visitors from around the globe by combining their all-inclusive amenities with exclusive "bucket list" encounters. A typical visit to Discovery Cove can include the following:
Signature Dolphin Swim –During the signature dolphin swim experience, guests interact with a dolphin in one of the crystal-clear swimming areas at Dolphin Lagoon. Zoological professionals offer interesting information about dolphin habits, behaviors, and communication. Guests learn about the special relationships park staff build on each day with these incredible animals, and, most importantly, what they can do to help preserve the natural world we share with marine mammals. Each participant individually interacts with a dolphin and experiences that dolphin's unique personality through a variety of behaviors.
The Grand Reef®: The perfect place for families to share discoveries, The Grand Reef features multiple levels of exploration – from shallow waters to deeper swimming adventures, and from white sandy beaches to snorkeling among tropical fish and rays through canyons inspired by reefs around the world. Whether wading close to shore or snorkeling into deeper waters, guests can safely discover the wonders of a below-the-surface world teeming with exotic fish, graceful rays and other colorful sea life all around them. Aquarists are in the water and on the shore, providing guests with everything from snorkeling tips to fish identification, and sharing stories of the park's conservation efforts.
Freshwater Oasis®: Providing a fun and "fresh" look into conservation, the Freshwater Oasis features wading adventures and face-to-face encounters with playful otters, as well as an island where playful monkeys may be spotted. The Oasis is staffed with zoo professionals to provide educational information, enrichment sessions, and more. Designed with a rainforest canopy above and sparkling clear springs below, guests can relax, explore, and find endless discoveries.
Explorer's Aviary: Home to more than 250 exotic birds, this free-flight aviary allows guests to hand-feed and interact with feathered friends as tall as four feet. Guests enter the aviary's lush, tropical environment by way of the park's beaches or by drifting under the refreshing waterfalls in the Wind-Away River. Along the way, aviculturists are available to offer information, give breeding updates and share conservation messaging.
Wind-Away River: This meandering waterway winds its way through the park, carrying guests past sandy beaches, palm-covered walkways, and rocky lagoons. Guests swimming or drifting the Wind-Away River travel through three different environments: a sunny island beach, a dense tropical forest, and an underwater cave. A refreshing pass under a waterfall brings guests inside the immense free-flight aviary. Flotation devices are provided, as the river varies in depth.
Serenity Bay Beaches and Pools: The park's sugar-white beaches are lined with swaying palms, tropical foliage, and quaint thatched huts. Guests can claim their own spot among the tall, shady umbrellas, sunning lounges and beach chairs.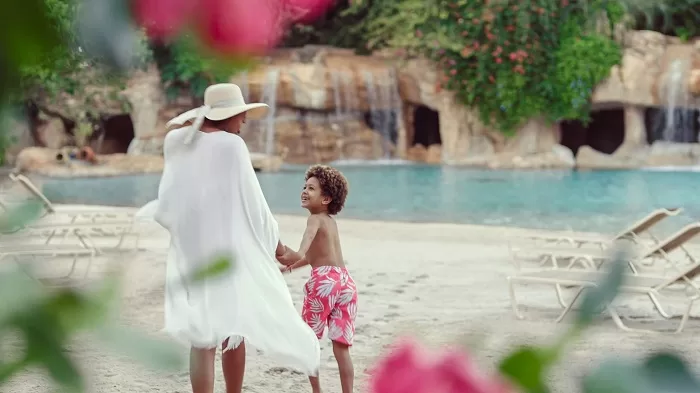 In addition to our lush setting and breathtaking animal interactions, one of Discovery Cove's most appealing attributes is its all-inclusive nature; every admission includes endless food and drink options (including beer and wine), wetsuits, snorkel gear, towels, and many more amenities. Families can travel light and fully relax, knowing the park will handle the details.