A Tropical Oasis in Orlando – Discovery Cove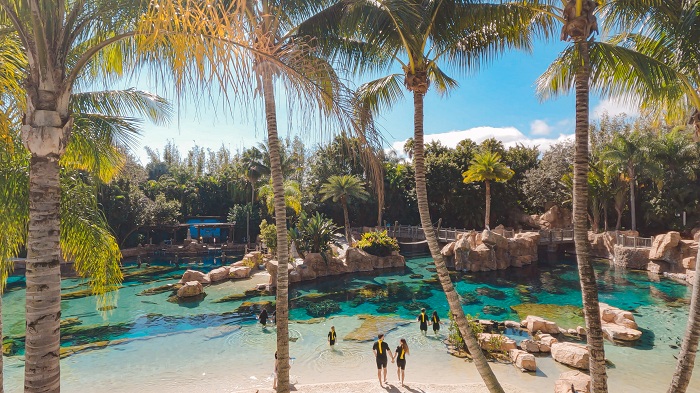 When most people dream of a relaxing tropical getaway, they envision the sugar-white sands, stunning natural beauty, exotic wildlife, and shimmering sapphire waters of the Caribbean, South Pacificor some other remote island destination. Imagine their surprise to find an astonishing tropical oasis right in the heart of Central Florida. Best known around the world for its spectacular theme parks, attractions and resorts, Orlando, Florida is also home to Discovery Cove, a secluded, one-of-a-kind, all-inclusive day park, where visitors enter a lush island setting to discover some of the most breathtaking immersive animal experiences the world has to offer.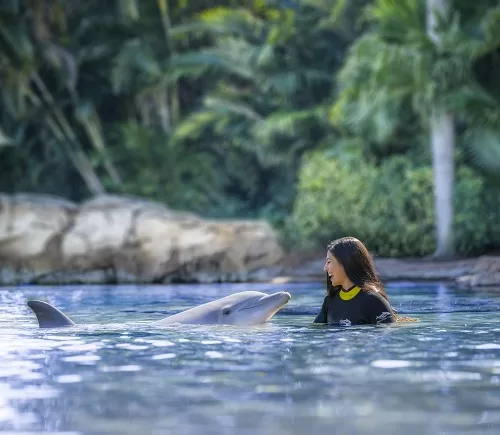 In this unique 35-acre oasis, guests can swim with dolphins, snorkel among tropical fish and rays, hand-feed exotic birds, drift down a canopied river, or simply lounge on white sandy beaches, relaxing in the Florida sunshine – all while enjoying endless food and drinks (including beer and wine for those 21 years of age and over).
For more than 20 years, Discovery Cove has dazzled and delighted visitors from around the globe by combining all-inclusive amenities with exclusive, "bucket list" encounters, limiting the number of daily visitors to ensure an intimate and carefree VIP experience. A typical visit to Discovery Cove can include the following: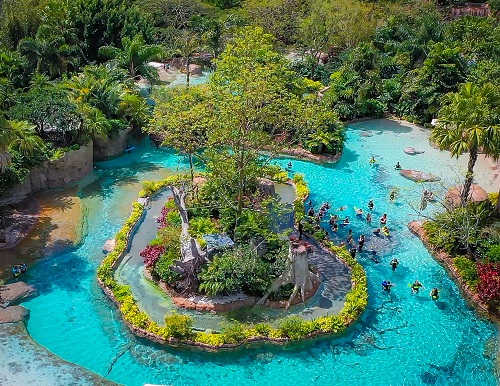 Signature Dolphin Swim – The highlight of many visits is a one-on-one dolphin encounter, during which guests can form a special, long-lasting friendship with the park's most beloved residents.
The Grand Reef – Fringed by a sandy white beach, The Grand Reef is where guests can swim and snorkel with thousands of tropical fish, rays, and even sharks (behind panoramic viewing windows), exploring this immense coral reef habitat.
Explorer's Aviary – Home to more than 70 species, this massive free-flight aviary lets guests walk shaded pathways to observe and hand feed some of the more than 250 color birds.
Freshwater Oasis – The Freshwater Oasis features wading adventures and face-to-face encounters with playful otters and curious marmosets.
Serenity Bay – Guests love to slip into the refreshing 85-degree waters of Discovery Cove's enormous and immaculate Serenity Bay.
The Wind-Away River – Ride the soothing currents of a tropical river as it winds past sandy beaches, through a dense rain forest, beneath the rocky terrain of cascading waterfalls, and through an underwater cave.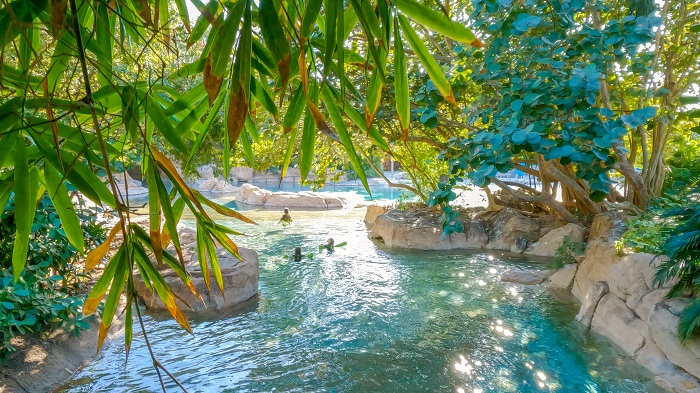 An escape to Discovery Cove can be enhanced with luxury VIP cabanas, complete with a private host, stocked mini-fridge, hammocks and more. The park also offers more exclusive upgraded experiences: SeaVenture invites guests to weara dive helmet for an innovative walking tour through The Grand Reef, where you will come "face-to-fin" with colorful fish and other animals that call the reef home. Animal Trek is a behind-the-scenes visit with some of the park's birds and small mammals such as owls, macaws, armadillos, sloths and more. Or, guests can strut alongside – and even feed – the famous Caribbean flamingos during the daily Flamingo Mingle. During a Ray Feeding, you can learn more about Cownose Rays and Southern Rays at The Grand Reef, as you assist our aquarists during an early morning feeding. And the Shark Swim is unique to Discovery Cove, allowing guests to swim freely alongside several species of sharks for an up-close encounter you won't soon forget.
Making a visit to this tropical oasis as relaxing and carefree as possible, every all-inclusive admission to Discovery Cove includes unlimited access to a fantastic selection of food and drinks all day long. A freshly prepared breakfast is served at Laguna Grill from opening to 10:30 a.m., followed by lunch from 11 a.m. to 3 p.m. From familiar fare to chef specials, all dishes are prepared with fresh ingredients and incorporate healthy elements, with daily seafood selections, salad options, and vegetarian dishes available. Marketplaces throughout the park provide all-day service and offer everything from yogurt and soft pretzels to fruit smoothies and gourmet coffees. Ice-cold beverages, including bottled water, soft drinks, and select alcoholic beverages (for guests who are 21 years of age and older) are also available as part of the daily admission. Parking, lockers, wetsuits, and swim gear are also included.
For more information, or to book a reservation, visit DiscoveryCove.com.